June 6-12, 2007
home | north bay bohemian index | music & nightlife | feature
All Music Guide:
Where are They Now: Old Sonoma County rockers | Stiff Dead Cat | Zepparella | Grant-Lee Phillips | Wedding Music | Buddy Guy at Russian River Blues Fest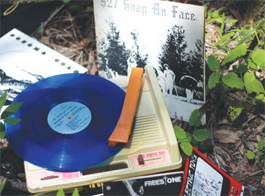 Photograph by Elizabeth Seward
Chandeliers & Spinning Lights: Disco spelled the death of many old-school Sonoma County bands.
What Happened to Those Guys?
Local stacks of wax help unlock the stories of Sonoma County's forgotten rock 'n' roll past
By Gabe Meline
There are millions of old records out there in the world—believe me, I dig through thousands of them each week. But records made in my hometown are rare, and every time I come across a record made in Sonoma County by someone I've never heard of, I add it to a pile out in my garage. Occasionally, I'll pull the records out and paw through them, playing a song here and there, puzzling over the names and addresses, wondering what happened to the band.
There's an oft-recycled opinion in Sonoma County that the '70s and '80s were the glory days of local music, coinciding conveniently with the teenage and twenty-something years of an older generation that now owns the area's clubs, radio stations, record stores and newspapers. As with any era, there're some great stories from this time, but unfortunately, aside from old flyers and the spotty memories of those involved, there's no existing chronicle of it. Old records, like the ones in my garage, hold the clues.
Recently coming across the pile again, I determined to finally start tracking down some of the people who long ago committed their hopes and dreams to vinyl.
Take, for example, the band called D. Grandiose and their strange four-song LP, Delusional, recorded in 1987. The album's cover shows the band lounging next to an old barn with instruments, fishing poles and scuba gear, while costumed extras ride ponies, perform karate moves and pose with inflatable animals in the background. A nearby RV is draped with an appropriate sign: "Loonie Tunes Wagon."
There's a hodgepodge of styles on Delusional, mostly keeping with the era. The first cut, "You Will Learn," opens with a riff lifted directly from Journey's "Separate Ways," while the up-tempo closer "Lorraine" channels the Blasters in their prime. I was able to find drummer Kerry Garloff, the one in the bathtub on the album cover, who insists that the Journey comparison is sheer coincidence. Garloff played only two shows with D. Grandiose—a house party and a record-release show at a club on Sonoma's Plaza—but was able to explain that the cover photo was "a visual representation of the band's name, Delusional Grandiose." In recent years, Garloff performed with a pianist/magician called Ashkenazi the Pretty Good, and these days he lives in San Diego producing music and working in the travel industry.
D. Grandiose's album is pretty unusual, but stranger still is Heterodyne State Hospital by $27 Snap On Face. Pressed on blue vinyl, Heterodyne features songs like "Let's Have an Affair" and "Sleeping in a Technical Bed," and ends with moaning applause from residents of Sonoma State Hospital (now the Sonoma Developmental Center). The album cover shows the band in wheelchairs, walkers and crutches, wearing pajamas and playing croquet. If that's not weird enough, there's also a surreal illustration on the inside gatefold panel, a lyric sheet with freeform prose, a large fold-out poster of the band's guitarist and vocalist and, of course, a Santa Rosa address.
A simple Google search led me to Frank Walburg, who played in the band right up until the album was released and who told me that Steve Nelson, the bassist, once delivered Santa Rosa's mail for the postal service. Armed with this clue, I asked my neighborhood mailman if he'd ever heard of Steve Nelson. The next day my phone rang and--voilà!—I was talking to the bassist for $27 Snap On Face.
"We were undisciplined, we were very loud and, in a lot of ways, unprofessional," Nelson says over the phone from his Sebastopol home, not far from the small shed where the band originally practiced. "But at the same time, we had a following. It was wacky."
Onstage, the band lived up to their self-created persona as mentally disturbed individuals by dousing themselves in ketchup, lighting stage props on fire and, at one show christened "Jacques Cousteau's 25th Annual Toga Party," performing in a homemade bathysphere on a stage littered with helium-balloon fish. Nelson says that singer David Petri and guitarist Bob O'Connor had to spring these antics on the rest of the band, "because they knew that we were more conservative." Even today he shudders when recalling an onstage teddy-bear stabbing.
$27 Snap On Face opened for Cheech and Chong at the Santa Rosa Veterans Memorial Building, played a few Jerry Lewis telethons, won a city-sponsored Battle of the Bands and earned the chance to travel to the Philippines to represent the United States in a karate tournament (the trip was foiled by Jimmy Carter's foreign policy). Playing the Cheech and Chong date required the band to join the Musicians Union, which resulted in the unglamorous Sonoma State Hospital concerts. "We couldn't get any good gigs out of the union," O'Connor remembers 30 years later. "I think every gig we got from the union was playing out at the nuthouse."
O'Connor handled the manufacture and distribution of the LP, affixing stickers to the front cover which read either "Direct from Sebastopol" or "Direct from Sonoma County," a move he calls more political- than marketing-minded. "Sonoma County had some really good musicians," he explains, "and yet we sort of played second tier to Marin County and San Francisco. So it was just to help put Sonoma County on the map, to some degree." Still, he cites the area's embrace of disco as a factor in the band's breakup, when "a lot of clubs were shutting down because all they needed were chandeliers and spinning lights."
O'Connor would have loved to have made more albums, but eventually the band fizzled. Nelson quit first, saying that rehearsals were simply too loud. Additionally, band members were getting used to being paid a couple hundred dollars each per show and the opportunities for high-paying jobs had started to thin. "When you first get into music, you just love playing," O'Connor says. "The more airplay you get and the closer you get to becoming mainstream, it kinda screws with your head and you get some unrealistic expectations. And that's basically what sank us in the long run."
O'Connor now lives in Hawaii, and last anyone heard, David Petri worked as a real estate agent in Cobb. Drummer Ron Ingalshe's whereabouts are unknown. The last time all the band members saw each other was in 1993, at guitarist Jim Doherty's funeral in Occidental. The Heterodyne State Hospital LP routinely sells on eBay for $50 to $70.
David Petri popped up a few years later doing a serviceable Merle Haggard impersonation calling out area bars like the Buckhorn, the Wagon Wheel and the 8-Ball as part of Sonoma Soundtrack, a compilation album put out by the revered former local radio station KVRE-FM. Featuring the classic tune "Woman with a Chainsaw" (along with such localized titles as "Santa Rosa Railroad Bum," "Down Sebastopol Way" and "Sonoma County"), the LP started a short trend in comps: a couple years later, another local compilation called Sonoma Gold cropped up from Santa Rosa. It featured the exciting new wave sounds of bands like the Subz, Tony Lonely, the Harvest Band and local songsmith Danny Sorentino's early band, the Chills.
Hairstylist and All
No early '80s Santa Rosa new wave discussion would be complete, however, without mention of the Electric Toys, whose "Feed the Fire" and "Electric Energy" 45 has dazzled my ears and puzzled my brain for years. It sounds like it's reaching for a future that doesn't exist, full of synthesizer solos and pitch-perfect harmonies. Five young pretty boys are depicted on the cover inside a television set; on the back is a Santa Rosa phone number.
Unsurprisingly, the phone number is no longer good, but I was able to find bassist David Payne working as a guitar repairman up in Bellingham, Wash. "The band had a good chance," he says, "but there was always something. A wrench would somehow get thrown into the spokes."
In 1982, the Electric Toys had a manager, a producer and even a hairstylist and, to hear Payne tell it, they seemed to be on top of the world for a few years. The record was played on the radio and the band opened for Huey Lewis, Night Ranger and Greg Kihn, as well as headlining the convention room of the El Rancho Tropicana Hotel ("We used to pack that place," he boasts). Record labels like Atlantic and Beserkley were interested, he says, but the only remaining public document of the band is the 45, a record he despised.
"I didn't like the cover," he says, "and I also wasn't fond of the production. Before that, I was producing our demos, and they had a bit more edge and a little more rawness to them, not trying to polish it up and make it sound all bubblegummy, which is what they did, because they were really trying to commercialize."
But who is "they"? I looked in the phone book and found producer and engineer Allen Sudduth. He recalls the commercial desire coming from the band. "I remember going to rehearsals and arranging songs, and they were great guys to work with," he says. "But as I recall, it was a movie I'd seen a lot of times. There were organic bands and then there were bands that had some sort of a Svengali behind them, a manager or whatever, who'd really try to guide them into whatever the market was at the time."
Eventually, interpersonal relationships in the band took their toll, especially between Payne and lead singer-songwriter Phil Holden. "We were best friends since I was 14, writing music together," says Payne, still sounding bitter, "and I never got any credit really for my contributions to a lot of the songs.
"Last time I talked to Phil, he's got a lot of issues," Payne claims. "He has for a long time. He's kind of mad at the world. Everybody that I've been talking to lately says that they've written him off, and nobody really wants to talk with him because he's so pissed off all the time and doesn't have anything nice to say."
After a long search, I tracked down Phil Holden, surprised to find that he's actually one of the calmest, nicest people imaginable. I told him about Payne's comments, and he seemed largely unfazed. "I like him and we had a close relationship," Holden maintains. "But I don't know, it's like he's got some pent-up anger towards me."
Holden played in local cover bands for a while after the band broke up and eventually spent 15 years in Los Angeles. "I guess I considered myself sort of avant-garde, trying to be futuristic or modern," he explains, "and I felt like a lot of the people in Santa Rosa were small-town-minded, normal American people."
Now living in Sonoma, Holden casually plays music with friends every week, while guitarist Gordy Barnes works as a loan officer in Santa Rosa, performing at his church twice a month. The Electric Toys' drummer, Jerry Fox, moved to Nashville, and keyboardist Keith Bender, son of former Santa Rosa mayor Jane Bender, passed away in 2004.
Barns & Possums
Let's see, what else is in the pile here? How about the Wild Brides? The 1986 LP Endless Honeymoon comes from the band who once opened for Exposť, Chris Isaak and the Plasmatics in the same week. The LP confused area DJs by playing at 45 RPM, and though the band later recorded a CD, there was a certain charm to hearing local radio stations play the record at the wrong speed. "The ability for radio stations to be supportive of local music," recalls guitarist Robin Pfefer, "they don't really have that luxury anymore."
Recording the LP proved challenging, too, when Cotati's Prairie Sun studios became overrun with baby possums during the sessions. "I was screaming at [owner Mooka Rennick], 'I'm not gonna pay for this down time!'" Pfefer remembers. "'If they eat our tape, I'm gonna kill you!'" The record's kookiest song is a strange ode to sexual loyalty, "Monogamy," written by the only male member of the six-member band. ("He was probably one of the least monogamous guys I've ever met, so I don't know what that was about—maybe to appease his wife or something," Pfefer says.)
The Wild Brides released another album on CD before breaking up in 1991, and Pfefer now owns Gravenstones in Cotati and the Black Cat in Penngrove, which is also managed by the Wild Brides' drummer, Wendy Behrbaum. Behrbaum and Pfefer play in a band together called Cheap Date 13, and the Wild Brides' singer Sheila Groves is the primary booking agent for the Mystic Theatre in Petaluma.
Other musicians who are still active in the community include Frank Hayhurst, whose band the Bronze Hog recorded Hey! Bronze Hog Live in 1978 at the Inn of the Beginning. Through legendary 1960s shows with Janis Joplin, the Doors, the Seeds and Canned Heat, the band acquired a rabid fan base, eager for vinyl. But the band was broke, playing mostly benefits; Hayhurst resourcefully started taking preorders for an album that didn't exist and eventually covered all the costs.
Hayhurst has no doubt that if the record had come out earlier, the band would have been much more successful. "But we were doing it because we loved doing it," he insists, "not because there was some idea of stardom or a big paycheck or that we would be rock stars or any of that. That was like another world, another dimension."
After starting Zone Music in Cotati in 1982, Hayhurst watched many of his fellow musicians fall by the wayside in search of fame. "A lot of people gave up," he says, "because they were trying to be a star and they were trying to make it and trying to have a hit. And when that didn't happen, they got despondent and discouraged."
Not everyone turned sour, however. None could be more happy-go-lucky about his brief recording career than Steve Shirrell, whose peppy 45 "The U.N. Shuffle" celebrated the 40th anniversary of the United Nations in 1985. After pressing a record at the behest of his boss, Shirrell promptly sent a copy to Dr. Demento, who played the unusual tune on his syndicated radio show.
"I actually got some people in the Midwest, distributors in Iowa, who bought 25 copies!" Shirrell beams. "I still have that receipt here somewhere!" He's also eager to relate the time radio station KSRO played the record, specifically assuring their listeners that it was not on the regular playlist. "Isn't that funny?" Shirrell asks.
Shirrell's act at the time involved a physics theme, employing a blackboard with Venn diagrams; the single's flip side, "The Next Time," was inspired by Shirrell's declared ability to program out-of-body experiences. Shirrell has a long history in Santa Rosa; his parents were extras in the 1955 movie Storm Center, filmed at the Santa Rosa library and starring Bette Davis, and he has worked at Stanroy's Music Center since 1983. "The U.N. Shuffle" was the only record he released.
Around the same time, a band called California recorded a self-titled LP, six songs of polished country-rock. Though the band started in 1979, they didn't record until 1986. Tragically, it was their last recording session.
I found vocalist Lisa Iskin the old-fashioned way—in the phone book—and she remembers the band playing fairs, rodeos, parties and clubs, especially Marty's Top of the Hill in Sebastopol, the county's premier country venue at the time. "It was very rich, talent-wise," she says of the Sonoma County scene in the 1980s, "and the clubs, they were great places to play." California were also one of the opening bands at Jerry Lee Lewis' infamous Santa Rosa Fairgrounds concert, where the rock and roll legend showed up two hours late and played until the wee hours of the morning.
Iskin became engaged to Bruce Crosby, the group's tender-faced leader and singer. "There's nothing like being with your lover," she gushes, "and being in the most fantastic band, writing the music together. It was just like heaven, being with Bruce." But the wedding never happened. In 1987, stricken with leukemia, Crosby passed away in Iskin's arms.
Iskin cleaned houses for a year afterwards, but soon got back into music, specializing in music designed for spiritual healing, which she still plays to this day. Her days in the band still cause her heart to stir. "It was just a really wonderful experience that I'll never forget for my entire life," she says, "and to have bought my home and say that music has been my life and that there are so many other musicians that can say that from that period--you can't say that now."
Bummer Bitch
A 45 by a band called Freestone is easily the most amazing record in the pile, my research uncovering much more than I bargained for. There's no address on the record, but the name caught my eye, sharing as it does the name of the small West County town. Putting the needle on the record, I was treated to a moronic, obscene blast of immature fury called "Bummer Bitch": "Bummer bitch! You make me sick! / Bummer bitch! Suck my dick!"
Was this band really from Freestone? I initially found some punk message boards online that placed the band in San Francisco, but I kept digging and got in touch with Freestone's guitarist Andrew Berlin. Now living in L.A., Berlin confirmed that the band were in fact originally from and named after the town of Freestone.
"We started off playing on the Russian River for tips just so we could eat," he says, "because all we had was our music. Just livin' on the land, writing our songs." The band's guitarist, Malcolm Teacher, was a caretaker on an abandoned chicken ranch in Freestone, and Berlin, fresh from a stint as Little Richard's sideman, came out from Florida to live in Freestone and start the band.
Former KVRE DJ and co-owner Ed LaFrance remembers Freestone as a "hippie band—whirling dervish–type stuff," and indeed, the band's early sound was a product of Sonoma County in the 1970s. "Everybody was trying to do their own thing," Berlin affirms, "and come up with an idea that was different." Before too long, they started traveling down to San Francisco.
Taking cues from punk bands like the Nuns and the Avengers, Berlin recalls, "I realized that you can say whatever the fuck you want." He brought to the band a song that he says he wrote while fighting with his girlfriend. "I'll come back and argue with you later," he told her, "and I went and wrote the song in about five minutes."
"Bummer Bitch" was originally intended as a joke, a spoof of the new, angry sound that was starting to explode. But it had been a big hit during the band's shows in San Francisco, and when Freestone went to record a single, "Bummer Bitch" was an obvious choice. Berlin called his old boss Little Richard up for advice, who in turn put them in touch with industry mogul Bumps Blackwell. A few weeks later, 1,500 copies of the 45 came back from the factory.
All of a sudden, Freestone were huge in the punk scene, and the band played into it with elaborate stage shows aided by late San Francisco promoter Dirk Dirksen. Bill Singletary, Freestone's bassist, remembers having long hair and a beard that made him look like Jesus. While performing "Church" (the record's forgotten A-side), "I'd take my clothes off and put on this loincloth and get up on a cross behind a curtain," Singletary remembers, "and then at a certain part of the song, this big light would go off and the curtain would come down."
Even at the Mabuhay Gardens, where the band once shared an Easter Sunday bill with the Dead Kennedys, the mock-crucifixion angered some patrons. "It's a heavy symbol to mess with," Singletary admits. "Even in the early '70s, when you thought everybody had already gotten their minds blown."
Singletary thinks that "Bummer Bitch" was actually written about drummer and onetime vocalist Billy DeMoya's wife, who, he says, "started all kinds of problems. She was crazy." He also concedes that the band were experimenting "with lots of different things, not just music. So we were trippin' on lots of stuff. We had a great time." DeMoya himself, now living in Florida, paints a similar picture.
"Freestone," he declares, "was fueled and financed by cocaine and LSD. We went to [legendary FM station] KSAN with blow and got them to play it," he recalls. "Just about every major radio station played it when we arrived with the 'magic substance.'" In a close brush with a record deal, Seymour Stein from Sire Records came to the band's new house in San Francisco. "He said he liked it," shrugs DeMoya, "but that powder will have you saying anything."
Freestone eventually morphed into a power-pop band called the Fans and released a record of new material, but crowds knew what was up: they still chanted for "Bummer Bitch." Eventually the group disbanded. DeMoya now plays in a Florida cover band sponsored by Jägermeister, Singletary plays with Bay Area bluesman Jackie Payne and Berlin is a well-known vintage guitar dealer and studio owner in Los Angeles.
Original copies of the Freestone 45 sell for a staggering $600–$700 on eBay these days, thanks in part to its inclusion on a popular punk compilation called Killed by Death. Berlin says he's pleased with the record's underground cult status. "But probably the coolest thing that happened," he relates, "was when I was at Hurrah's in New York, a dance club from the '80s that held thousands of people.
"David Bowie was DJ-ing, and at midnight, he spun 'Bummer Bitch,'" Berlin beams, "and the whole crowd of people in New York knew the lyrics. It blew my mind—a little funky band from Sonoma County."
For now, it's time to put these stories back in the garage. But every year, the pile of records keeps growing, made by the funky little bands from Sonoma County who once had a chance.
Send a letter to the editor about this story.