Silicon Valley Fall Arts Preview
Classical Music
Intro | Music | Stage | Visual | Film | Classical | 'Proof' | APE Expo | Flash Fiction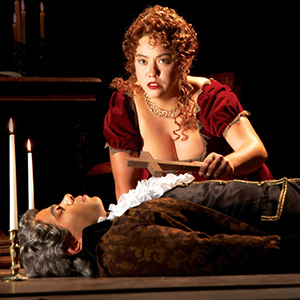 Tribute to Americans Who Have Served
The symphony will perform Rossini's William Tell Overture, the West Coast premiere of Symphony for the Sons of Nam, and Beethoven's Symphony No. 3, Eroica. Oct 18.
Holiday Magic
The program will include Bach's Concerto for Two Violins, Rossini and Respighi's Fantastic Toy Shoppe and the finale to Beethoven's ninth symphony, Ode to Joy, which will be performed with the San Jose Symphonic Choir. Dec 5.
Tosca
The Italian classic opera by Puccini is the morbid tale of a eminent singer whose life of privilege is threatened by her allegiance to both her rebel lover and the deceptive chief of police, Sep 12-27.
The Marriage of Figaro
Considered one of the greatest operas of all time, Mozart's Figaro is the tale of a marriage, a count's plans to spoil it, and the series of tricks that bride, groom and villain endure to restore equilibrium. Nov 14-29.
Baroque Music Concert
Take in Bach's Orchestral Suite No. 2 for Flute and Strings, along with works by Scarlatti, Purcell, Gabrielli, Buonamente and Corelli. Sep 2.
Redwood Symphony
The Redwood Symphony performs a program of Brahms, Daugherty and Hindemith at Canada College. Sep 25.
San Jose Chamber Music Society
Dali Quartet with clarinetist Ricardo Morales, the first show of the season featuring both Mozart's Clarinet Quintet and Latin American works, including music by Spanish composer Joaquin Turina, Oct 25.
Imani Winds with pianist Jon Nakamatsu, Music from Mozart's Quintet for the Piano and Winds as well as composers Nikolai Rimsky-Korsakov and Jeff Scott, performed by Grammy-nominated musicians. Nov 15.
San Jose Dance Co.
Masterpieces and Mad Genius.
A new SJ Dance group performance, featuring live music by Barbara Day Turner and The San Jose Chamber Orchestra. Oct 16-17.
Simply Strings
Acclaimed violinist Stephanie Chase performs a set of Vivaldi, Bizet and Sarasate, Clarice Assad and a world premiere by Joel Friedman in a set of songs that focuses on the sound of strings. Oct 11. Postcards
Soloists Cynthia Baehr, Michelle Kwon, Henry Mollicone, Anthony Quartuccio will perform music by Mozart, Dvorak, Henry Mollicone, Carlos Franzetti and Randall Shinn. Nov 7-8.
Winter's Gifts
The San Jose Chamber Orchestra, the Choral Project and a percussion ensemble will perform material that honors wintry traditions from around the world. Dec 19-20.
Season Starter
Winchester Orchestra kicks off the season with a program featuring the works of Ravel, Faure and Gershwin. Oct 23.
Holiday Concert
Ring in the holidays with two concerts—one in San Jose and one in Saratoga. The program consists of classics by Bernstein and Mollicone, as well as other performances. Dec 5-6.
Intro | Music | Stage | Visual | Film | Classical | 'Proof' | APE Expo | Flash Fiction