Silicon Valley Fall Arts Preview
Music & Concert Listings
Intro | Music | Stage | Visual | Film | Classical | 'Proof' | APE Expo | Flash Fiction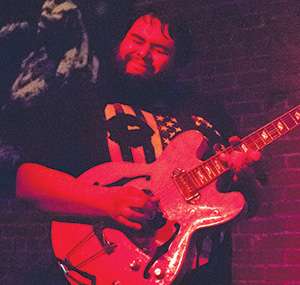 San Jose
Create Converge Silicon Valley is back, once again. This year's music lineup is all about emerging acts on the cutting edge—both locally and nationally. Currently 24 bands are confirmed for the event, which also celebrates the region's technological prowess, with tech-oriented forums and panel discussions. Catch Anya & The Get Down, Dinners, Survival Guide, Young Gully and many more at numerous downtown San Jose venues—including Cafe Stritch, The Ritz, Caffe Frascati, Aura (formerly Motif), the Continental, Chachos and the SoFA Market. Oct 8-9.
Beyond Wonderland
Shoreline Amphitheatre, Mountain View
This two-day raving extravaganza comes complete with three stages of total sensory overload. There's The Queen's Domain, which is lorded over by a two-story tall, hookah-smoking Caterpillar with glowing eyes and a raised fist, exulting in the worship of those letting go. The Mad Hatter's castle will host the Super You&Me party on Saturday and Cheshire Woods will submerge you in waves of thudding trance. The transformed Shoreline Amphitheatre will be filled with elaborate stage decorations that look like LSD- and LED-infused illustrations from Lewis Carroll's famous book brought to bendy life. Sep 26-27.
Britishmania
Montgomery Theater, San Jose
Moving from the British Invasion era of the Fab Four, on through the psychedelic years of Sgt. Pepper and the Magical Mystery Tour, Beatles tribute band Britishmania faithfully recreate not only the sound, but the iconic looks of John, Paul, George and Ringo over the course of the Beatles' career. Oct 23-25.
James Darcy Argue
Bing Concert Hall , Stanford
As long as James Darcy Argue is still kicking, big band music won't die. The ambitious Vancouver-born, Brooklyn-based super-composer is releasing his newest exploration in this classic medium with Real Enemies, a meditation on the irresistible magnetism of conspiracy theories. His past two efforts, Infernal Machines and Brooklyn Babylon garnered Grammy nods and international accolades for their pace, power, and transformative ability. On "The Neighborhood," a piano skips in double time and drums skitter and snare, building a sonic wave behind swaying saxophones and clarinets before a growling electric guitar and propulsive trumpets take over. His compositions are challenging, yet accessible, never slowing for self-indulgence, but displaying an unrivaled command over the considerable talents of his rollicking "co-conspirators." Oct 2.
Jeff Daniels and the Ben Daniels Band
Montalvo Arts Center, Saratoga
Actor Jeff Daniels has a range. He's done slapstick in Dumb and Dumber, action in Speed, and drama—in The Squid and the Whale and Looper. He also has a band, along with his son Ben. Father and son share the stage playing lively folk music. Nov 5.
Judas Priest and Mastodon
City National Civic, San Jose
Pioneering British metal band Judas Priest is joining forces with the boundary-pushing Atlanta-based Mastodon for a brutal bill in San Jose. Neither group could be accused of thinking small. The Priest have been slaying audiences and influencing groups like Slayer, for nearly 50 years, while Mastodon have penned a concept album about Moby Dick. Both groups are touring behind new material—with Judas Priest supporting their 2014 release, Redeemer of Souls, and Mastodon pushing their 2014 effort, Once More 'Round The Sun. Metal, bro. Oct 21.
Kronos Quartet: My Lai
Bing Concert Hall, Stanford
Being a famous string ensemble is a little like being a famous Jeopardy! champ—you're only famous to a small number of people, and you'll probably get called a nerd by someone at some point. But Kronos Quartet are the Lady Gaga of the chamber music world, known for covering famous pop albums and collaborating with modern artists. They've been around for four decades and, at last count, have had more than 750 pieces written just for them. At Stanford this fall, they'll be presenting My Lai, a piece by a Stanford staffer based on the 1968 incident of the same name. Oct 10.
Lauren Hill
Mountain Winery, Saratoga
Since breaking out with The Fugees, and drawing critical acclaim for her solo album, The Miseducation of Lauryn Hill, this singer, songwriter, rapper, producer and actress has had quite a prolific career. Sep 16.
Limousines XXX-Mas Fuckfest
The Ritz, San Jose
Dress in your best ugly sweater and be prepared to sweat, as The Limousines bring their nasty X-rated Xmas tradition to The Ritz. The annual December show was a reliable draw at The Blank Club, and Limos frontman Eric Victorino has high hopes for the event's debut at the Blank's bigger sister, The Ritz. Dec 18.
Misfits
RockBar Theater, San Jose
Isn't it weird that, under all the makeup and the violent themes and the decades-long library of punk classics, the Misfits are normal people? Like, even the spookiest band in punk still has to do laundry or call customer service every now and then. Founded in 1977 and currently containing only one original member, the Misfits are still touring, singing songs about monsters and mayhem, and still being discovered by moody teenagers. They're playing their famous "lost" record, Static Age, in its entirety on tour this year. Even though they're well into their 50s—and one of their sons is now in the band—they will still rock your face off. Nov 21.
Mudhoney
RockBar Theater, San Jose
Doesn't it seem like every male rock singer in the '90s was singing through their teeth? (You can hear it right now, can't you?) Mudhoney, one of the many "grunge" varietals to come out of Seattle in the '90s, was definitely not. Full of enormous riffs and even more enormous, screaming vocals, they hit modern rock radio in the late '80s with "Touch Me I'm Sick" and only got bigger from there. They've moved beyond their grunge roots in recent years, opening up to blues and punk sounds, but they haven't stopped for nearly 30 years. Even though they're still just a "'90s band" to many, they've influenced countless musicians in their wake. Oct 25.
Neko Case
Mountain Winery, Saratoga
Though she came up as a member of the New Pornographers, Neko Case is now known more for her solo material. An icon in the indie rock world, Case is scheduled to perform at the Mountain Winery next month. Sep 4.
Sir Mix-A-Lot
The Ritz, San Jose
Believe it or not, Sir Mix-A-Lot did more than just like big butts and not lie about it. He stood out as a rapper in a city that was, at the time, dominated by rock, and he kept on making music well after his one big hit—he even worked with fellow '90s goofballs Presidents of the United States of America. However, his biggest hit, video classic and wedding dance floor novelty "Baby Got Back," has cast a, uh, long shadow over his career ever since. He's not too good for it, though: he's since stated that he loves the song so much, he does a 10-minute version in concert. Get comfy. Oct 22.
SoFA Street Fair
SoFA District, San Jose
In case you haven't heard, street fairs are cool again in SJ. Now in its second year of being back from the dead, the storied SoFA street fair is here to make fall—traditionally the beginning of terrible things like school and cold weather—suck less. Sep 13.
Steinway Society
San Jose
This acclaimed curating organization for revelatory piano recitals boasts another dynamic season coming this fall to the De Anza College Visual and Performing Arts Center. Since 2001, Soheil Nassiri (Sep 19) he has given 20 solo recitals in New York City without one repeat performance, while also playing over 60 times in public schools. Vassilis Varvaresos (Oct 17) won an international competition at the age of 14, and his 2012 Carnegie Hall debut attracted so much acclaim, the Obamas asked him to play for them. Vladimir Rudenko (Dec 14) has won prizes in international competitions in three countries and played concerts on four continents, comprising a staggeringly impressive range. These three shows are not to be missed for any true aficionado of the ivories.
Intro | Music | Stage | Visual | Film | Classical | 'Proof' | APE Expo | Flash Fiction