Silicon Valley Fall Arts Preview
Gender Studies
Intro | Music | Stage | Visual | Film | Classical | 'Proof' | APE Expo | Flash Fiction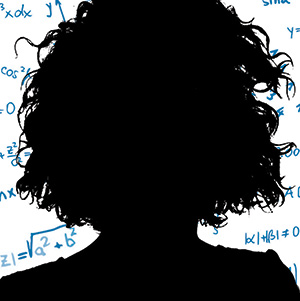 The widely celebrated play, Proof, by David Auburn, is coming back to TheatreWorks Silicon Valley. At a time when women's underrepresentation in STEM fields is the subject of much hand-wringing, the story about a woman doubted by everyone but her father strikes a chord.
"I think it very much relates to making sure that girls and young women don't pull away from an interest in science and mathematics because of cultural norms," director Leslie Martinson says, reflecting on Proof.
Winner of both The Pulitzer Prize for drama and Tony Award for best play, Proof focuses on Catherine, the daughter of Robert, a famous but disturbed mathematical genius. After Robert's death, one of his loyal students, Hal, comes across a groundbreaking proof on prime numbers while digging through the deceased professor's notes. Hal presents his findings to Catherine, a mathematician herself. As she attempt to establish the theorem's validity, she comes to understand her own mental illness.
The play jumps back and forth between the present and past, detailing Catherine's eccentric, but tender, relationship with her aging and increasingly delusional father, as well as Hal and Catherine's struggle to validate Robert's work.
Proof is a witty and elegant study of genius and dysfunction. Where Catherine sees her father's genius she also sees imprints of his mental illness. In her quest to prove herself and her father's theorem, she begins to realize that she very well may have inherited both Robert's genius and his madness.
"It's about that tricky time when releasing yourself just isn't enough," Martinson says. "Even for people who are comfortable in what they do, it's still so important for the outside world to acknowledge that."
The play has never been more thematically pertinent than it is in this moment, as sexism and gender discrimination are casting a long shadow over Silicon Valley. And it's not just the tech industry that is suffering—the sciences in general are plagued by sexism. A concurrent theme in Proof is Catherine's inability to win recognition and respect for her father's work, or herself, in the male-dominated world of science. Even Hal, who originally discovered the lost theorem, doubts her abilities to comprehend its mathematical complexity.
Starring Michelle Beck, Ashley Bryant, L. Peter Callender, and directed by Leslie Martinson, Proof opens at the Mountain View Center for the Performing Arts on Oct. 7.
Proof
Oct 7-Nov 1
Mountain View Center for the Performing Arts
Intro | Music | Stage | Visual | Film | Classical | 'Proof' | APE Expo | Flash Fiction