Silicon Valley Fall Arts Preview
Stage Listings
Intro | Music | Stage | Visual | Film | Classical | 'Proof' | APE Expo | Flash Fiction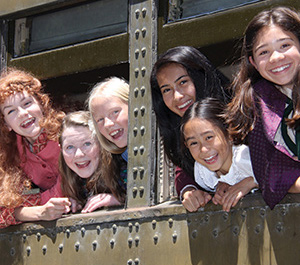 Broadway San Jose
The Lion King
Winner of multiple Tony Awards, including best musical, this Disney classic, featuring music by Elton John and Tim Rice, returns to the Center for the Performing Arts. Sep 9-Oct. 4. Riverdance For two decades, Riverdance has been a hit with audiences all over the world. The traditional Irish dance revue is celebrating its 20th anniversary with a world tour which comes to San Jose this fall. Nov 24-29.
Joseph and the Amazing Technicolor Dreamcoat
A musical based on the Biblical story of Joseph and his "coat of many colors." The production features lyrics by Tim Rice and music by Andrew Lloyd Webber. Nov 13-22. The Little Mermaid
In 1989, Disney turned Hans Christian Andersen's dark fairy tale about a mermaid yearning after a man she cannot have into a classic animated film for children. The musical follows Disney's light-hearted formula, featuring a book by Doug Wright, music by Alan Menken and lyrics by Howard Ashman (written for the film), with additional lyrics by Glenn Slater. Dec 4-13.
Los Altos Stage Company
Dead Man's Cell Phone
In Sarah Ruhl's surrealistic comedy, a stranger connects with a dead man by way of his incessantly ringing cell phone. Los Altos Stage Company kicks off its 20th anniversary season with this exploration of technology's ability to both isolate and unite. Sep 3-27.
Man of La Mancha
This Tony Award-winning show is a musical adaptation of Cervantes' Don Quixote, the adventures of the idealistic, noble, and possibly insane knight, told in this version as a play- within-a-play during the Spanish Inquisition. Nov 19-Dec. 19.
Chicago
Murder! Scandal! Flappers! And all that jazz! Based on a true story, Roxie Hart and her band of merry murderesses from the Windy City will razzle-dazzle Palo Alto audiences with 1920s flair in this biting musical comedy about corruption, crime, and the American cult of celebrity. Sep 11-27.
Clybourne Park
A spinoff of Lorraine Hansberry's A Raisin in the Sun, this satirical take on gentrification, the real estate market and race relations portrays families moving into a home in the same Chicago neighborhood in 1959 and 2009. Nov 6-22.
The Walls of Jericho
The first show to open in the Pear's new theater, Walls of Jericho is also a world premiere, written by the company's artistic director, Diane Tasca. It's an adaptation of the short story "Night Bus," which inspired the screwball romantic comedy film "It Happened One Night." Sep 17-Oct. 4.
Tribes
A deaf man communicates with his hearing family by lip reading but meets a lady friend who teaches him sign language. The new way of conversing serves to connect him to the deaf community and isolate him from his family in this poignant Drama Desk Award winner. Nov 6-22.
The Country House
A Berkshires summer home is the setting for this dramedy about the show-biz family of a beloved film and stage star. TheatreWorks artistic director Robert Kelley is at the helm. Aug 26-Sep 20.
Proof
The troubled but brilliant daughter of a math genius must fight for her place in an academic world dominated by her father's uneven legacy in this intimate, three-person drama. Oct 7-Nov 1.
Homeward Bound: An Orphan Train Journey
This show, which incorporates music and historical photographs, tells the story of a 1910 "orphan train," one of many that, from the mid-1800s to the 1920s, brought thousands of orphaned and homeless children from New York City to adoptive homes across North America. Sep 18-Oct 11.
Death Takes a Holiday
The Grim Reaper disguises himself as a handsome prince and pays a visit to an Italian villa to learn about love and life in this musical, set just after the World War I. Nov 6-28.
Dr. Jekyll and Mr. Hyde
Robert Louis Stevenson's classic horror story about science experiments and multiple personalities is given new life in this tech-savvy adaptation. Sep 17-Oct 18.
Handle with Care
Just in time for the holidays, City Lights offers the Bay Area premiere of this "Jewish Christmas story" romance involving an Israeli woman and an American man brought together on Christmas Eve. Nov 19-Dec 20.
Oddball Comedy & Curiosity Festival
This is a touring Coachella of comedy. Funny-or-Die's lineup is spit-take good. Headliner Aziz Ansari became a national name with his insider Kanye stories and portrayal of wannabe mogul Tom Haverford on Parks and Rec. Now, he has a NYT bestselling book on modern dating. Amy Schumer came to our attention with her comedic decapitation of everyone on the dais at the Roast of Charlie Sheen and just had the lead in the Judd Apatow-directed "Trainwreck." Rounding out the bill is the pleasantly malevolent Anthony Jeselnik, consummate road comic Dave Attell, and Todd Barry, who recently released a crowd work special where he went onstage with no material other than asking about the lives of his audience. Oct 10.
Dreamgirls
Set in the '60s, Dreamgirls is a musical based on an amalgamation of successful soul, doo wop and R&B acts, including The Supremes, The Shirelles and James Brown—from the on-stage glory to the behind the scenes drama. Sep 26-Oct 11.
Portrait of Patsy Cline
Joni Morris and The After Midnight Band will perform her critically acclaimed Patsy Cline tribute. The program consists of faithful covers of Cline's major hits. Sep 12.
Hot Bluegrass, Cool Originals
Grammy-winning, Bay Area-based bluegrass musician Kathy Kallick is known for her renditions of traditional bluegrass tunes by the likes of Bill Monroe, Vern Williams and The Delmore Brothers. Her original tunes are also moving and energetic. Oct 24.
All You Need Is...
The LoveNotes barbershop quartet are recognized all over the country for their sweet harmonies. They perform ragtime, Sinatra and Queen in a review that spans generations and genres. Nov 28.
Santa is Real: A 1950s Christmas Spectacular
Contemporary Christmas tunes, popularized by Brenda Lee, Elvis Presley, Burl Ives and The Andrews Sisters, to name a few, will be sung by The Carolyn Sills Combo—a Western swing band from Santa Cruz. Dec 19.
Rigoletto
Giuseppe Verdi's historically controversial opera a court jester Rigoletto, his daughter Gilda and the Duke of their court. When the Duke seduces the jester's daughter, he attempts revenge only to produce disastrous results. The opera is classic tale of love, seduction and betrayal. Oct 16-25.
Nice Work If You Can Get It
Set in the prohibition era, this musical comedy starred Matthew Broderick when it debuted on Broadway in 2012. The production recently finished touring the country and now West Valley Light Opera will stage the work. Nov 7-Dec 5.
Intro | Music | Stage | Visual | Film | Classical | 'Proof' | APE Expo | Flash Fiction