January 4-10, 2006
home | the papers | metro silicon valley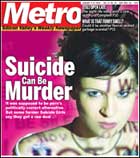 Suicide Can Be Murder
It was supposed to be porn's politically correct alternative. But some former Suicide Girls say they got a raw deal.

Going Nuclear
A filmmaker's visit to the site of the first atom bomb explosion, on the 60th anniversary of the deed, sparks the question: How the hell are we still alive?
Silicon Valley News Notes
San Jose Water Company withdraws its plan to log 1,000 acres on the Los Gatos Creek watershed.

Silicon Alleys
Bravo, Taco Bravo.
Technology News
Censorship for Dummies.
Car Culture
Trucks are the ultimate country vehicle because of what they say about the people driving. And that is: I can help.

The Racket
Rising tennis pro meets descending actress in 'Match Point,' Woody Allen's sober new melodrama.
Cat Power
The superbly made animal adventure film 'Duma' beguiles adults and children.

MORE MOVIE REVIEWS

MOVIE TIMES

Feeling Himself
Wanda Salvatto ponders the legacy left by her son, Mac Dre.
Wave Goodbye
Exit interview: Judy Hackett of Espresso Garden and Café.

MORE NIGHTLIFE

NIGHTLIFE CALENDAR

Eat My Dust
Some of the best barbecue in the South Bay is hiding down in Morgan Hill.
Silicon Veggie
I Did It All for Love.
5 Things
Stett's Top 10 Dishes of 2005: Part 2.

BOOK A RESTAURANT RESERVATION

FIND A RESTAURANT REVIEW

Burning Bright
Margaret Wingrove explores in dance the emotional fires of two pairs of famous poets and lovers.
Book Box
The Art and Films of Lynn Hershman Leeson: Secret Agents, Private I, edited by Meredith Tromble; Festivus: The Holiday for the Rest of Us by Allen Salkin.