May 24-30, 2006
home | the papers | metro silicon valley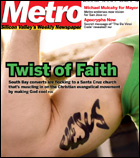 Vintage Faith Church
South Bay converts are flocking to a Santa Cruz church that's muscling in on the Christian evangelical movement by accepting MTV, flip-flops and intellectual curiosity into their hearts. Is it just attitude, or is this hip movement really a new kind of Christianity?

News: Hepatitis C in California Prisons
A deadly mix of high-risk conditions and utter denial by officials is leaving California prisons ravaged by outbreak.
Metro Endorsements: June 6 Election
Michael Mulcahy for San Jose Mayor.
The Fly: 05.24.06
Mayoral frontrunner Cindy Chavez gains allies in her feud with the San Jose Silicon Valley Chamber of Commerce.

Silicon Alleys: Another Singha
A one-page play by Silicon Alleys.
Technology News: NSA
You can't remedy poor foreign intel with domestic spying on the telephone network.
Car Culture: Al Gore's 'An Inconvenient Truth'
Learning to figure your carbon load and worrying about climate change.
Sports: Barclay's Churchill Cup of Rugby
To be held for the first time ever in the South Bay at Santa Clara University's Buck Shaw Stadium.

Movie Review: 'X-Men: The Last Stand'
This sequel was directed by Brett Ratner, who inflicted 'Rush Hour' on us. Uh-oh. Chris Tucker better not show up as Banshee.
Movie Interview: Al Gore and Davis Guggenheim of 'An Inconvenient Truth'
The ex-Veep makes amends for 2000 by reminding the world that the clock is ticking on climate change—and he's a big 'Simpsons' fan. What's not to like?
Movie Humor: 'The Da Vinci Code'
We dare to tell you what the mainstream media is afraid to reveal about the true meaning of 'TDVC.'
Movie Review: 'The Da Vinci Code'
Ron Howard asks: Will you accept this rose? Love that McKellen, solving riddles in the dark.
Movie Review: 'Somersault'
Aussie flick is too vague even to describe vague feelings of a runaway girl.
Movie Review: 'Oklahoma!'
Everything's up to date in this reissued epic musical at California Theatre.
Movie Review: 'The Proposition'
Human dingoes or Peter Weirwolves? Tightly knit criminals fight the fallible law in this Nick Cave-scripted western.
Cult Leader: 'The Monster Squad'
Camera Cinemas brings director and cast of cult favorite to San Jose June 10.
Movie Review: This Week's Revivals
'Lawrence of Arabia' and more.

MORE MOVIE REVIEWS

MOVIE TIMES

Music Humor: Madonna
Lourdes 'Lola' Ciccone's top-secret blog revealed!
Music Interview/Preview: Tony Lindsay
The San Mateo singer navigates his post-Santana career path.

MORE MUSIC AND NIGHTLIFE

MUSIC AND CLUBS LISTINGS

MUSIC AND NIGHTLIFE CALENDAR PICKS

Restaurant Review: Kabab House Halal in Santa Clara and Palms Restaurant in San Jose
Seeking out the few outposts of Iraqi cuisine in Silicon Valley.
Live Feed: Village Harvest's 'Grow 2 Grow'
The San Jose nonprofit has started teaching the needy how to grow their own food.
5 Things to Love: Reasons Not to Drink Bottled Water
Tap water is better.

BOOK A RESTAURANT RESERVATION

FIND A RESTAURANT REVIEW

Visual Arts Review: 'Behind the Magic—50 Years of Disneyland'
A new exhibit explores the art and artifacts behind Disney's Magic Kingdom.
Theater Review: 'String of Pearls'
One necklace binds many lives in City Lights play.
Theater Review: 'John & Jen'
Bus Barn tracks the relationship of the title baby boomers.
Book Review: 'Fire in the City'
Was the fiery preacher Savonarola a righteous reformer or just a Renaissance Jerry Falwell?
Book Review: 'The Orientalist'
Tom Reiss' engrossing book is as much a mystery story as a biography.

Letters to the Editor: May 24-30, 2006
This week's letter 1; this week's letter 2; this week's letter 3.