June 13-19, 2007
home | the papers | metro silicon valley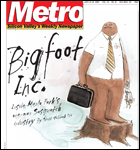 Bigfoot Inc.
Menlo Park Sasquatch hunter Tom Biscardi has made a legend into an industry.

Breaking Jeppesen
Behind the story: How investigative journalists used flight records to uncover the company's link to the CIA.
The Fly: 06.13.07
Pierluigi to the rescue?

Silicon Alleys
Dance on my grave.
Technology news
The new Google Street Views--kiss your privacy good bye.
Sports news
Graham Rahal can't drive 55.

Movie review: 'La Vie en Rose'
A new biography of Edith Piaf lingers on the hard times and bad habits.
Movie review: 'The Brand Upon the Brain!'
Sullivan Brown plays a young boy with seriously weird parents in Guy Maddin's latest film.
Movie review: 'Long Day's Journey Into Night'
Sidney Lumet's adaptation of the Eugene O'Neill play is a dysfunctional family circus.
This week's revivals
The Stanford's Katharine Hepburn festival continues.

MORE MOVIE REVIEWS

MOVIE TIMES

Slacking off
A new Internet music service won't kill the iPod, but XM should fear it.
Mayer clinic
John Mayer has left the coffee house.
Music Picks
Gwen Stefani, Sleepytime Gorilla Museum and classical-music highlights.

MORE MUSIC AND NIGHTLIFE

MUSIC AND CLUBS LISTINGS

MUSIC AND NIGHTLIFE CALENDAR PICKS

Burma, baby, Burma
Green Elephant Gourmet offers an elegant mix of Asian styles.
Live Feed
Wines and the women who love them.
5 Things to Love
Redwood City restaurants.

BOOK A RESTAURANT RESERVATION

FIND A RESTAURANT REVIEW

'The Sopranos' series finale
The postmodern denouement to the HBO drama is brilliant, if unsatisfying.
A match made in music
Egos collide in 'They're Playing Our Song,' Neil Simon's look at a songwriting couple.
Elvis lives
'All Shook Up' features Susan Anton in a musical about an old acquaintance.
Stinger
Dragon Productions sees sweet danger in 'As Bees in Honey Drown.'
Place markers
SJICA opens its finished gallery space with 'Home Sweet Home' show.
Kids events
'A Year With Frog and Toad.'

Letters to the Editor
June 13-19, 2007.