July 25-31, 2007
home | the papers | metro silicon valley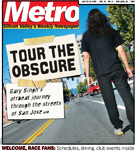 Tour the obscure
Gary Singh's offbeat journey through the streets of San Jose.

Hot zone
Santa Clara residents have a different reason for opposing development in their back yards—they say it's a toxic disaster.
The Fly: 07.18.07
Blue Monkey gone to heaven.

Silicon Alleys
Old school Quakes.
Technology news
Dreaming about the future.
Sports news
Roller derby.
Style
Step up, dress up.

Obits: Michelangelo Antonioni and Ingmar Bergman
Antonioni and Bergman worked into old age in a restless business that insists that only youth has any wisdom.
Movie review: 'The Simpsons Movie'
Homer's most lethal comic misadventure yet.
Movie review: 'Rescue Dawn'
Werner Herzog dares to go back to the jungle.
Movie review: 'Hairspray'
A fast and funny movie musical.
Movie review: 'Sunshine'
Fails to illuminate Danny Boyle's murky ideas about the future of humanity.
Movie review: 'Lady Chatterley'
French director Pascale Ferran makes a different kind of 'Chatterley.'
This week's revivals
'Citizen Kane,' 'Swing Time' and 'Suspicion.'

MORE MOVIE REVIEWS

MOVIE TIMES

Dear Avril
Girlfriend to girlfriend: Rip off more old songs.
Music Picks
Chanteuse Soiree, LeAnn Rimes and Strike Cupertino.

MORE MUSIC AND NIGHTLIFE

MUSIC AND CLUBS LISTINGS

MUSIC AND NIGHTLIFE CALENDAR PICKS

Poetry Selam
Ethiopian spot offers offbeat and enchanting options for vegetarians.
Live Feed
Blogger come lately.
5 Things to Love
Chaat restaurants.

BOOK A RESTAURANT RESERVATION

FIND A RESTAURANT REVIEW

Valley high
The Cantor Arts Center at Stanford focuses on Yosemite in the matchless images of four photographers.
Strip play
City Lights charges through clothing-optional 'Full Monty.'
Walk on the Wilder side
TheatreWorks turns Thornton Wilder's memoir into memorable 'Theophilus North.'
Book review: 'The Trap: Selling Out to Stay Afloat in Winner-Take-All America'
Book authored by Daniel Brook.
Book review: 'Nature's Engraver: A Life of Thomas Bewick'
Book authored by Jenny Uglow.
Kids events
Thomas the Tank Engine.

Letters to the Editor
July 25-31, 2007.