August 22-28, 2007
home | metro silicon valley index | movies | fall preview
2007 Fall Arts Issue:
Intro | Body Worlds | Music | Stage | Performing Arts | Visual Art | Classical | Film | Festivals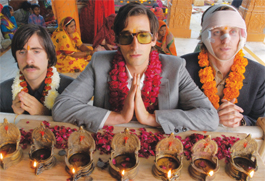 Photograph by James Hamilton
Pray for a Big Opening Weekend: Jason Schwartzman (left), Adrien Brody (center) and Owen Wilson embark on a spiritual quest in all the wrong ways in director Wes Anderson's 'The Darjeeling Limited,' opening Sept. 28.
2007 Fall Arts Issue
Movies
By Richard von Busack
THE FALL FASHIONS in film include Westerns, with Russell Crowe as a rattlesnake-smooth gunman in the remake of 3:10 to Yuma and Brad Pitt assaying Jesse James. And there are Middle Eastern Westerns as well—all flavors of fiasco, among them Rendition, In the Valley of Elah, The Kingdom, Lions for Lambs.
This being the Bay Area, there is a fall bounty of vintage films in the offing. In September, the Stanford Theatre in Palo Alto will show four Jimmy Stewart Westerns. Also on the revival tip, Montalvo Arts Center screens the pre-Code Barbara Stanwyck classic Baby Face on Sept. 23, followed on Sept. 30 by Gold Diggers of 1933 with Joan Blondell. The fall's film festivals encompass the annual San Jose Jewish Film Festival Oct. 14–Nov. 20, with a feature by local filmmaker Todd Yellin leading the way; the Latino Film Fest, Nov. 2–18 (with stops at MACLA); and the Arab Film Festival (Oct. 18–28), also with screenings in San Jose.
Our guide runs through November, because we just can't face the Christmas glut yet. Films of special interest have asterisks. All dates are subject to the whims of distributors. Dates for art-house and indie movies are for valley openings.
Aug 24
The Devil Came on Horseback A documentary about Dafur. Mr. Bean's Holiday The strange little fellow (Rowan Atkinson) invades France. War Jet Li and Jason Statham go toe to slashing toe in an action showdown. The Nanny Diaries Scarlett Johansson stars in an adaptation of chick-lit classic. Resurrecting the Champ Sam Jackson plays an ex-boxing star pursued by Josh Harnett's reporter. September Dawn Don't tell Mitt Romney—it's the story of the Mountain Meadows Massacre, for which Brigham Young might just be to blame. Right at Your Door Chris Gorak's dirty-bomb-in-L.A. thriller, where radioactive waste threatens a couple.
Aug 31
The 11th Hour Eco-catastrophe documentary narrated by Leonardo DiCaprio. Hula Girls A depressed Japanese town creates a fake Polynesian village to draw in visitors. Think quirky, think heartwarming. Balls of Fury The first Ping-Pong/espionage thriller, with Christopher Walken as the bad guy. Death Sentence Sawteur James Wan adapts a vigilante novel by Brian Garfield (Death Wish). Features 360 degrees of Kevin Bacon. Ladrón que roba a ladrón Ocean's 11 Latino style. In Mexico, a pair of veteran robbers go after a TV infomercial quack and assemble a team of specialists to pull the heist. Halloween Rob Zombie retraces the steps of Michael Myers. Two severed thumbs up for the casting: Brad Dourif, William Forsythe, Udo Kier, Clint Howard and Danny Trejo.
Sept 7
3:10 to Yuma James (Walk the Line) Mangold's sweeping but wishy-washy Western remake, with Christian Bale and Russell Crowe. The Brothers Solomon Two fools try to find a woman to impregnate so that they can give their father a grandbaby. Shoot 'Em Up Clive Owen stars as "Mr. Smith," a gunman in custody of a baby that the evil Paul Giamatti wants dead.
Sept 14
The Brave One Jodie Foster gets it, and so does her boyfriend and so does her dog. Now, it's payback time, but the real question is, What kind of payoff got director Neil Jordan involved? *Eastern Promises Return of the King (David Cronenberg), with Vigo Mortensen as a London gangster, Naomi Watts as a midwife and Armin Mueller-Stahl just for good luck. The Hunting Party Ex-reporters Richard Gere and Terrence Howard head for Serbia to bag a war criminal. It's a comedy. Silk In France in the 1800s, an industrial smuggler goes to acquire silkworms in Japan (Michael Pitt); there he falls for a powerful noble's woman. Director François Girard hasn't been heard of much since The Red Violin and 32 Films About Glenn Gould. Mr. Woodcock Much-delayed Billy Bob Thornton vehicle; Sean William Scott plays a writer who learns his mom has taken up with the evil gym teacher he hated in high school.
Sept 21
Good Luck Chuck Sleep with him (Dane Cook), and you'll fall happily in love with the next man you meet. Jessica Alba is the one who breaks the hex. *In the Shadow of the Moon The Apollo astronauts speak out in this much-heralded doc. In the Valley of Elah Paul (Crash) Haggis writes and directs this story of a Iraq vet sought by his parents (Susan Sarandon, Tommy Lee Jones) and a police detective who happens to look like Charlize Theron. The Jane Austen Book Club Longtime chick-flick writer Robin Swicord (Shag, et al) directs this story of a group of ladies of a certain age who find their lives copying Austen's art. Trade Two-fisted Kevin Kline tracks down international flesh-peddlers. Across the Universe "Hey" Jude (Jim Sturgess) and Lucy (Evan Rachel Wood) relive those fabulous '60s under the tutelage of "Dr. Robert" (Bono) and "Mr. Kite" (Eddie Izzard). The coming attractions for Julie (The Lion King) Taymor's visualization of a hunk of Beatles songs were uproariously bad. The previews have since been fixed. Has the film?
Sept 28
*The Darjeeling Limited Three estranged brothers (Owen Wilson, Adrien Brody and Jason Schwartzman) head to India in hopes of reconnecting. The new comedy by Wes Anderson could be a Gen X Ishtar or the first unequivocal success by Anderson (The Royal Tenenbaums, et al.). Either way it'll have a great soundtrack. Feast of Love An Oregonian prof (Morgan Freeman) watches love bloom among his fellow citizens. Robert Benton of Kramer vs. Kramer directs Greg Kinnear and Selma Blair. The Game Plan A football hero (The Rock) has his own game plan interfered with when he learns he has a daughter. * Into the Wild Sean Penn adapts Jon Krakauer's bio of a well-off student who dropped everything to go live in the Alaskan wilderness. Stars Emile Hirsch, Vince Vaughn, William Hurt and Catherine Keener. King of California Michael Douglas stars as a recently released mental patient who convinces his daughter (Evan Rachel Wood) that there's literally gold in the hills. The Kingdom Friday Night Lights' Peter Berg's thriller about FBI agents Jamie Foxx and Jennifer Garner investigating a Saudi Arabian bombing.
Oct 5
The Assassination of Jesse James by the Coward Robert Ford In Missouri, everyone can trace their descent from James, so it's no surprise the Show-Me state's Brad Pitt is playing him. The director is talented Aussie Andrew Dominik (Chopper). Feel the Noise Omarion Grandberry is a Bronx rapper who discovers reggaeton, Puerto Rico and the papi he never knew (Giancarlo Esposito).
Oct 12
*Elizabeth: The Golden Age Cate Blanchett's reprises the role of Queen Elizabeth 1, with Clive Owen as Sir Walter Raleigh, and Geoffrey Rush reprising his role as Walsingham, father of the modern police state. Michael Clayton George Clooney struggles at a malevolent New York law film. Lust, Caution Ang Lee/Tony Leung/Joan Chen/Shanghai during the Big War. Tyler Perry's Why Did I Get Married This month's opus by the indefatigable cross-dresser; this time, he's adapting his play about college chums who discover the hidden discontents in their marriages. We Own the Night Eva Mendes, Mark Wahlberg and Joaquin Phoenix star as members of a family on either side of the law.
Oct 19
30 Days of Night Amusing premise, based on a graphic novel: In winter in Alaska, a gang of vamps attack a small town. Rendition Gavin (Tsotsi) Hood tells of an American wife (Reese Witherspoon) who tries to learn what happened to her Egyptian husband, a chemical engineer. At a U.S.-run "black base," Jake Gyllenhaal helps with the interrogation. *Sleuth Kenneth Branagh directs the remake of the two-man thriller, with Michael Caine in the part of the older cuckold, previously taken by Laurence Olivier. Jude Law is the younger wife-stealer.
Oct 26
Dan in Real Life Steve Carell in a romcom about a widower who loses his heart over exactly the wrong woman. Reservation Road A hit and run accident ruins the lives of Joaquin Phoenix and Mark Ruffalo. Saw IV What sound does a saw make? ZZZZZZZZZZZ. Things We Lost in the Fire Dogma-grad Susanne Bier's story of a widow who learns to love again. Halle Berry, Benicio Del Toro and David Duchovny co-star.
Nov 2
*American Gangster Denzel Washington and Russell Crowe team up in the true story of the great heroin epidemic of the early 1970s. Bee Movie Jerry Seinfeld as an average bee about town. Animated. *The Kite Runner Northern California author Khaled Hosseini's story of the downfall of Afghanistan, as adapted by Marc Forster.
Nov 9
Fred Claus When he screws up one too many times, Santa's no-good brother (Vince Vaughn) is reduced to rejoining the family business. I Could Never Be Your Woman Cougars don't come sleeker than Michelle Pfeiffer; she pounces on the younger Paul Rudd as her daughter looks on, aghast. Talking-baby wrangler Amy Heckerling (Look Who's Talking, etc.) oversees. *Joe Strummer: The Future Is Unwritten Clash lead singer is memorialized by Julian Temple, who already made one irreplaceable punk-rock doc, The Filth and the Fury. *Lions for Lambs A Babelicious story of the Global War on Terror, encompassing professors (Robert Redford), students who join up, reporters (Meryl Streep) and presidential hopefuls (Tom Cruise). Robert Redford directs.
Nov 16
Beowulf "No, but I saw the movie!" Computer animated by Robert Zemeckis. Love in the Time of Cholera Mike Newell directs the adaptation of the Garcia Marquez novel. Mr. Magorium's Wonder Emporium Dustin Hoffman is the proprietor of a magic toyshop; Natalie Portman is a regular customer.
Nov 23
This Christmas An African American family faces up to the holidays (Nov. 21). Enchanted Amy (Junebug) Adams shows up as a fairy-tale princess transported via witch's spell to modern-day New York (Nov. 21) . The Mist Stephen King's story of a deadly fog must never be mistook for The Fog. *No Country for Old Men The Coen brothers adapt Cormac McCarthy's grisly novel, with Tommy Lee Jones as the hunter who stumbles into a borderland drug gang's business (Nov. 21).
Nov 30
Thomas Kinkade's The Christmas Cottage The ultimate Yuletide horror story stars Peter O'Toole and Marcia Gay Harden in a tale of a young artist who needs to see the light (and smell the money). *Margot at the Wedding Noah Baumbach's follow-up to The Squid and the Whale has Nicole Kidman attending the wedding of her sister (Jennifer Jason Leigh); finally she encounters the boor she's proposing to wed. (November opening TBA.)
Send a letter to the editor about this story.