August 22-28, 2007
home | metro silicon valley index | music & nightlife | performing arts preview
2007 Fall Arts Issue:
Intro | Body Worlds | Music | Stage | Performing Arts | Visual Art | Classical | Film | Festivals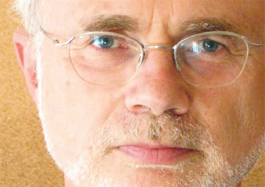 Photograph by Deborah O'Grady
Calm before the storm: John Adams says that his new piece, 'Son of Chamber Music,' features 'a disaster every 10 seconds.'
2007 Fall Arts Issue
Performing Arts: John Adams premiere highlights Stanford Lively Arts fall
By Scott MacClelland
AN INSTRUCTIVE way to gauge John Adams' success as a composer is a visit to his "official" website and a chronology of his works already booked for performance. From now through November next year, Adams' operas and his orchestral and chamber music will get more than 150 live exposures worldwide.
At deadline, the list included the world premiere of the Doctor Atomic Symphony, on Aug. 21, when Adams was scheduled to conduct the BBC Symphony Orchestra at London's Royal Albert Hall. Locally, his Shaker Loops will be performed by the Palo Alto Chamber Orchestra Dec. 15, while the San Francisco Symphony includes the composer's Short Ride in a Fast Machine in its San Jose appearance Oct. 5.
In the lineup of imminent Adams performances can be found the world premiere, on Nov. 30, of Son of Chamber Symphony, as part of the Stanford Lively Arts Series. But before fully engaging the work, and after the operas Doctor Atomic, in 2005, and A Flowering Tree, last year, Adams tackled the Doctor Atomic Symphony, which, he admitted in a recent phone interview from his Berkeley home, "took an enormous amount of energy."
He went on to explain that he assigned the opera's climactic "Batter my heart, three-person'd God" aria to solo trumpet, "up an octave, not quite the same tormented quality, but a great player will give it a noble sound."
Stanford Lively Arts commissioned Son of Chamber Symphony on behalf of the Alarm Will Sound chamber orchestra, which will give the premiere, at Dinkelspiel Auditorium. (A word to the wise: Tickets are expected to sell out fast.)
The "form" called chamber symphony started with Schoenberg, who composed two such-named works. Adams had in mind the 15-instrument version of the first Schoenberg when he set about writing his own first chamber symphony, around 1992. He describes Son of Chamber Symphony as "suggested by cartoon music, with a disaster every 10 seconds."
His "very Technicolor orchestration," also using 15 instruments, includes drums and synthesizer. The three-movement scheme follows the classic fast-slow-fast template, but is different from his own first chamber symphony by being "less cacophonous, less dense and chromatic."
As of our interview at the beginning of August, Adams said he had finished only the first eight minutes of the first movement. He also said he wanted to write something with a clear sense of rhythm and, in fact, expects the piece to be choreographed later this season by Mark Morris for the San Francisco Ballet.
Adams says, "It take me a long time to compose," explaining that the process that runs from conception through sketches and a complete edition is written out in pencil.
"I've got total control of what I've written," he says of his "laborious" process. As a composer, he explains, "Everything must pass through you." Adams predicts the musicians will like Son of Chamber Music. "Both chamber symphonies are very contrapuntal and virtuosic. The first has become one of my most popular works."
Adams pursued a career as a conductor before finding that composing "gives me the most satisfaction." But conducting isn't far behind. "I love going off to conduct," he declares. "It involves a different part of my psychic apparatus. I can't imagine what life would be like if I only composed without performing."
In addition to conducting the Doctor Atomic Symphony premiere, "I'm preparing Billy the Kid and Beethoven's Seventh." The latter work is part of the Baltimore Symphony season, whose new music director, Marin Alsop (who just finished two weeks with the Cabrillo Festival of Contemporary Music in Santa Cruz), asked Adams in as podium guest for the early October program.
Back at Stanford, on Oct. 14—prior to the Son of Chamber Music premiere—the St. Lawrence String Quartet will play Adams' John's Book of Alleged Dances. "If I'm in town, I'll be there," the successful composer said.
Stanford Lively Arts
Campus venues, Stanford University; 650.725.ARTS. Philip Glass: Book of Longing, based on the poetry of Leonard Cohen—Oct, 9 at 8pm at Memorial Auditorium. St. Lawrence String Quartet—Oct. 14 at 2:30pm at Dinkelspiel. Noche Flamenca—Oct. 17 at 8pm at Memorial Auditorium. Dianne Reeves, with Esperanza Spalding—Oct. 19 at Memorial Auditorium. The Pentagon Papers, L.A. Theatre Works—Oct. 27 at 8pm and Oct. 28 at 2:30pm at Dinkelspiel. What Makes It Great? with Rob Kapilow and the Stanford Chamber Strings—Nov. 2 at Dinkelspiel. Idan Raichel Project—Nov. 4 at 2:30pm at Memorial Auditorium. Alarm Will Sound, performing a new work by John Adams—Nov. 30 at 8pm at Dinkelspiel. Robert Moses' Kin—Dec. 8 at 8pm at Memorial Auditorium. Nadia Salerno-Sonnenberg, violin, and Anne-Marie McDermott, piano—Dec. 9 at 2:30pm at Memorial Auditorium. A Chanticleer Christmas—Dec. 11–12 at 8pm at Memorial Church.
MACLA
510 S. First St., San Jose; 408. 998.ARTE BLING, a documentary about hip-hop, community development and blood diamonds—Sept. 6. Latino Film Festival and MACLA Film Night—Sept. 12, Oct. 10. Isis Rodriguez of the New Inspirational Movement—Sept. 20. Front Line: Hip-Hop, with the Narcysist and others—Oct. 13. Jose Hurtado and Quinteto Latino, new music from Mexico—Oct. 22–27. Carpa de los Olvidados, vaudeville with NeoXicano and Grito Serpentino—Nov. 7. Tragic Bitches, performance poetry from Texas and SoCal—Nov. 8–9. Latino Film Festival—Nov. 17–18. Battle of the Bands—Dec. 5. Open Mike McGee: A 24-Hour Solo Solstice Reading—Dec. 22.
Montalvo Arts Center
Saratoga; www.montalvoarts.org. Annual Songwriters Festival—Aug. 26 at noon at the Garden Theatre. Blind Boys of Alabama—Aug. 31 at 7:30pm at the Garden Theatre. Steve Earle, with Loudon Wainwright III and Allison Moorer—Sept. 7 at 7pm at the Garden Theatre. Chris Botti—Sept. 19 at 8:30pm at the Garden Theatre. Medeski, Scofield, Martin and Wood—Sept. 20 at 7:30pm at the Garden Theatre. Cypress String Quartet—Oct. 18 at 7:30pm at the Historic Villa. Jon Nakamatsu, pianist, and Jon Manasse, clarinetist—Nov. 3 at 8pm at the Carriage House Theatre. Cypress String Quartet—Nov. 4 at 3pm; Dec. 5 at 7:30pm at Historic villa.
Mountain Winery
All shows at 7:30pm; Saratoga; www.mountainwinery.com. Ziggy Marley—Aug. 22. Big Bad Voodoo Daddy—Aug. 23. Huey Lewis and the News—Aug. 24–25. Madeleine Peyroux, with Marie Knight—Aug. 26. Heart—Aug. 27. Gipsy Kings—Aug. 28. Crowded House, with Pete Yorn—Aug. 29–30. Chicago—Aug. 31–Sept. 1. The Doobie Brothers —Sept. 6. Richard Thompson Band—Sept. 8. Boney James—Sept. 9. Peter Frampton —Sept. 10. Etta James and the Roots Band—Sept. 11. Foreigner—Sept. 13. Peter, Paul and Mary—Sept. 15.
UC–Santa Cruz Arts & Lectures
Various locations; all events at 8pm; 831.459.2159. Daniel Beaty: Emergence-SEE!, one-man play—Oct. 7 at UCSC Porter College Dining Hall. Hilary Hahn, violinist—Oct. 17 at UCSC Recital Hall. Music From the Crooked Road, nationwide old-time and mountain music tour—Oct. 25 at Rio Theatre. Ravi Shankar's Festival of India—Nov. 4 at Santa Cruz Civic Auditorium. Caetano Veloso, contemporary Brazilian guitarist—Nov. 11 at Civic Auditorium. Youssou N'Dour—Nov. 28 at Rio Theatre.
Evenings of Cultural Arts
Sponsored by Sunnyvale Parks & Recreation; Sunnyvale Theatre; Saturdays at 8pm; 408.730.7725. Led Kalapana, Hawaiian slack key guitar—Sept. 8. The Stairwell Sisters, old-time sounds—Oct. 20. Oscar Reynolds and Karumanta, Andean music—Nov. 24. The Christmas Jug Band—Dec. 15.
South Bay Guitar Society
Venues; 408.292.0704. Outdoor Classical Guitar Stage, part of the Tapestry Arts Festival—Sept. 1–2 at Park Avenue and Almaden Boulevard, San Jose. David Grimes—Sept. 8 at West Valley College, Saratoga. Xuefei Yang—Oct. 6 at Le Petit Trianon, San Jose. Ricardo Iznaola—Nov. 18 at De Anza College, Cupertino.
Community School of Music and Arts
Family Concerts, Sundays at 2 and 4pm, Stanford Lively Arts Informances at 6pm and Music@7 Faculty and Friends, Thursdays at 7pm; 230 San Antonio Circle, Mountain View; free; 650.917.6800, ext. 314. Chanticleer—Sept. 26 at 6pm. St. Lawrence String Quartet—Oct. 15 at 6pm. Greek Puppet Theatre with Leonidas Kassapides—Oct. 21 at 2 and 4pm. Shimenawa, Japanese music and dance—Oct. 27 at 7pm. CSMA Digital Sound and Image with Roddy Schrock and Jano Cortijo—Nov. 15 at 7pm. Four Winds, Native American music and dance with Eddie Madril—Nov. 18 at 2 and 4pm. Robert Moses' Kin Dance—Dec. 7 at 6pm. Laurel Ensemble, the music of Igor Stravinsky—Dec. 13 at 7pm.
Campbell Heritage Theatre
Historic theater hosts concerts and stage shows; 1 W. Campbell Ave.; www.heritagetheatre.org or 408.866.2700. New Christy Minstrels—Oct. 5. Sergio Mendez—Nov. 10.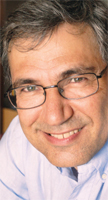 Photograph by Elena Seibert
Orhan Pamuk
Word Up
WITH TURKEY increasingly in the news—vying for EU membership on the one hand, tensely dicing with the Kurds on the other, and trying to chart a course somewhere between religion and secularism—the country deserves a literary voice of international stature, even if it doesn't always appreciate him. Orhan Pamuk, a distinguished novelist—The Black Book, My Name Is Red, Snow—was arrested and tried for insulting the government's idea of national identity (the charges were eventually dropped) and then promptly won the 2006 Nobel Prize for Literature.
Born in Istanbul, in 1952, Pamuk has lived his whole life in the pinch-point city that straddles Asia and Europe and served as a capital for both Eastern and Western empires. In his brilliant memoir Istanbul: Memories and the City, Pamuk explores the sense of hüzün, or melancholy, in which the city is steeped. It is a kind of collective sadness of a civilization unsure of how to live up to the glories of its distant past. In the end, Pamuk does for Istanbul what Joyce did for Dublin and Durrell for Alexandria.
The other prose heavyweight coming our way in the fall is Salman Rushdie. After the acclaim given to Midnight's Children (1981), an epic about the independence movement in India, Rushdie incurred the wrath of Ayatollah Khomeini with his cheeky novel The Satanic Verses. A fatwa dogged Rushdie for many years, until in 1998, the Iranian government struck a deal with the Brits to disavow the death threats. In a controversial move, the British government knighted Rushdie this June, reigniting some Muslim complaints that his works offend Islam. Rushdie appears Nov. 8 for a talk and sure-to-be-lively Q&A session as part of the Major Authors Series sponsored by the Center for Literary Arts.
Orhan Pamuk gives a lecture Oct. 22, 6–8pm, at Stanford University's Memorial Auditorium. Salman Rushdie appears Nov. 8 at 7:30pm at Morris Dailey Auditorium, SJSU. (A venue change is possible; see www.litart.org for updates.)
Other Literary Events
Celebrity Forum
Flint Center, Cupertino; sold in series packages only; 650.949.7176. George Pataki—Sept. 5–7 Al Gore—Oct. 8–9 and Oct. 12 Chris Matthews—Nov. 14–16 Bob Newhart—Dec. 5–7
Center for Literary Arts
Some events co-sponsored by Poetry Center San Jose; 408.924.4600. Sam Hamill, author of 14 books of verse and director of Poets Against the War—Sept. 12; location TBA
California Poets Festival
An outdoor celebration with Robert Hass, Wanda Coleman, Francisco X. Alarcón and others—Sept. 22, 10am–4pm, at History Park, San Jose. Free.
Commonwealth Club
Silicon Valley Various venues; 800.847.7730. Alan Alda—Sept. 19 at 8pm at SJ Rep. One Family's Journey With an Eating Disorder, with Don and Melissa Nielsen—Sept. 24 at 7pm at Le Petit Trianon. Free. Going Digital: The ABCs of Digital Photography, with Mark Richards, Scott Budman and Larry Magid—Sept. 25 at 7pm at the Computer History Museum in Mountain View. David Kennedy, Stanford professor, discusses the continuing legacy of World War II—Oct. 18 at 8pm at Le Petit Trianon.
Guggenhime Speaker Series
Sponsored by the World Affairs Council; 415.392.44000. Paul Krugman, economist, New York Times columnist, talks about "American Leadership in the 21st Century"—Sept. 10 at 6:30pm at the Montgomery Theater, San Jose. Mark Halperin, editor-at-large of Time magazine, and John Harris, editor-in-chief of The Politico, on "Electing the Next President"—Nov. 12 at 6:30pm at the Mexican Heritage Plaza Theater, San Jose. Gen. John Abizaid, retired leader of the U.S. Central Command, speaks on "Diplomacy, the Military, and the Future of the Middle East."—Dec. 10 at 6pm at the Montgomery Theater.
Send a letter to the editor about this story.