August 22-28, 2007
home | metro silicon valley index | the arts | visual arts | fall preview
2007 Fall Arts Issue:
Intro | Body Worlds | Music | Stage | Performing Arts | Visual Art | Classical | Film | Festivals
2007 Fall Arts Issue
Visual Art
San Jose Museum of Art
110 S. First St., San Jose; Tuesday–Sunday, 11am–5pm; 408.294.2787.
THE Martín Ramírez show proves once and for all that the term "outsider artist" simply isn't adequate to describe such a sustained body of work imbued with vision and skill. Ramírez, a Mexican immigrant who was confined to a California mental hospital for most of his life, created extraordinary paintings and drawings full of carefully calculated iconography with powerful rhythmic backgrounds. The show ends Sept. 9; don't miss it.
The big show for the fall looks to be Diebenkorn in New Mexico: 1950–1952, a narrowly focused examination of a small but crucial period the Bay Area master spent painting in the extreme light and space of desert country. It runs Oct. 14–Jan. 6. Tragic Kingdom—Mythic oil paintings by L.A. artists Camille Rose Garcia. Ends Sept. 23. The Holy Bible and THE END—Prints by pop pioneer Ed Ruscha and punk-scene elder Raymond Pettibon. Ends Oct. 21.
Brice Marden: 12 Views for Caroline Tatyana—Austere black-and-white prints distilling abstract artist Marden's response to Greek architecture. Ends Oct. 14. De-Natured: Works From the Anderson Collection—A group show updating traditional landscape to a modern- art world freaked out about pollution and environmental catastrophe. Oct. 13–Jan. 6. SJMA Collects CCA: Works on Paper From the Permanent Collection—Artworks by students at the California College of Art; the exhibit marks the centennial of the influential school. Oct. 20–Feb. 3. Joan Miró: Fantastic Universe—Prints by the Spanish (reluctant) surrealist. Nov. 3–Feb. 3.
Cantor Arts Center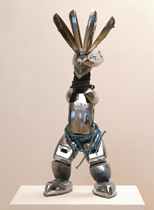 Private Collection Courtesy of Alexander and Bonin, New York
The Age of Irony: Willie Cole's 1998 'Water Window Female Iron Figure' uses old appliances in new ways.
Stanford University;Wednesday–Sunday, 11am–5pm, till 8pm Thursday; free; 650.723.4177.
THE CENTER'S sterling summer show, Yosemite Structure and Textures, continues until Oct. 28. The show highlights iconic photographs of Yosemite by 19th-century masters Eadweard Muybridge and Carleton Watkins. A 20th-century perspective is provided by some superb Ansel Adams photos and a magnificent full-size screen printed with Adams' near-abstract shots of snow-laden boughs.
The most intriguing fall show looks to be Anxious Objects: Willie Cole's Favorite Brands (Oct. 3–Jan. 6). African American artist Cole assembles cast-offs, flea market rejects and scrapped appliances into sculptures that reflect on racial identity. He often reworks household commonplaces like irons and hair dryers into totemic objects that evoke African tribal creations.
Art of Being Tuareg: Sahara Nomads in a Modern World—Jewelry and artifacts. Silverwork demonstrations take place during the last two weeks of the run. Ends Sept. 2.
Mutual Admiration: Eugéne Carriére and His Circle—Works by the French artist (1849–1906) and his friends and followers. Ends Dec. 2.
Dreaming of a Speech Without Words: The Paintings and Early Objects of H.C. Westermann—Works by eccentric Westermann (1922–1981), who often depicted his traumatic experiences in World War II in a garish cartoon style. His best pieces are his whimsical assemblage sculptures. Nov. 21–March 2.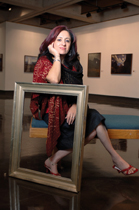 Frame job: Scholar Nada Shabout talks about Montalvo's exhibit of Iraq art on Dec. 17.
Montalvo Arts Center
15400 Montalvo Road, Saratoga; weekdays 8am–7pm, weekends, 9am–5pm; 408.961.5800.
THE CONFLICT in Iraq continues to churn up anger, rhetoric and the fog of war. In a major project, Montalvo Arts Center takes a look at how Iraqi artists are responding to the occupation and sectarian strife. For Iraq: Reframe, Wafaa Bilal will create a traditional Iraqi brick home on the Montalvo grounds; this is the kind of dwelling that many Iraqi refugees must live in. Starting Nov. 3, Montalvo presents a sampling of Iraqi art, starting from the 1940s to the 1960s.
In conjunction with the San Jose Institute of Contemporary Art, nine artists depict The Landscape of War (Nov. 9–Jan. 19). This show is complemented by photographic essays by Iraqi women, called Open Shutters Iraq. Several lectures add to the mix: On Nov. 12, reporter Anthony Shadid and L.A. Times foreign editor Marjorie Miller speak; poet Sinan Antoon, artists Bilal and Michael Rakowitz and scholar Nada Shabout speak Dec. 17. There is even an Iraqi hip-hop performer on tap: Narcy, who appears Oct. 13 at MACLA in San Jose. Over and Under—A sculpture project on the front lawn by Nick Deamer, constructed from two large painted metal storage buoys connected to data feeds from ocean buoys. From August into 2008.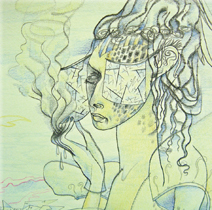 Smoke gets in your eyes: Julie McNeil exhibits drawings at Mohr Gallery through September.
De Saisset Museum
Santa Clara University; Tuesday–Sunday, 11am–4pm; free; 408.554.4528. Experience Teaches: SCU Art Faculty Exhibition—Works by Katherine Aoki, Renee Billingslea, Kelly Detweiler, Don Fritz, David Pace and other faculty and instructors. Oct. 5–Dec. 8.
Euphrat
De Anza College, Cupertino; 408.864.5678. Moving Cultures—Artworks dealing with location and relocation. Includes "The Transcendental Train Yard," photos of Texas train yards by Marta Sanchez and poetry by Norma Cantu, plus pieces by Vic de la Rosa, Michael Arcega and Kent Manske and Nanette Wyde. Oct. 2–Nov. 21.
The museum holds a groundbreaking ceremony for construction of its new building, scheduled for completion in 2008. Oct. 9 at 11 am.
Art Museum of Los Gatos
4 Tait Ave.; Wednesday–Sunday, noon–4pm; free; 408.354.2646. Asleep in America—A photographic tour by Peter Hobbs Digrazia of Americans struggling to get some shut-eye. Ends Oct. 13. Pursuit of Beauty—Female figurative oil paintings in an abstract mode by Ursula O'Farrell; the works evoke the innovations of Elmer Bischoff and Richard Diebenkorn. The artists will give a painting demo on Sept. 16, 2–4pm. Show ends Oct. 13.
San Jose Museum of Quilts & Textiles
520 S. First St., San Jose; Tuesday–Sunday, 10am–5pm; 408.971.0323. Weavings of War: Fabrics of Memory; Woven Witness: Afghan War Rugs and Afghan Freedom Quilt; Patriot Art—All ends Sept. 23. Auction Fundraiser—Works on display Sept. 27–Oct. 4, culminating in a gala dinner on Oct. 6 at the Fourth Street Summit Center. Saturn Returns: Back to the Future of Fiber Art—Pieces by 30 contemporary fiber artists to mark the 30th anniversary of the museum. Oct. 16–Jan. 6.
Triton Museum of Art
1505 Warburton Ave., Santa Clara; Monday–Sunday, 11am–5pm, Thursday till 9pm; 408.247.3745; free. Landscapes: Rural and Urban Realities—Images of our surroundings by 50 Northern California artists. Ends Sept. 30. Ken Matsumoto: A Reason for Being—Abstract stone sculptures by the founder of San Jose's Art Objects Gallery. Oct. 13–Dec. 30. Bob Nugent: Under the Canopy—Abstract paintings and drawings on the theme of the Amazon. Oct. 13–Dec. 13.
The Tech Museum of Innovation
San Jose; 408.294.TECH. Body Worlds 2 and the Three-Pound Gem—Sept. 27–Jan. 26.
Anno Domini
366 S. First St., San Jose; Tuesday–Friday, noon–7pm, Saturday, noon–5pm; 408.271.5155. A Summer Cut for Medusa's Daughters—New works by Alfonso Kellenberger in a mythical-narrative vein. Ends Sept. 22. Hope Leaves—Works by Michael Page. Sept. 7–Oct. 20. Skin Vandals—Tattoos, graffiti and "fine" arts. Oct. 5–27. Animalitia—Kevin Earl Taylor's paintings depict a futuristic dystopia of genetic mutants. Nov. 2–9. Fresh Produce—Annual sale. Through December.
La Galleria
Mexican Heritage Plaza, 1700 Alum Rock Ave., San Jose; Monday–Saturday, noon–5pm; free; 408.928.5524. The Worlds of Martín Ramírez—In conjunction with retrospective at San Jose Museum of Art. Ends Sept. 9. My Coche, My Culture—A show about lowrider cars is set for November, with an opening date TBA.
MACLA
510 S. First St., San Jose; Wednesday–Thursday, noon–7pm, Friday–Saturday, noon–5pm; free; 408. 998.ARTE. Chicana/o Biennial—Juried show of works by Chicana and Chicano artists. End Sept. 22. FotoFolio—An exhibit by young people in MACLA's digital photo program. Oct. 5–Nov. 10. Migrating Dreams, Shifting Ralities—A group show tackling the issue of immigration and identity. Nob. 28–Jan. 19.
Mohr Gallery
Community School of Music and Arts, 230 San Antonio Circle, Mountain View; Monday–Friday, 10am–7pm, Saturday, 9am–3pm; 650.917.6800. Drawings by Julie McNeil—Ends Sept. 26. Emily Stewart, Camille Ahern, Joan Schulze—Textile art. October–November. Sylvie A. Serez-Bonnet—Collage pieces. December–January.
Palo Alto Art Center
1313 Newell Road, Palo Alto; Tuesday–Saturday, 10am–5pm, Sunday, 1–5pm; 650.329.2366. From the Ground Up: Painting, Process & the Garden—Works by Frances McCormack. Ends Sept. 9. Photography: Beyond Botanica—Ends Sept. 9. Renee Adams: Under Fragile Skies—Ends Sept. 9 A Model Building—A show about dream houses and utopian dwellings using the techniques of the architectural model. Sept. 28–Dec. 21. From Dwellings Forward: Metalwork by Marilyn da Silva—Metalworks by a professor at the California College of the Arts. Sept. 28–Dec. 21. WADC Miniature Art Auction—Bay Area artist show off small pieces in many media. Sept. 22, 4pm on. (408.739.3819) Great Glass Pumpkin Patch—Annual show of glass art. Oct. 2–5, with sale Oct. 6–7.
San Jose Institute of Contemporary Art
560 S. First St., San Jose; Tuesday–Friday, 10am–5pm, Thursday till 8pm, Saturday, noon–5pm; free; 408.283.8155. NextNew2007—Veteran art-faculty members pick some promising young artists for an annual showcase—Ends Sept. 22. Propagation—Mitra Fabian uses ordinary materials to create strange topographical structures. Ends Sept. 29. Fall Exhibition and Auction—Oct. 5–27. The Landscape of War—Artists who look at the impact of war. Nov. 9–Jan. 19. Open Shutters—A joint project with Montalvo Arts follows the lives of five Iraqi women. Nov. 9–Jan. 5.
Natalie & James Thompson Gallery
San Jose State University, Art Building, San Jose; 408.924.4328. VIKAK '07: Graphic Design in Korea—Exhibit samples the projects of Visual Information Design Association of Korea. Aug. 28–Sept. 21. Gabriel Wiese: Corkart—German artist puts cork to surprising uses. Oct. 2–Nov. 2. Seyed Alavi: Samah—The Cosmic Dance—Alumni exhibit focusing on sculpture by SJSU grad Alavi. Nov. 12–Dec. 14.
WORKS/San Jose
451 S. First St., San Jose; Tuesday–Friday, noon–4pm, Thursday, noon–7pm; free; 408.286.6800. eXact-O— Jesse Houlding curators a show about "cutting-edge" art—literally. The artists all use the X-ACTO knife to create their pieces. Ends Sept. 22. A Thin Line Between ... —Angelica Muro, Juana Luna-Avin and Ala Ebtekar display drawings about crosscultural issues. Oct. 2–Nov. 22. Chriss Elliman—An interactive installation about stereotyping. Oct. 2–Nov. 22. That California Exchange—A group show focused on Pan-Pacific artists in our area, eight American and six Thai. Dec. 4–Jan. 19.
History San Jose
History Park, 1605 Senter Road, San Jose; Tuesday–Sunday, noon–5pm; free. (408.287.2290) Road Trip—Selections from early photo albums of motoring jaunts in the Silicon Valley and beyond. Ends January. Speed City—Sports and SJSU exhibit. Ends Nov. 30.
San Francisco/East Bay
Asian Art Museum
200 Larkin St., San Francisco; Tuesday–Sunday, 10am–5pm; 415.581.3500. Hiroshi Sugimoto: History of History—The exhibit explores the meaning of time by pairing Sugimoto's photographs with traditional art from Japan and the Far East from the photographer's personal collection. Oct. 12–Jan. 6. Stylized Sculpture: Contemporary Japanese Fashion From the Kyoto Institute—Oct. 12–Jan. 6.
De Young Museum
Golden Gate Park, San Francisco; Tuesday–Sunday, 9:30am–5:15pm, Friday till 8:45pm; 415.750.3600. Peter Max and the Summer of Love—Aug. 31–Oct. 28. The Sculpture of Louise Nevelson: Constructing a Legend—A major retrospective includes works on paper by the master of wood assemblage. Oct. 27–Jan. 13.
Legion of Honor
Lincoln Park, San Francisco; Tuesday–Sunday, 9:30am–5:15pm; 415.750.3600. Marie-Antoinette and the Petit Trianon at Versailles—Artifacts, watercolors and prints from the French chateau that defines the ultimate decadence of the monarchy. Nov. 17–Feb. 17, 2008.
SFMOMA
151 Third St., San Francisco; Monday–Sunday 11am–5:45pm, Thursday, till 8:45pm; 415.357.4000. Joseph Cornell: Navigating the Imagination—The blockbuster of the fall season brings the first major retrospective by Cornell to the West coast. Oct. 6–Jan. 6. Your Tempo: Olafur Eliasson—The Iceman cometh. A retrospective of the Icelandic artist's interactive and atmospheric pieces includes a BMW turned into a an ice-encrusted installation piece. Sept. 8–Jan. 13.
Oakland Museum of California
Tenth and Oak streets, Oakland; Wednesday-Saturday, 10am–5pm, Sunday, noon–5pm; $5–$8; 510.238.2200. Artists of Invention—Another exhibit (see the San Jose Museum of Art above) concentrating on students of the California College of Arts on the occasion of its 100th birthday. Oct. 13–March 16. Ancient Roots/Urban Journeys: Expressions for Dias de los Muertos—If last year's Day of the Dead exhibit was any indication, this show, curated by Anjee Helstrup Alvarez of San Jose's MACLA, should be a knock-out. Oct. 10–Dec. 2.
Send a letter to the editor about this story.