November 22-28, 2007
home | metro silicon valley index | the arts | stage | fall preview
2007 Fall Arts Issue:
Intro | Body Worlds | Music | Stage | Performing Arts | Visual Art | Classical | Film | Festivals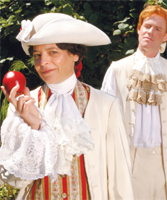 Photograph by Kevin Berne
Gala affair: Stacy Ross and Judd Williford star in San Jose Rep's 'The Triumph of Love.'
2007 Fall Arts Issue
Stage
By Marianne Messina
IN THE WAR on digital, portable, global, perfectible media, South Bay theater companies are marching out their fallible organic troupes for a fall surge of "premieres." Besides live bodies (like adoptive parents, theater actors actually choose to be in the same room with you), the season includes new translations (Three Sisters at the Pear Avenue Theatre, Triumph of Love at San Jose Repertory Theatre), new adaptations (Emma from TheatreWorks, More Than Petticoats from Tabard Theatre Company, The Diary of Anne Frank at San Jose Stage Company), a West Coast premiere (American Absurdum at Renegade Theatre Experiment) and a battery of brand-new plays (Teatro Visión's Visitor's Guide to Arivaca, City Lights Theater Company's staged-reading The High Rise and Northside Theatre Company's The Sugar Witch).
Some of the new productions have been incubating among directors and writers for well over a year now, and it is comfortingly subversive to picture these collaborations going on under the radar amid the bread-and-butter revivals that keep popping up like punch clowns.
TheatreWorks has been conducting read-throughs of the Paul Gordon (book/music/lyrics) musical Emma, since last fall. By January, Gordon was collaborating with lead actress Lianne Marie Dobbs to create the role of Emma from Jane Austen's eponymous book.
"Lianne and I sat in a room for a couple of days and reconceived the opening," says Gordon. He brought the brainstorming glow back with him to L.A.
"I just never stopped working on it," says Gordon, still making big changes mere weeks before the show opens. "We did a run-through the other night, and I just learned so much and came in here yesterday and wrote a new song."
Likewise, inspired by Erin H. Turner's monograph More Than Petticoats: Remarkable Women of California, Tabard's artistic director, Cathy Speilberger Cassetta, spent almost a year researching the seven women who make up Tabard's adaptation of the book. Next, Cassetta initiated a research think tank among the actors, who profiled the women trailblazers (like architect Julia Morgan) as characters. Then Cassetta and director Jenny Hollingworth cobbled everything together into a concept before packing it off to local playwright Doug Brook. who did "the nitty-gritty shaping."
Over the same time, the Pear's Jeanie Forte was poring through translations of Anton Chekhov's Three Sisters looking for something lyrical and contemporary that also captured the 19th-century Russian playwright's oft-smothered humor.
"I had looked at, like, a dozen of them," Forte reports. That was before discovering playwright Craig Lucas' (Prelude to a Kiss) translation, which captured "both humor and big heart," according to Forte. "I think that's so appropriate for Chekhov."
As far back as 2005, when San Jose Stage Company produced Nathan Sanders' Sugar Bean Sisters, Sanders and Northside artistic director Richard T. Orlando were talking about The Sugar Witch, the next play in what Sanders conceived as a trilogy centered in the rural Florida bayou of his childhood home.
The collaborative process included two staged readings beginning last March. Audience feedback from the March reading encouraged Sanders to fill out one of the characters. These one-night "interactive" staged readings, allowing theatergoers to have direct input on the creative process, are becoming popular in the Bay Area theater scene.
Last year, as TheatreWorks expanded its nationally known New Works festival, which operates on this same principle, City Lights Theatre Company introduced its New Play Series, featuring strictly Bay Area playwrights. With a reading and feedback session every other month or so, the New Play Series begins again on Oct. 2 with a Tuesday-night read of The High Rise, Lauren D. Yee's humorous spin on a fraternal feud.
The untried quality of a fall premiere means that while most of us are in vacation mode, production teams are testing sets, sorting through head shots and scouting specialty talent, like tap dancers (who will convey the time changes over More Than Petticoats' historic span) and buffo clowns (a common commodity in playwright Pierre Marivaux's 17th-century Paris) for the commedia dell' arte in Triumph of Love.
San Jose Stage director Rick Singleton hovers over a lineup of head shots, torn between "two camps" of casting for The Diary of Anne Frank—should the actress be realistically adolescent or old enough to bring perspective to the sexually precocious passages newly reinserted by Wendy Kesselman?
Director Robert Kelley oversees a detailed rehearsal, every hand gesture choreographed, for the romantic ballroom dance between Emma and Mr. Knightley (Timothy Gulan); beside Kelley sits a model of the stage setting complete with tiny human figures.
Renegade Theatre Experiment director Nichole Y. Hamilton launches early rehearsals to pull together the illogical blurts and spasms of Brian Parks' Americana Absurdum. Hamilton churns actor feedback about blocking or props—balloons, stuffed animals, squeaking clown noses—into ever new directions for the play. "Honestly, we've been in rehearsals for two weeks," she explains. "You can read it all you want but you can't grasp it until you see it."
Starting with a screwy airliner crash, Americana Absurdum seeks to overpower the potentially tragic with the purely ridiculous. "It's not average theater," Hamilton admits. "Sometimes you feel it's nonsensical. But you realize this is a reflection of who we are."
Part of what drives companies to undertake new plays is the hope of contributing to the larger social dialogue. Playwright Nathan Sanders was prompted to write The Sugar Witch in the aftermath of Hurricane Katrina. Events increasingly reminded him of stories he'd heard as a boy about the devastating 1928 hurricane in his native Palm Beach County.
"The recovery effort was marred by racism," Sanders reports, adding that the 3,000 or so deaths came disproportionately from the black community, which was not warned to evacuate. "Part of the reason there was no evacuation [was] that it was during the land boom; they didn't want to scare away the tourists." In The Sugar Witch, similar motives lead to a family curse.
Teatro Visión's artistic director Elisa Marina Alvarado wanted San Jose's venerable Chicano theater to weigh in on the immigration debate. "I was interested in a play that captured more of the complexity of the immigration policy."
She found Visitor's Guide to Arivaca (Map Not to Scale). Playwright Evangeline Ordaz drew the material from interviews with Mexican immigrants, Minutemen and tribal natives of the borderland town Arivaca, on the Arizona/Mexico border.
Other directors seek to address broader, more nebulous undercurrents in the national dialogue. The Pear's Jeanie Forte feels that Three Sisters, "about a dying upper class that is not changing with the times" and characters who unrealistically romanticize the military, is filled with characters "just like us." She (along with designer Ron Gasparinetti) plans to reinforce those connections in her set design. "I think doing away with a superrealistic set helps to do that."
Triumph of Love director (and translator) Lillian Groag also gravitated toward the idea of shifting reality found in Miravaux's comedy, in a joint production between San Jose Rep and California Shakespeare Theater. The heroine, princess Leonide, masquerades as a man (or men), duping the gardeners and infiltrating the country home of her love interest, Agis, who is unknowingly the rightful prince. Groag wants to advance Marivaux's ironic take on "love," in which Leonide's altruistic ends demand destructively deceptive means. Groag's set design will focus on the central metaphor, the controlled French garden inside the gates ("Everything clipped within an inch of its life") and nature running wild outside. From there, Groag can make the irony visual. "Somehow she [Leonide] brings nature inside and lays waste to the garden."
Orlando's set conception for The Sugar Witch weaves surprisingly similar themes. A dead sugar cane field, a decrepit house, but with traces of the new, all propel his idea that "the play is the end of a thing and the beginning of a new thing." All these dying eras and changing times start to sound like a consensus—now to see if theater is prophetic.

Actors Theatre Center
Historic Hoover Theatre, San Jose; 408.985.5500. Assassins—Sondheim on the history of American political killers. Sept. 28–Oct. 13. The Rocky Horror Picture Show—Dec. 14–Jan. 5. American Musical Theatre San Jose San Jose Center for the Performing Arts; 888.455.SHOW. Guys and Dolls—Oct. 9–21. Go Diego Go! Live—A family show special. Nov. 1–4. Jesus Christ Superstar—With Ted Neeley himself, plus Corey Glover from Living Colour as Judas. Dec. 27–30.
Broadway by the Bay
San Mateo Performing Arts Center; 650.579.5565. Annie Get Your Gun—Sept. 20–Oct. 7. Ahrens and Flaherty, songs by the creators of Ragtime and Once on This Island, with Marin Mazzie and Jason Danieley—Nov. 8–11.
Broadway West Theatre Company
Fremont; 510.683.9218. Summer Shorts— Aug. 24–25. Misery—Sept. 21–Oct. 20. Greater Tuna—Nov. 16–Dec. 22.
Bus Barn Stage Company
Los Altos; 650.941.0551. A Chorus Line—Sept. 6–Oct. 6. The Last Night of Ballyhoo—Nov. 29–Dec. 22,
Center Stage Productions
Center for Spiritual Living, San Jose; 408.294.1828. Greetings—Nov. 16–Dec. 2.
City Lights Theater Company
San Jose; 408.295.4200. The Full Monty—Ends Aug. 26. Angels in America, Part Two: Perestroika—Sept. 20–Oct. 21. The High Rise, a New Play Readers Series presentation—Oct. 2. Jacob Marley's Christmas Carol—Nov. 15–Dec. 23.
Dragon Productions
Dragon Theatre, Palo Alto; 650.493.2006. Chekov in Yalta—Sept. 21–Oct. 14. The Smell of the Kill—Nov. 2–18.
El Teatro Campesino
705 Fourth St., San Juan Bautista; 831.623.2444. Zoot Suit—Ends Sept. 16.
Foothill College Drama Department
Los Altos Hills; 650.949.7414. The Radio Plays: The War of the Worlds and The Desert Queen—Oct. 26–29. The Jungle Book—Nov. 15–19.
Hillbarn Theatre
Foster City; 650.349.6411. Man of La Mancha—Sept. 6–30. I Hate Hamlet—Oct. 18–Nov. 11. Smokey Joe's Cafe—Dec. 6– Dec. 31.
Lyric Theatre
Montgomery Theater, San Jose; 408.986.1455. Mademoiselle Modiste, light opera by Victor Herbert—Oct. 13–21.
Northside Theatre Company
Black Box Theatre, San Jose; 408.288.7820. The Sugar Witch—Oct. 4–28. A Christmas Carol—Dec. 5–23.
Palo Alto Players
Lucie Stern Theater, Palo Alto; 650.329.0891. Sylvia—Sept. 15–30. Little Women—Nov. 3–18.
The Pear Avenue Theatre
Mountain View; 650.254.1148. Three Sisters—Sept. 7–30. Three Tall Women—Oct. 26–Nov. 18.
The Renegade Theatre Experiment
Historic Hoover Theater, San Jose; 408.351.4440. Americana Absurdum—Sept. 6–22. Wiley and the Hairy Man, for kids—Nov. 10–Dec. 2. Tests, Trials and Teasers—Nov. 9–Dec. 1.
San Jose Repertory Theatre
San Jose; 408.367.7255 Triumph of Love—Sept. 22–Oct. 21. This Wonderful Life—Nov. 24–Dec. 23.
San Jose Stage Company
408.283.7142. Not a Genuine Black Man—Ends Aug. 25. The Diary of Anne Frank—Sept. 19–Oct. 14. A Tuna Christmas—Nov. 14–Dec. 23.
San Jose State University
University Theatre; 408.998.TIXS. Lysistrata—Aug. 24–25. Angels in America: The Millennium Approaches—Oct. 5–13. A Midsummer Night's Dream—Nov. 9–17. Pageant—Dec. 6–8.
Santa Clara Players
Triton Hall Pavilion, Santa Clara University; 408.248.7993. Steel Magnolias—Oct. 26–Nov. 17.
Santa Clara University
SCU Center of Performing Arts and other venues; 408.554.4000. Fall One-Act Festival—Oct. 20–21 at Fess Parker Theatre. Fuente Ovejuna (The Sheep's Well)—Nov. 2–10 at Mayer Theatre.
Saratoga Drama Group
Saratoga Civic Theater, Saratoga; 408.266.4734. Disney's Beauty and the Beast—Sept. 22–Oct. 13.
Shady Shakespeare Theatre Company
Sanborn-Skyline Park, Saratoga; free; 408.298.0649. Macbeth—Ends Sept. 14. The Tempest—Ends Sept. 16.
South Valley Civic Theatre
Morgan Hill Community Playhouse; 408.842.SHOW. Arsenic and Old Lace—Sept. 14–Oct. 13. Scrooge, the Musical—Nov. 24–Dec. 15.
Stagelight Productions
Historic Hoover Theatre; 800.838.3000. Hair—Ends Aug. 24.
Stanford Drama
Various locations, Stanford University; 650.725.5838. Dancing With the Rodins: Awaken, featuring Anna Halprin— Oct. 11 at Cantor Arts Center. The Public Theater Residency, with Joan Akalaitis—Oct. 29–Nov. 11 at Roble Studio Theater. Miracle in Rwanda, written and performed by Leslie Lewis Sword— Nov. 1–4 at Pigott Theater. The Mineola Twins—Nov. 14–17 at Pigott Theater. Far Away— Nov. 29–Dec. 1 at Roble Studio Theater.
Sunnyvale Community Players
Sunnyvale Community Center Theatre; 408.733.6611. The Music Man—Sept. 14–Oct. 7. My Favorite Year—Oct. 26–Nov. 18.
Tabard Theatre Company
Various locations; 408.979.0231. More Than Petticoats—Sept. 7–15 at Triton Hall Pavilion, Santa Clara Stop Time!—Nov. 30–Dec. 15.
Teatro Visión
Mexican Heritage Plaza, San Jose; 408.928.5587. Visitor's Guide to Arivica (Map Not to Scale)—Oct. 25–Nov. 11.
Theatre on San Pedro Square
29 N. San Pedro St., San Jose; 408.283.0200. Measure for Measure, Arclight Rep Theatre—Thru Sept. 9.
TheatreWorks
Mountain View Center for the Performing Arts and the Lucie Stern Theater, Palo Alto; 650.463.1960. Emma—Aug. 22–Sept. 16 at MVCPA. Golda's Balcony—Oct. 3–28 at MVCPA. Twelfth Night—Nov. 28–Dec. 23 at Lucie Stern. Anything Goes Fundraising Gala—Oct. 13, 6pm–midnight, at 1110 Hamilton Court, Menlo Park.
West Valley College Theatre Arts Department
Saratoga; 408.741.2058. Once in a Lifetime—Nov. 16–Dec. 2.
West Valley Light Opera
Saratoga Civic Theater; 408.268.3777. Joseph and the Amazing Technicolor Dreamcoat—Nov. 3–Dec. 1.
Western Stage
Hartnell Performing Arts Center, Salinas; 831.375.2111. I Love You, You're Perfect, Now Change—Aug. 24–Sept. 16. The Hostage—Sept. 7–30. The Three Penny Opera—Oct. 19–Nov. 11. South Pacific—Nov. 10–Dec. 8.
Youth Movement
American Musical Theatre
San Jose. Go, Diego, Go Lives!—The Great Jaguar Rescue, an interactive musical—Nov. 1–4.
California Theatre Center
Sunnyvale Community Center Theatre; 408.245.2978. Miss Nelson Is Missing—Oct. 6; plus Oct. 14 at Mayer Theatre. Just So Stories—Oct. 13 and 20. The Time Machine—Oct. 27 and Nov. 3. Tales of Brer Rabbit—Nov. 17. The Elves and the Shoemaker—Dec. 1 and 7. An Old-Fashioned Holiday—Dec. 8 and 14–15.
Children's Musical Theater San Jose
Montgomery Theater; 408.288.5437. You're a Good Man, Charlie Brown—Nov. 15–18. Annie—Nov. 30–Dec. 9.
Disney's High School Musical
HP Pavilion, San Jose. On ice. Oct. 24–28.
Los Altos Youth Theatre
Bus Barn Theatre, Los Altos; 650.941.0551. Wyrd Sisters—Oct. 26–Nov. 10.
Peninsula Youth Theatre
MV Center for the Performing Arts and Cubberley Community Theater, Palo Alto; 650.903.6000. The Adventures of Nate the Great—Oct. 20. Oliver!—Nov. 10–18. Turk and Runt: A Thanksgiving Comedy—Nov. 17. The Reluctant Dragon—Dec. 15.
Pied Piper Players
Bayside Performing Arts Center, San Mateo; 650.992.PIED. Joseph and the Amazing Technicolor. Dreamcoat—Nov. 2-–11.
Roberta Jones Junior Theatre
Santa Clara Recreation Center; 408.615.3161. A Year With Frog and Toad—Nov. 9–18. Seussical—April 18–27. Disney's Alice in Wonderland Jr.—June 13–15.
Send a letter to the editor about this story.