August 23-29, 2006
home | the papers | metro silicon valley
Best of Silicon Valley 2006 Reader's Survey
Vote online for the best food, drink, retail, arts and entertainment in the South Bay.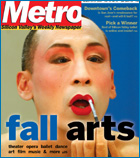 2006 Fall Arts Issue:
Intro | Stage | Classical | Performing Arts | Visual Arts | Venue Finder | Music | Movies | Festivals

News: Warning: San Jose May Be Cool
Or at least approaching it. So let's not blow the future of downtown.
The Fly: 08.23.06
The valley's worst new trend is hate crimes.

Silicon Alleys: Annalee Newitz
She argues that the slimy killers and zombies in slasher flicks exemplify the brutal contradictions of capitalist culture.
Technology News: 'Snakes on a Plane'
How a campy little Samuel L. Jackson horror flick became an Internet phenomenon.
Sports News: San Jose Giants
They swept some Nuts last weekend at the San Jose Municipal Stadium.

Movie Review: 'Factotum'
Matt Dillon's latest film faithfully renders the life of Henry Chinaski, the rebel with a drink of Charles Bukowski's novel.
Movie Review: 'Invincible'
The Vince Papale biopic rushes the line with an inseparable mixture of authenticity and phoniness.
Movie Review: 'Snakes on a Plane'
Homo sapiens has now achieved its purpose. And now, human history can come to a close.
Movie Review: 'Trust the Man'
Where the women are willing, the sun always shines, and you have enough disposable income to pay for Viagra.
Movie Review: 'Boynton Beach Club'
Much ado about less than nothing.
Cult Leader: 'Tron'
Almost 25 years later, Disney's failed sci-fi flick is a midnight movie—and a geek cause celèbre.
Movie Review: This Week's Revivals
Did You Get the Memo?: 'Office Space' and 'Tron' are among this week's revived movies.

MORE MOVIE REVIEWS

MOVIE TIMES

Music Preview: Gordon Lightfoot
In praise of the Canuck, who takes the high ground in the middle of the road.
Preview: Shrinkle's Dollhaus Fashion Show
Cutting-edge clothier Shrinkle transforms Blank Club into fashion central.

MORE MUSIC AND NIGHTLIFE

MUSIC AND CLUBS LISTINGS

MUSIC AND NIGHTLIFE CALENDAR PICKS

Restaurant Review: Nha Toi
A rare taste of stylized northern Vietnamese cuisine.
Live Feed: Indonesian Cuisine
Bay Leaf isn't the only Indonesian restaurant in Silicon Valley.
5 Things to Love: Reasons to Keep Drinking
Research has shown wine and beer to have substantial health benefits. So drink up. It's good for you.

BOOK A RESTAURANT RESERVATION

FIND A RESTAURANT REVIEW

Book Review: 'Lost Girls'
Alan Moore and Melinda Gebbie put the graphic back in graphic novels.
Author Interview: Melinda Gebbie
The 'Lost Girls' co-writer talks to Richard von Busack.

Letters to the Editor
August 23-29, 2006.