September 12-18, 2007
home | the papers | metro silicon valley
Best of Silicon Valley 2007 Reader's Poll
Vote online for the best food, drink, retail, arts and entertainment in the South Bay. Click here to vote. (The deadline for voting is Mon., Sept. 10.)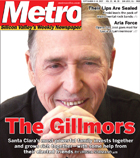 The Quiet Hand of Gary Gillmor
Local land baron Gary Gillmor and his family play power politics with big bucks in Santa Clara and Gilroy.

The Waiting Game
All those years, all that money, but the fabled BART extension to Silicon Valley is still just a gleam in politicians' eyes.
The Fly: 09.12.07
Hammer Time, Little Diddy and the Big Stink.

Silicon Alleys
Trying to ADD Up
Technology news
NASA sends music to the far stars, but will the aliens hear us?

Movie Review: 'The Brave One'
Jodie Foster blows 'em away in 'The Brave One.'
Movie Review: 'War Made Simple'
The documentary 'War Made Easy' shows how the press rolls over and plays dead when trumpets blare.
This week's revivals
Laura/Shadow of a Doubt, The Man from Laramie/Man of the West, The Mummy/The Old Dark House, Niles Essanay Film Museum and Steamboat Bill Jr./The Navigator

MORE MOVIE REVIEWS

MOVIE TIMES

Voiceless
Even with a mixed-bag new album, Kinski leads the pack of instrumental rock bands.
Music Picks
Treasure Island Music Festival, Guster and Pink Martini.

MORE MUSIC AND NIGHTLIFE

MUSIC AND CLUBS LISTINGS

MUSIC AND NIGHTLIFE CALENDAR PICKS

Let's Talk Dhaka
Although minimalist in appearance, Café Dhaka in Santa Clara offers maximum flavor and value
Live Feed
Back to (Cooking) School.
5 Things to Love
Essential Kitchen Tools

BOOK A RESTAURANT RESERVATION

FIND A RESTAURANT REVIEW

Stage Review: 'Americana Absurdum'
Our country 'tis tizzy in Renegade Theatre's 'Americana Absurdum'
Stage Review: 'Three Sisters'
Pear Avenue rethinks 'Three Sisters'
Stage Review: 'More Than Petticoats"
Women pioneers get their due at Tabard's 'More Than Petticoats"
Book Reviews:
'Supercapitalism' and 'Falling Behind' examine the income gap
Visual Arts Reviews
Mitra Fabian turns commonplace into mysterious at San Jose Institute of Contemporary Art
Events
Ken Burns
Kids events
Klutz
Sporting events
Fight Night

Letters to the Editor
September 12-18, 2007.