December 6-12, 2006
home | the papers | metro silicon valley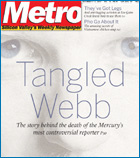 Excerpts from 'Kill the Messenger: How the CIA's Crack-Cocaine Controversy Destroyed Journalist Gary Webb'
A new book reveals how the media's campaign against Mercury News reporter Gary Webb may have driven him to suicide, and suggests he took the fall for the paper's failures on an explosive series of articles.

Battle against Los Gatos Creek logging plan
Mountain residents find an endangered species could decide their battle.
The Fly: 12.06.06
Merc employees are kept waiting in suspense as the new owners decide who goes and who stays.

Silicon Alleys: Dennis Erectus
Since the San Jose rock radio legend has no health insurance, the first in what will hopefully be a long series of benefits will take place at Avalon in Sunnyvale on Jan. 12.
Technology News: Antikythera Mechanism
Annalee Newitz can't stop thinking about a 2,000-year-old computerlike device made by Greeks wanting to predict the motion of the sun, moon and stars.
Sports News: Triple Threat
It's as if the bad guys from the '60s 'Batman' TV series had gone beyond Thunderdome.

Movie Review: 'Blood Diamond'
A cinch to win the 2006 Bad Hemingway competition.
Movie Review: 'History Boys'
This adaptation of Alan Bennett's successful 2004 play examines the class learned in class.
Movie Review: 'The Holiday'
In Nancy Meyers' latest rom-com, the only thing more interesting than sex is real estate.
Movie Review: 'Apocalypto'
Mad Mel indulges his bloodlust in the jungles of Mesoamerica.
Cult Leader: 'Fitzcarraldo'
Herzog vs. Coppola: Bet on 'Fitz.'
Movie Review: This Week's Revivals
It's a nice day for a White Russian: 'The Big Lebowski,' 'Lifeboat' and more.

MORE MOVIE REVIEWS

MOVIE TIMES

Music Review: Tom Waits' 'Orphans: Brawlers, Bawlers & Bastards'
The three-disc box set presages a strange and beautiful future.

MORE MUSIC AND NIGHTLIFE

MUSIC AND CLUBS LISTINGS

MUSIC AND NIGHTLIFE CALENDAR PICKS

Restaurant Review: Pho Ga An Nam, Kim Long Restaurant and Pho Ga Hung
Vietnamese chicken soup is a must-have for cold season.
Live Feed: Airport food
What is the deal with the restaurants at the airport?
5 Things to Love: The most interesting restaurant debuts of 2006
In restaurant-crowded Santana Row, newcomer Tanglewood is a standout.

BOOK A RESTAURANT RESERVATION

FIND A RESTAURANT REVIEW

Visual Arts Preview: Pacific Art Collective
PAC celebrates four years of collaborative art.
Stage Review: 'A Christmas Story'
Jean Shepherd's famous memories migrate to screen then stage intact in this SJ Rep production.
Stage Review: 'The All Night Strut!'
The Tabard Theatre Company re-creates popular big-band tunes of the '30s and '40s.
Stage Review: 'The Learned Ladies of Park Avenue'
TheatreWorks plays word games with David Grimm's rhyming farce.
Book Review: 'Railroads of Los Gatos'
A new book chronicles the history of railroading—full-size and miniature—in Los Gatos.
Book Review: 'Thunderstruck'
Book authored by Bruce Bernard and David Dawson.
Book Review: 'Freud at Work'
Book authored by Erik Larson.
Book Review: 'Graceland: An Interactive Pop-Up Tour'
Book authored by Chuck Murphy.

Letters to the Editor
December 6-12, 2006.