February 1-8, 2006
home | the papers | north bay bohemian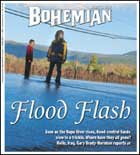 Flood Flash
Even as the Napa River rises, flood-control funds slow to a trickle. Where have they all gone? Hello, Iraq. Gary Brady-Herndon reports.

The Byrne Report
Anna Ayala and Jaime Plascencia are sentenced to prison for the Wendy's chili scam.
News Briefs
Barnes & Noble vs. Book Passage; Chip McAuley announces candidacy for Petaluma City Council.

Car Culture
Auto corporations enter the blogosphere.

Nude Brood
Judi Dench and Bob Hoskins star in 'Mrs. Henderson Presents,' a story of how toplessness won the war.

MORE MOVIE REVIEWS

MOVIE TIMES

Nina's Song
CDs salute High Priestess of Soul.
Now Hear This
Earphones hurt so bad but feel so good.

MORE NIGHTLIFE

NIGHTLIFE CALENDAR

To Market, to Market
Launching a new food product isn't easy, but LaLoo's Goat's Milk Ice Cream is beating the odds one flavor at a time.
Wine Tasting Room of the Week
Topolos at Russian River Vineyards Winery.
News of the Food
Yeasty Chili?--Whey!

BOOK A RESTAURANT RESERVATION

FIND A RESTAURANT REVIEW

Conceptions of Misperception
Antenna Theater founder Chris Hardman's dual purpose.
God Forbid
Ayelet Waldman's impossible pursuits.
Sauce and Sausages
AT plays hard with Steve Martin's naughty little 'Underpants.'