February 8-14, 2006
home | the papers | north bay bohemian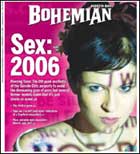 Sex: 2006
Piercing Tales: The DIY punk aesthetic of the Suicide Girls purports to avoid the demeaning gaze of porn, but several former models claim that it's just sleaze as usual.

Unmarried and Unequal
Day of love highlights inequities among couples.
News Briefs
Residents of Sonoma Grove Trailer Park resist rent hike.
Lucinda Williams/Buddy Guy VIP Concert Package Giveaway
Enter to win VIP tickets to two concerts.
Off the Cutting Edge
Sara Bir's blog.

The Byrne Report
Seeking a solution to high rate of teenaged traffic fatalities in Sonoma County.
Car Culture
Better watch out: surveillance cameras are everywhere.

Romance Sucks
Notes on the death of the romantic comedy.

MORE MOVIE REVIEWS

MOVIE TIMES

Crushingly Spastic
Archeopteryx are damn good at being horrible.
Recapturing Clarksdale
'Evolution' revisits the birth of the blues.

MORE NIGHTLIFE

NIGHTLIFE CALENDAR

Like Water for Chocolate?
The shocking truth about red wine and chocolate: They don't mix.
Wine Tasting Room of the Week
A guide to Valentine's Day wines.
First Bite
Redd in Yountville.
Morsels
Follini & Eichenbaum Cafe in Sonoma.
Real-Life Kitchen
Chocolate cookbooks for Valentine's Day.

BOOK A RESTAURANT RESERVATION

FIND A RESTAURANT REVIEW

Writer's Lust
A penis is a penis in local author's erotic romances.