Fall Arts 2018
Well Orchestrated
South Bay classical companies pick up the baton
Intro | Sonido Clash Music Festival | San Jose Taiko | Sunnyvale Community Players | Concerts | Stage | Art | Classical | Film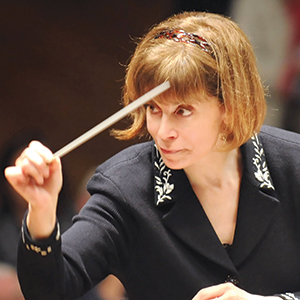 Symphony Silicon Valley
325 S 1st St, San Jose
symphonysiliconvalley.org | 408.286.2600
Romeo & Juliet & Sibelius
Oct. 6-7
Led by Maestra JoAnn Falletta, Symphony Silicon Valley presents the works of Samuel Barber, Sergei Prokofiev and Jean Sibelius. Known for guest conducting over 100 orchestras in North America and international orchestras, Falletta helms Prokofiev's Suite No. 1 from Romeo and Juliet, Op. 64, Barber's first orchestral work, The School for Scandal Overture and Jean Sibelius' Symphony No. 5 in E-flat Major Op. 82.
Debussy & Strauss
Oct. 27-28
Claude Debussy's bright, tuneful early works, Petit Suite L 65 and La Damoisielle élue L 62, kick off this performance, featuring conductor Carlos Vieu and soloist Daniela Tabernig, which closes with the final song cycle of Richard Strauss. Des Rosenkavalier Suite and Strauss' farewell, Four Last Songs, are considered some of the most profound and moving pieces he ever wrote.
Harry Potter & the Order of the Phoenix in Concert
Nov. 3-4
Symphony Silicon Valley plays the score to the fifth Harry Potter movie while on-screen, Harry and his friends band together with the Order of the Phoenix to defend themselves and their school from impending danger of dark wizards.
Mozart & Mendelssohn
Dec. 8-9
Conductor William Boughton leads a concert of music composed later in Mendelssohn's and Mozart's lives. Michael Corner solos on Mozart's Clarinet Concerto in A major K. 622; the program also features Mendelssohn's A Midsummer Night's Dream Overture in E Major Op. 21 and his "Scottish" Symphony No. 3 in A minor, Op. 56.
Carols in the California
Dec. 15
Singing along is encouraged during the 14th annual Carols in the California concert as brass and choir ensembles perform Christmas carols during the holiday season. Before the concert, families can get into the holiday spirit at Christmas in the Park, just two blocks away from the California Theatre.
Bing Concert Hall
327 Lasuen St, Stanford
live.stanford.edu | 650.724.2464
Philharmonia Baroque Orchestra
Oct 3
Get ready to hear some classical gems on period instruments. Nicholas McGegan will conduct the Philharmonia Baroque Orchestra and play some works by Mozart alongside the Philharmonia Chorale with "Litaniae Lauretanae" and "Exsultate, jubilate." Come embrace these orchestrated classics and delve deep into the times of the 18th century.
What Makes It Great?
Oct 10-11
Rob Kapilow comes back to Stanford Live for two new programs with Leos Janacek's "Intimate Letters" and "Love, Life, and Loss: The Music of Stephen Sondheim." Kapilow is known to take audiences inside music as he breaks down choices made by musicians. The first show will be accompanied by a performance by the Alexander String Quartet; the second show looks at the work of Broadway composer and lyricist Sondheim.
Sundays with the St. Lawrence
Oct 14
The St. Lawrence String Quartet presents an array of matinee chamber outings. This performance will feature pianist Anne-Marie McDermott in the Mendelssohn Sextet. The string quartet has been a vital showcase for Stanford University and Stanford Live.
Kronos Quartet
Oct 20
Presenting Music For Change: The Banned Countries, the Kronos Quartet showcases a new program featuring music from the seven Muslim-majority countries whose citizens were banned via a 2017 Executive Order from traveling to the United States: Iran, Iraq, Libya, Somalia, Sudan, Syria and Yemen.
Seong-Jin Cho
Oct 21
The first South Korean to win the Chopin Competition in Warsaw, pianist Seong-Jin Cho will be performing works by Debussy and Chopin for his Stanford Live appearance.
The Routes of Slavery
Nov 4
Bringing together a diverse group of dancers, singers and musicians, Jordi Savall and his orchestra perform to music from Europe, Africa and the Americas. Savall, a Catalan composer, viola da gambist and musical historian, explores humanity, spiritual resistance and community during slavery.
Estonian Philharmonic Chamber Choir and the Tallinn Chamber Orchestra
Nov 14
Founded in 1981, the Estonian Philharmonic Chamber Choir performs with the Tallinn Chamber Orchestra in a program featuring compositions by Estonia's Arvo Part, with Cantus in Memoriam Benjamin Britten to honor the English composer, and Adam's Lament, as a reflection on humankind.
Philharmonia Baroque Orchestra and Chorale
Dec 5
Providing the San Francisco Bay Area with Baroque to early Romantic Period music, the Philharmonia Baroque Orchestra and Chorale will perform under the direction of guest conductor Patrick Dupre Quigley, artistic director of Seraphic Fire, for an evening of Bach, Monteverdi, Vivaldi and Purcell, featuring soprano Margot Rood, countertenor Reginald Mobley, tenor Steven Soph and baritone Steven Eddy.
Sonos Handbell Ensemble with Frederica Von Stade
Dec 16
From silver bells to Christmas bells, the Sonos Handbell ensemble performs under the direction of James Meredith with mezzo soprano Frederica Von Stad.
Flint Center
21250 Stevens Creek Blvd, Cupertino
flintcenter.com | 408.864.8820
California Pops Orchestra: Pop's 30th Celebration Premiere
Sept 30
The family-friendly California Pops Orchestra kicks off its 30th season with a repertoire of Broadway hits, jazz and movies, with conductor Kim Venaas at the helm.
California Pops Orchestra: Holiday with the Pops
Dec 2
For its holiday program, California Pops Orchestra rocks the stage with classic Christmas tunes full of sleigh bells and toy trumpets. Join in on the carol-sing-along toward the end of the show and start your December merry and bright with this annual concert.
Los Gatos Ballet Presents The Nutcracker
Dec 7-9
In this collaboration with San Jose Youth Symphony under the direction of Yair Samet, Los Gatos Ballet takes its audience on a journey with Clara and her Nutcracker through the magical land of the Sugar Plum Fairy and Snow Queen.
Yiruma In Concert
Dec 21
Known for his 2001 debut album Love Scene, contemporary classical musician Yiruma performs in the Bay Area for the holiday season with popular piano pieces such as River Flows in You, Kiss the Rain and Maybe.
Opera San Jose
345 S 1st St, San Jose
operasj.org | 408.437.4450
The Abduction from the Seraglio
Sept. 15-30
Mozart's The Abduction from the Seraglio marks many firsts. It is the first in the modern operatic repertoire and the first instance of an opera composed on a freelance basis, as Mozart was contracted to write the piece for Joseph II, the Holy Roman Emperor from 1764 to 1790.
Sonora DiVino
Oct. 7
Opera San Jose's singers performs with accordion accompaniment at the La Rustica d'Orsa. Sip the vineyard's award-winning wine and a enjoy multi-course dinner and a breathtaking view along with live music.
Pagliacci
Nov. 17-Dec. 2
Comedy and tragedy strike a theater troupe as its leader Canio learns of his wife Nedda's affair. While staging a play with a similar plot, Canio struggles through a performance that ultimately has a lethal ending.
West Bay Opera
Palo Alto Art Center
1313 Newell Rd, Palo Alto
wbopera.org | 650.424.9999
La Boheme
Oct. 12-21
One of the world's most frequently performed operas follows a group of bohemians trying to get by on their artistic abilities in 20th-century France, experiencing love and loss along the way. Sounds a lot like that Moulin Rouge! movie…
San Jose Chamber Orchestra Stories
Sept. 30
As told through the works of local and notable composers, San Jose Chamber Orchestra lets the music tell the stories of composers such as Samuel Barber, with soprano Kearstin Piper Brown performing Barber's Knoxville. Works by composers Carlos Franzetti and Cesar Cancino will be premiered.
Treats and Tricks: The Bach Edition
Nov. 4
The orchestra performs works by J.S. Bach, and there will be a costume contest for attendees who want to dress like the famous composer or any of his musically talented family members. Anyone donning a powdered wig, a waistcoat or ruffled dress get a free CD.
Winter's Gift: Journeys
Dec. 15-16
In collaboration with the Choral Project, lead by conductor Daniel Hughes, SJCO celebrates the holidays with music by Gabriel Favre, Joshua Shank, Randall Thompson and by Ola Gjeilo.
sjDANCEco
345 S 1st St, San Jose
sjdanceco.org | 408.520.9854
Flying
Oct 12 - Oct 13, 8pm
This season opener consists of "Corvidae" by Limón Dance Company's Colin Connor and "Flying Colors" by sjDANCEco's adviser and mentor, Fred Mathews. A collaboration with the San Jose Chamber Orchestra and conductor Barbara Day Turner, the program will also include excerpts from Jose Limón's Mazurkas.
MV Center for the Performing Arts
500 Castro St, Mountain View
tickets.mvcpa.com | 650.903.6000
Spirit of Hungary - 1848
Nov 1, 7.30pm
This performance is part of the Hungarian National Dance Ensemble's North American tour. Commemorating the 1848 Hungarian Revolution, this dance and music performance features one of Hungary's leading folk dance companies.
Trianon Theatre
72 N 5th St, San Jose
trianontheatre.com | 408.995.5400
Costa Concordia
Sep 22, 7.30pm
One of Mission Orchestra's four performances for its 23rd season, "Spotlight on America," this show presents the West Coast premiere of Jeffrey Nytch's Concerto for Violin and Strings. Violinist Claudio Bloom, who plays for Opera San Jose, will be featured. Emily Ray conducts the performance with works by Mozart, Beethoven and more.
Sensation
Sep 29, 7.30pm
Piano Talk presents Viennese and French classics composed by Bach, Mozart and Schubert as well as modern figures. Along with modern works by Hungary's Gysrgy Kurtag, Bay Area composer Jean Ahn brings a brand-new piece to the stage.
Henry Kramer
Nov 11, 2.30pm
Threading between romanticism and fantasy, the pianist opens the night with romantic classics from Liszt and Schubert, and works by early modern composer Alexander Scriabin.