Fall Arts 2018
Sonido Clash's Latin Flair
Sonido Clash readies third annual Music Fest
Intro | Sonido Clash Music Festival | San Jose Taiko | Sunnyvale Community Players | Concerts | Stage | Art | Classical | Film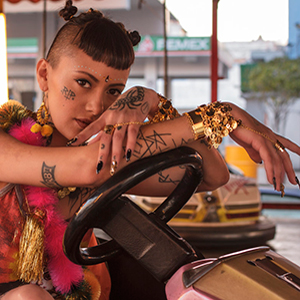 For nearly 10 years, the San Jose-based Sonido Clash arts collective has been working to shine a light on the diversity of Latino arts and culture in the South Bay.
"San Jose is a little spot that sometimes gets no love," says Fernando Fiesco of Sonido Clash. It's a problem many within the local creative community know all too well. But now, in the face of Silicon Valley's rapid expansion, Fiesco says that he is more conscious of the issue than ever before—even while some artists and venues are benefiting from the region's growth.
"It's great that The Ritz is doing well," Fiesco says, referring to the live music club, which recently struck a deal with L.A.-based production company Spaceland Presents and has been booking bigger-name artists as a result. However, Fiesco adds, he is worried that as more money comes to downtown San Jose, the work of previous generations of Latino creatives may be swept away by the forces of gentrification.
Zoot Suit playwright Luis Valdez, lowrider culture and Los Tigres Del Norte all have strong ties to San Jose. And today, the South Bay continues to produce and attract artists who blend their Latino heritage with their American identities.
Composed mostly of Mexican-American musicians, artist and promoters, Sonido Clash has been uplifting these types of creators and curating events that celebrate the cultural mashups they produce since 2009.
In its early years, Sonido Clash focused on smaller monthly parties. But of late, the collective's energy has shifted to putting on larger events like a Selena Tribute Party, celebrating not only the life and music of the famed Tejano singer but also the women she inspired.
"We're not just using the name and pushing a gimmick," Fiesco says, noting that the festival's line-up includes mostly female performers. "We don't feel like it should be a male-dominated bill."
Then, of course, there's the collective's crown jewel—their self-titled festival. Now in its third year, the Sonido Clash Music Fest features its most diverse lineup yet. Fiesco says he and the rest of the Sonido Clash crew worked hard to put together an eclectic bill that demonstrates the breadth of the local Latino music scene. "We basically defeated a lot of the stereotypes in music that [Latinos] just wear cowboy hats and boots," he says.
With everything from '80s electronic artists like The Egyptian Lover, New York punks Ratas En Zelo and Chicano Batman bassist Eduardo Arenas' solo project of Arenas, the festival proves just how diverse Latino music can be. It closes with Cuban music legend Alberto Pedraza.
Tickets are priced to keep the festival accessible, Fiesco says. The most expensive are $45, while admission is free for kids 12 and under. "It's about giving platforms to young people—anyone, really, in the art community," Fiesco says. "Being sort of on the fringes of Silicon Valley, being here and being that class that works, grinds and keep the lights on in this city, we do it for that young person who didn't know there could be event like this in their own backyard."
Sonido Clash Music Fest
Sep 2, Noon, $30+
School of Arts and Culture at MHP, San Jose
sonidoclash.com