Fall Arts 2018
Keep On Drummin'
San Jose Taiko celebrates its 45th anniversary with three fall performances
Intro | Sonido Clash Music Festival | San Jose Taiko | Sunnyvale Community Players | Concerts | Stage | Art | Classical | Film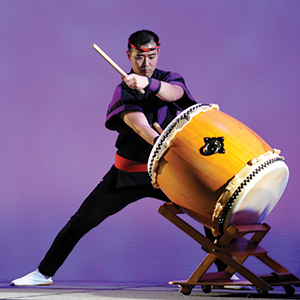 Women in button-up blouses tucked into mid-length skirts twirl alongside men in suspenders and vests. Their white tennis shoes leap to the rhythm of swing music, as Japanese drums join in this cross-cultural dance.
This was the scene in San Jose's Japantown back in May of this year. The "Swingposium" bridged the high-flying, big band-fueled American musical style of swing with the traditional Japanese tradition of taiko drumming. The performance was one of many planned for this year to celebrate the 45th anniversary of San Jose Taiko.
Those who missed "Swingposium" the first time around still have a chance to check it out—along with much more. The company will be bringing its best moments back to the stage in a series of three shows to mark the anniversary and showcase the company's proud history.
"With this concert, we are celebrating the commonalities that connect us to each other even in times of crisis: music, art, spirit," says Wisa Uemura, executive director of San Jose Taiko. The company, she notes, was founded in 1973, born out of a desire to connect young Asian Americans to their heritage and during a time when they were grappling with their collective identity. "This season, we have reflected on our roots and how they have helped determine the messages we convey with our work."
The first half of the concert presents highlights from 'Swingposium." It also includes a collaboration with Aswat Ensemble, a Bay Area-based Arab music ensemble that has worked with the company on projects advocating support between Japanese Americans and Muslim Americans.
"With this show, I'd like to propose optimism as a radical movement—not a view through rose-colored glasses, but one of refusal to give up hope for an understanding and compassionate world," says Franco Imperial, San Jose Taiko's artistic director.
The second half of the program gives the audience a front-row look into the company's 45-year repertoire with a medley of 30 of San Jose Taiko's greatest hits.
"When you experience taiko as a performer or observer, it can be a reminder of how we're all connected by heartbeat," said Imperial. "What a great starting point for people of different perspectives."