Fall Arts 2018
Silver Screen
The fall brings with it spookier titles and some familiar faces
Intro | Sonido Clash Music Festival | San Jose Taiko | Sunnyvale Community Players | Concerts | Stage | Art | Classical | Film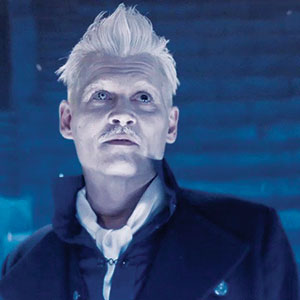 Heroes, plain and simple, are a big part of the upcoming season, with Robin Hood, the Girl With the Dragon Tattoo, Adonis Creed and Spider-Man all acting as anecdotes to scoundrel-laden times. The particularly exciting fall line up of films—to say nothing of the cornucopia on streaming—is led by Barry Jenkins' follow-up to his knockout Moonlight. It's his adaptation of James Baldwin's novel If Beale Street Could Talk (Dec).Here, a falsely imprisoned young man in Harlem has more worries on his mind: His fiance is pregnant.
Bohemian Rhapsody, Nov 2 is about the rise of Queen's Freddie Mercury (Rami Malek). Hoping to get some of the hit Won't You Be My Neighbor's gravy on its taters, producers are giving a wide-screen release for Love, Gilda (Sept 21) telling the life story of the fondly remembered SNL comedienne Gilda Radner, her tragic illness and her marriage to Gene Wilder.
Perhaps lured to Earth by loosened EPA hunting regulations, The Predator (Sept 14) returns, that dreadlocked alien sportsman with a face like a Dungeness crab; Shane Black (Iron Man 3) directs. The Trump Prophecy (Oct 2 and 4, Fathom Events) wins the prize for the fall's weirdest release. Chris Nelson plays the real-life Mark Taylor, a PTSD-struck fireman who hears from God that an anointed leader will usher us into a new Christian millenia. Unfortunately, the devout firefighter doesn't get the news, Son of Sam-wise, by his Dalmation yapping it out. It's counter programming for a release two weeks earlier: Sept 21's Fahrenheit 11/9 by Michael Moore, who made the same Trump prophecy without aid of God or dog. Moore surveys the life and lies of the Angry Orange; the title refers to his election, 11/9/2016.
Tom Hardy's frequent screen appearances behind masks has another offering—Venom (Oct 5), where he plays the host of a super-powerful alien parasite, with jumbo fangs and lolling tongue, a spin-off from business in Spider-Man comics, which was in turn spun off from The Blob. One looks with more anticipation to Spider-Man: Into the Spider-Verse (Dec 14), an animated big-screen release that introduces Miles Morales, the Hispanic kid who is infused with the powers of the amazing Spider-Man. The previewed animation for this is quite dazzling.
The Girl in the Spider Web (Nov 9) is no relation to all this web-slinging business; it's the newest adventure of ornery vigilante Lisbeth Salander (Claire Foy), proving that Sweden isn't as peaceful as they tell you. Mitigating factor: Fede Alvarez of Don't Breathe directs. For more macha action: the life story of eyepatch-wearing war correspondent Maria Colvin (Rosamund Pike) as she goes to Syria to cover A Private War (Nov 2).
Genteel romance abounds in The Bookstore (September), with Emily Mortimer as the proprietor of a British coastal town bookshop in the 1950s. She faces social pressure when she starts selling Nabokov's scandalous Lolita; Bill Nighy is the old gent who comes to her aid.
The Sisters Brothers (Sep 21) teams Joaquin Phoenix and John C. Reilly as a pair of unlikely vigilantes in Oregon Territory before the Civil War. Good season for Reilly, what with the return of Wreck It Ralph (see below), and his reteaming with Will Ferrell, his partner in one of his best, Step-Brothers. Reilly is the assistant to the world's greatest detective in Holmes and Watson (Dec 21). Ralph Fiennes is aboard as the Napoleon of Crime, Professor Moriarty.
Families can fight over Thanksgiving cinema choices, in addition to the traditional recriminations around the turkey: The Front Runner (Nov. 21) is Jason (Juno) Reitman's story of the fall of the Democratic natural Gary Hart in a sex scandal. The aforementioned Ralph Breaks the Internet: Wreck-It Ralph 2 (Nov 21) has the escaped video game figure in a new electronic realm. Fantastic Beasts 2: The Crimes of Grindelwald (Nov 16), hopefully as phantasmagorically charming as the first, following the Depression Era years of Harry Potter's He Who Is Not To Be Named. Creed II (Nov 21) has the further pugilistic adventures of the Philly boxer, with previous Creed director Ryan Coogler making way for Steven Caple, Jr; Robin Hood (Nov 21) features The Kingmen's Ryan Heger as the disenfranchised noble crusader who returns to Ben Mendelsohn's Sheriff of Nottingham, with Jamie Foxx as Little John, his Moorish right-hand man.
All this plus film festivals. The Mill Valley fest (Oct 4-14) is one of California's oldest and most prestige festivals; it debuted Call Me By Your Name in our area. Guests and films are TBA. Closer to home, there's the excellent 21st United Nations Association Film Festival (Oct 18-28), a series of documentaries about the state of the world, playing at various valley locations. This year's theme is "Tomorrow?" Considering their past hugely informative offerings about water shortages, fracking and climate change, "Tomorrow?" is a good question.