May 3-9, 2006
home | the papers | metro silicon valley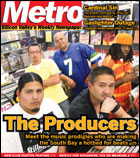 Music Profile: South Bay Hip-Hop Producers
The boom-bap hip-hop prodigy. The club-banging 'slapp addict.' The gangsta rap pioneer. The dynamic pop duo. Four South Bay producers have four different approaches and even more stories to tell.

News: Metro's Election Endorsements
The first in a weekly series of recommendations on June 6 ballot races. This week: Steve Westly for the Democratic gubernatorial nomination, Yes on Measure A.
News: Stanford's Islamic Studies Program
Stanford officials have been sitting on $9 million while constantly stalling their promised Islamic studies program. Why can't they face Mecca?
The Fly
Franklin-McKinley School District Supe Larry Aceves is set to retire from public duty, but he may be leaving some controversy in his wake.

Silicon Alleys
Gary Singh shares his memories of the booze-fueled punk band Verbal Abuse.
Technology News
New York, New York: Annalee Newitz talks a walk on the wild sides of Central Park.
Car News
Cash-strapped drivers look to California state program for low-cost auto insurance.
Sports Preview: Copa Coca-Cola
A soccer tournament of international proportions that may give San Jose a place in the world soccer camp.

Movie Review: 'Mission: Impossible III'
Ethan Hunt gets captured by the game.
Movie Review: 'Water'
Deepa Mehta evokes the fate of widows in pre-Gandhi India—and today.
Movie Review: 'The Beauty Academy of Kabul'
What the women of Afghanistan learn in a new documentary will curl your hair.
Cult Leader: 'Battle Royale'
Japanese Nightmarez: The infamous 2000 shoot-'em-up is satire on the edge.

MORE MOVIE REVIEWS

MOVIE TIMES

Music Interview/Preview: Ravi Shankar
The master of the sitar looks back on his storied past and forward to his Festival of India concerts.
Music News: Gaslighter Theatre
The Campbell venue switches hands and cuts off bands.

MORE MUSIC AND NIGHTLIFE

MUSIC AND CLUBS LISTINGS

MUSIC AND NIGHTLIFE CALENDAR PICKS

Restaurant Review: Mantra
New Palo Alto spot has got everything in the talent department.
Silicon Valley Veggie
Party Meatless.
5 Things to Love
Restaurants Serving Mother's Day Brunch.

BOOK A RESTAURANT RESERVATION

FIND A RESTAURANT REVIEW

Visual Arts Preview: Silicon Valley Open Studios
Paint Power: Open Studios brings 350 artists to light over three weekends.
Visual Arts Review: 'International Arts and Crafts'
A new survey of the Arts and Crafts Movement showcases an era of exquisite design.
Visual Arts Preview: South First Fridays
A monthly series of Friday-night culture bashes.
Visual Arts Review: Oliver Jackson
San Jose State University's Thompson Gallery shows off the veteran painter's considerable printmaking skills.
Book Review: 'Brutal Journey'
Paul Schneider recounts the first crossing of North America.
Book Review: 'Crusader Nation'
Historian David Traxel picks up the paths of the Progressive Era's most important players.