June 7-13, 2006
home | the papers | metro silicon valley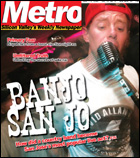 Music Profile: The Shitkickers
Even in a city like San Jose, country makes great outlaw music. The Shitkickers have become a local phenomenon by playing their own brand.

News: June 6 Election Coverage
The night in review.
The Fly: 06.07.06
An ongoing federal lawsuit against Santa Clara County has dragged more skeletons out of the coroner's closet.
News: Native Americans vs. Calpine
In the battle between Native Americans and a power plant project, the warpath leads to San Jose.

Silicon Alleys: The World Cup Runneth Over
Local soccer fans are still in denial about losing the San Jose Earthquakes.
Technology News: Genetic Engineering
Why women should seize the power of genetic engineering before men screw it up.
Car Culture: Feeling the itch for poison oak prevention
Poison oak's oils are what spread the welts. Applying Tecnu liberally throughout the car can be a life-saving mess.
Sports Preview: Vitor Belfort vs. Alistair Overeem
Friday, June 9 at the HP Pavilion.

Movie Review: 'The Omen'
Any movie that warns us against children and dogs can't be all bad.
Movie Review: 'Cars'
Technical dazzle succumbs to a familiar plot in Pixar's latest.
Movie Review: 'A Prairie Home Companion'
Robert Altman and Garrison Keillor treat film version of long-running radio show like an obituary of old-time musicals.
Film Festival Preview: Cinema San Pedro
Outdoor film series opens for summer-long run in the twilight hours.
Cult Leader: Songs Based on Movies
Steve Palopoli lists his favorite songs inspired by cult movie characters.
Movie Review: This Week's Revivals
'Harold and Maude' and more.

MORE MOVIE REVIEWS

MOVIE TIMES

Music Interview/Preview: Debbie Deb
How the freestyle legend overcame body image issues and an imposter to persevere.
Music Interview/Preview: Flipper
The notorious San Fran band flagellates the punk rock-spirit once more.

MORE MUSIC AND NIGHTLIFE

MUSIC AND CLUBS LISTINGS

MUSIC AND NIGHTLIFE CALENDAR PICKS

Restaurants Review: Sake
How to decode the secrets of sake and find San Jose's best.
Silicon Valley Veggie: Sino
Sino at Santana Row in San Jose is the brainchild of Straits cafe chef and owner Chris Yeo and the ambience is impeccable.
5 Things to Love: Great Brewpubs
Summertime is brew time.
Club Life: The Flying Martini Brothers Bar and Bistro
A low-key, casual yet chic place to throw back a few drinks before gallivanting through the rest of downtown.

BOOK A RESTAURANT RESERVATION

FIND A RESTAURANT REVIEW

Visual Arts Preview: The Listening Post
A new computer installation at the San Jose Museum of Art mines the Internet in real time for found poetry.
Stage Review: 'Urinetown'
San Jose Stage Company milks some thoughtful laughs from gross musical.
Stage Review: 'The Rake's Progress'
West Bay Opera finishes season with triumphant production of Stravinsky opera.
Book Review: 'In Strange Gardens and Other Stories'
By Peter Stamm.
Book Review: 'Good-Bye Chunky Rice'
By Craig Thompson.

Letters to the Editor
June 7-13, 2006.