June 28-July 4, 2006
home | the papers | metro silicon valley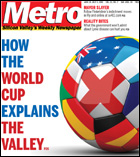 Feature: World Cup
The Cup has a way of stacking transcendent moments that burn into the long-term memory.
Feature: Pickup Soccer
There's comfort in life's constants and the pickup game is one of them.
Feature: Brazilian Soccer Team
Why one writer hates Brazil's team.
Feature: Soccer Fans in Silicon Valley
Bonding over the world's sport in Silicon Valley.

News: Lyme Disease
With infection rates tripling, why doesn't the government take the disease more seriously?
The Fly: 06.28.06
Smug Alert! Mayor Ron Gonzales says, 'Not guilty! Y'all got to feel me!'

Silicon Alleys: The Caravan
The San Jose dive bar should be a registered historic landmark, if it isn't already.
Technology News: World Wide Meme
How one bad Moldavian pop song became the pop-culture meme of choice on the web.
Sports News: NBA Finals
The Miami Heat's unexpected upset confounds the experts.

Movie Review: 'Superman Returns'
Is Lois Lane right? Maybe the world is better off without another 'Superman' movie.
Interview: John Ottman of 'Superman Returns'
Richard von Busack talks with the San Jose native about cutting and scoring 'Superman Returns.'
Movie Review: 'Click'
In the year 2525, will Adam Sandler still be alive?
Movie Review: 'The Road to Guantanamo'
A fast, cheap docudrama about the horrors of America's war on terror.
Cult Leader: Evil Car Flicks
This time, it's mechanical.
Movie Review: This Week's Revivals
Feelin' groovy: 'Evil Dead 2,' plus 'Best in Show.'

MORE MOVIE REVIEWS

MOVIE TIMES

Music Preview: Poor House Bistro's Tribute to American Roots
The San Jose bistro does big things for the city and people of New Orleans.
Music Essay: Music-Separation Anxiety
Moving away doesn't always mean moving along from your base musical tastes.

MORE MUSIC AND NIGHTLIFE

MUSIC AND CLUBS LISTINGS

MUSIC AND NIGHTLIFE CALENDAR PICKS

Restaurant Review: Kampai House
Bringing innovation and flavor to French-Japanese fusion.
Live Feed: Whole Foods
The market chain stops selling shellfish.
5 Things to Love: Good Sources for Take-out Food
Consider our recommendations for take-out.

BOOK A RESTAURANT RESERVATION

FIND A RESTAURANT REVIEW

Book Review: 'The Thinking Fan's Guide to the World Cup' and 'Soccerhead'
Two new books think globally and act locally about soccer.
Stage Review: 'Vanities'
Three friends relive more innocent days in TheatreWorks' premiere musical.
Stage Review: The Margaret Wingrove Dance Company
The dancers set desire in motion.
Stage Review: 'Deuce'
Two academics delve into the secrets of a professor's life in Pear Avenue's world-premiere play.

Letters to the Editor
June 28-July 4, 2006.