July 5-11, 2006
home | the papers | metro silicon valley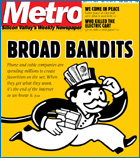 Net Neutrality
With Congress poised to hand control of the Internet over to large telecom companies, net neutrality is the biggest issue you've never heard of.

News: Housing First
Santa Clara County has been sold on Housing First, President's Bush new homelessness mantra, but is it the right solution for Silicon Valley?
The Fly: 07.05.06
Ron Gonzales didn't waste any time in playing the race card at last week's special City Council meeting.

Silicon Alleys: Too Far Gong
This special session of the City Council should have been an episode of 'The Gong Show.'
Technology News: John Updike
Why old-guy writers like Updike just don't understand what the Internet is doing to publishing in the 21st century.
Car News: Gone Local
In Idaho, being liberal just might mean buying a Ford or a Chevy.
Sports News: World Cup
France longs to relive its 1998 World Cup victory at home and Franck Ribery is clicking his heels to get it back.

Movie Review: 'Pirates of the Caribbean: Dead Man's Chest'
The first 'Pirates' sequel lacks conviction in the lore of the buccaneer.
Movie Review: 'Strangers With Candy'
Amy Sedaris and Stephen Colbert reprise their Comedy Central series.
Movie Review: 'Who Killed the Electric Car?'
This doc proves that no good idea for saving the planet goes unpunished.
Movie Review: 'Three Times'
Not every movie by a master is a masterpiece, but Hou Hsiao-hsien's latest hits the mark.
Movie Review: 'Lemming'
Dominick Moll's severely paranoid new film crosses two French couples with a Scandinavian mammal.
Cult Leader: 'Smitten'
Get Smitten: Mad love triumphs as an offbeat Cinequest selection goes nationwide.
Movie Review: This Week's Revivals
God Loves a Terrier: 'Best in Show' and 'A Hard Day's Night.'

MORE MOVIE REVIEWS

MOVIE TIMES

Music Preview: Metro's Music in the Park 2006
Free Thursday concerts all summer long.
Music Preview: Blue Jean Bop
Greasers and gearheads converge on Fremont for this classic car show/concert.
Music Preview: The Hacienda Brothers
The brothers tap soul legend Dan Penn to bridge the western-soul divide.

MORE MUSIC AND NIGHTLIFE

MUSIC AND CLUBS LISTINGS

MUSIC AND NIGHTLIFE CALENDAR PICKS

Restaurant Review: Shalimar
Silicon Valley's domination in the Asian cuisine arena is now sealed.
Silicon Valley Veggie: VBBQ
Time for the beach, baseball and every vegetarian's summer favorite: barbecue.
5 Things to Love: Good Los Gatos Breakfast Joints
Los Gatos is blessed with beautiful homes, beautiful people, gorgeous mountain views and more than its fair share of good breakfast options.

BOOK A RESTAURANT RESERVATION

FIND A RESTAURANT REVIEW

Visual Arts Preview: Jennifer Steinkamp
Her computer animations fill galleries of San Jose Museum of Art with fields of color.
Stage Review: 'California Suite'
Northside Theatre checks into Neil Simon's slapstick play.
Stage Review: 'Emma'
CTC is well-suited to task of finding a suitor for Miss Smith in 'Emma' adaptation.

Letters to the Editor
July 5-11, 2006.