12.19.07
home | the papers | metro silicon valley
Enter to win the Ultimate Cirque du Soleil Preview Night!
Click here to enter Metroactive's Cirque du Soleil contest.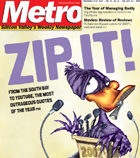 The Year in Quotes:
Say What | Schadenfreude!

Edge of Epidemic
HIV-positive undocumented workers are at the center of a brewing health crisis in Santa Clara County and throughout the state
The Fly: 12.19.07
Supe or Sally, Fong Memories & Dome Love

Silicon Alleys:
Hail Trapezoid
Technology News:
Dogs and monkeys are a lot smarter than we thought
Sporting Events:
The SAP Tennis Open
Events:
'Walking With Dinosaurs—The Live Experience'
Kids Events:
Palo Alto Children's Theatre brings 'The Wizard of Oz' to the stage

Reviews: The Year in Movies
Richard von Busack picks the winners and losers from 2007
Review: 'Juno'
Pregnancy is just a coming-of-age lark in dubious comedy
Review: 'I Am Legend'
Will Smith likes being the last man alive
Review: 'Sweeney Todd'
Tim Burton and Johnny Depp go to the dark side of musicals
Review: 'Charlie Wilson's War'
Tom Hanks and Julia Roberts play at international politics
Review: 'Walk Hard: The Dewey Cox Story'
A musical bio-pic to end all musical bio-pics
Review:
This week's movie revivals

MORE MOVIE REVIEWS

MOVIE TIMES

The War on Christmas Music
Six soundtracks of holiday cheer that don't involve singing cats
This Week's Music Picks
Queens of the Stone Age, Ben Henderson & David Knight, Whiskey Avengers & Vienna Teng

MORE MUSIC AND NIGHTLIFE

MUSIC AND CLUBS LISTINGS

MUSIC AND NIGHTLIFE CALENDAR PICKS

The Tao Of Bill
Free desserts, family-friendly hours and solid menus are part of a successful philosophy that has spawned a second Bill's Cafe
5 Things to Love
Great Fake Meat

BOOK A RESTAURANT RESERVATION

FIND A RESTAURANT REVIEW

Art Reviews: Paste-Ups
Assemblage artists dominated the year at museums and galleries
Ballet Review: 'The Nutcracker'
Ballet San Jose does right by the classic
DVD Reviews:
'Killer of Sheep'
DVD Reviews:
'Razor'
DVD Reviews:
'Lady Chatterley'

Letters to the Editor
December 19-25, 2007.