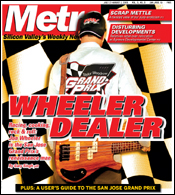 For the Week of
July 27-August 2, 2005
Cover Story: Wheeler Dealer:
Racing, cooking, rock & roll: Jon Wheeler is the San Jose Grand Prix's renaissance man.
News: No Direction Home:
Judging from one controversial case, there's going to be plenty of fighting over what to do with the residents of San Jose's Agnews Developmental Center.
The Fly: Newspaper deliveryman Manuel Coello's death shocks the Metro family.



Silicon Alleys: Machine Love.
Techsploits: Name-Calling.
Rev: Stranger Than Fiction: I'll never understand the luxury market for auto accessories, especially when I can barely vacuum out the beast once every five years.



Crumb for Dummies: 'The R. Crumb Handbook' chronicles 45 years of graphic outrage by the man who didn't come here to be polite.



Photo Finish: Courteney Cox must relive the past three times over in indie thriller 'November.'
Grind Finale: Rob Zombie mines the lower depths of '70s horror gore and digs up a nugget in 'The Devil's Rejects.'
Pretty in Capes: 'Sky High' proves that sometimes the first step is admitting cheesiness.
Cantoring: The SF Jewish Film Festival comes to Mountain View with 'Go for Zucker' and 'A Cantor's Tale.'
Truly, 'Malady,' Deeply: 'Tropical Malady,' a gay romance from Thailand, ventures into unexplored territory.



Southern Men: Jennings junior and others revitalize Mason-Dixon music.
Push It: Don't put off making a birthing soundtrack to the last minute.



Pot On: The Melting Pot is leading an unexpected fondue renaissance.
Live Feed: Eat Great and Smash the State.
5 Things to Love: Big Sur Restaurants.



Green Dress of Many Colors: Renegade Theatre Experiment delves into symbolic world of famous Spanish poet.
Musical Maude: TheatreWorks adds lyrics and music to cult movie in 'Harold & Maude: An Intimate Musical.'
Almost Like Being In Love: Foothill Music Theatre revives Lerner and Loewe's magical 'Brigadoon.'



Please don't forget to write! Metro welcomes letters. Like any great work of art, they should be originals — not copies of letters sent elsewhere. Include address and daytime phone (for verification purposes only). Letters may be edited for length and clarity or to correct factual inaccuracies known to us. Postal: Metro Letters, 550 S. First. St., San Jose, CA 95111. Fax: 408/298-0602. Email: letters@metronews.com. Emailers, please include name, city of residence and phone number. Letters printed will list email address unless otherwise specified. Letters to the editor are not currently published in the online version of this paper.