May 10-16, 2006
home | the papers | metro silicon valley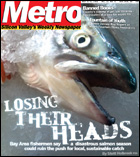 Dining Feature: Salmon Shortage
Bay Area salmon fishermen were able to make the local catch a coveted piece of Northern California culture. But they weren't able to keep the government from screwing up the salmon supply and then making them take the fall for it. Welcome to this year's salmon season, where everybody loses.

News: Metro's Election Endorsements
The second in a weekly series of recommendations on June 6 ballot races. This week: Jim Shore for District Attorney, Joel Wyrick for District 3.
News: Law Library Closings
Santa Clara County has gotten itself in hot water for closing its jail law libraries.
The Fly
The assessor's race is going to get downright brutal, that's for sure. Oh wait, it already is!

Silicon Alleys
Gary Singh remembers 'A Day Without Burritos.'
Technology News
Net Neutrality: Can the telecom companies force pay-to-play rules on the Internet?
Car News
Think Globally, Eat Locally: Every mile your food travels adds to the rising price of gas.
Sports Feature: Hellyer County Park Velodrome
Feel the need for speed? You can finally feel free to scratch, now that track season is open and the Velodrome awaits.

Movie Review: 'Art School Confidential'
Terry Zwigoff exposes the dark comic underbelly of pedagoguery.
Movie Interview: Terry Zwigoff
Richard von Busack talks to the director of 'Art School Confidential' and 'Bad Santa.'
Movie Review: 'Poseidon'
The Boatniks: 'The Poseidon Adventure' returns sans Shelley Winters and cheesy Maureen McGovern theme.
Movie Review: 'The Lost City'
Andy Garcia's stodgy ode to pre-Castro Havana fails to convince.
Movie Feature: 'The Da Vinci Code'
Searching for cinematic clues in code-painter da Vinci's 'Last Supper' from 'Godspell' to Scorsese.
Cult Leader
No Movie for You: In some alternate universe, Darth Vader repeatedly snorts laughing gas and shouts, 'Don't you f----n' look at me!'

MORE MOVIE REVIEWS

MOVIE TIMES

Music Interview/Preview: Debbie Davies
She broke with tradition to pursue the blues.
Music Interview/Preview: Jonah
Chili's waiter and aspiring rapper Jonah lays down the gratuity rules.

MORE MUSIC AND NIGHTLIFE

MUSIC AND CLUBS LISTINGS

MUSIC AND NIGHTLIFE CALENDAR PICKS

Restaurant Review: Rico's Mexican Cafe
New Campbell Mexican spot does everything right.
5 Things to Love
Restaurants With Outdoor Dining.

BOOK A RESTAURANT RESERVATION

FIND A RESTAURANT REVIEW

Stage Review: 'Misalliance'
Pear Avenue keeps the laughs on the edge of parody.
Stage Review: 'The Cook'
Teatro Visión simmers across four decades of Cuban history.
Stage Review: 'Iphigenia at Aulis'
The Taiko drums of conflict sound in San Jose Rep's new take.