05.14.08
home | metro silicon valley index | music & nightlife | band preview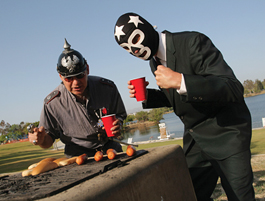 Summer Guide 2008
Shtick Talk
By Mike Connor & Mike Calahan
2008 Summer Guide
Movies | Venues & Concerts | Concert Series | Stage | Art Shows | Festivals | Classical Concerts | Sports | Family Fare
Summer dreams are the biggest dreams of all. That's why it brings the most epic entertainment, from movies to concerts to festivals. Summer lazing means time for daydreaming superhero identities and globetrotting adventures, and these days audiences can go to screen and stage to see dreams of any variety writ large.
But for a few among us, that's not enough. There is a certain breed of artist who must actually make the transformation into, say, space man, or surf music–playing German soldier from World War I or Mexican wrestler.
Thus is born the shtick band. Somehow, these intrepid souls land upon a concept that goes beyond their personal mythologies and create a new, collective one. But what makes a group of perfectly talented musicians come together and decide they're going to do more than just play music? What makes a shtick band tick?
To find out, we tracked down three of the South Bay's finest, varied in style and concept, but with one thing in common—they've got their shtick and they're sticking to it. We even spent the quintessential summer day with Maids of Honor's Lex van den Berge (of 'Survivor' fame) and Baron von Krieg from Beachkrieg. Their summer adventures (Lex is in the mask, the Baron needs no further description) are featured on the cover and throughout this guide to summer events.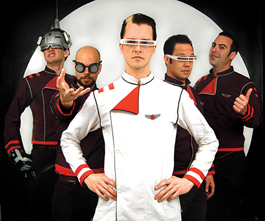 READY OR PHENOMENAUTS: They are not Devo. They are Men.
Science & Honor
The Phenomenauts live the sci-fi dream
THE Phenomenauts claim the title of "world's bravest space band," and with David Bowie well past his prime, who are we to argue? Their dedication to simply being Phenomenauts is heroic in and of itself. They drive around in the Phenomebomber, which looks like a cross between the Death Star and a van. When I called Commander Angelo Nova for an interview, I got a voicemail message telling me that his communicator device was "just ... out of ... reach!" They have space uniforms for performing, but while they're on tour, they wear matching space jackets, tapered pants and white creepers pretty much 24/7.
"Because we're always on duty," says Nova. Their most obvious duty of course is to perform the combination of rockabilly and '70s punk for which they're known, while dazzling audiences with sophisticated gadgets like the Streamerator 2000, which fires ribbons of toilet paper into the crowd, and the Therematic Helmerator, which is essentially a theremin mounted on the bassist's head.
Their fans know what to expect at their shows, but they really earned their "world's bravest space band" epithet when no one knew who they were. The Phenomenauts formed in Oakland "in the amazing year 2000," and quickly made a name for themselves in the Bay Area with their "commando" shows. Equipped with instruments and a homemade "P.A. robot," which was basically a P.A. system and a large battery strapped together and put on wheels, they could play anywhere they wanted.
Their greatest mission was at the Warped Tour, where they tried setting up outside the front gates but were quickly thwarted by security. On their way back to the Phenomabomber, they found an open gate in the back, hid behind a dumpster and then quickly set up in front of the stage and started playing. In a weird stroke of luck, the scheduled band had canceled and the Phenomenauts were invited onto the stage—-and onto the tour in an official capacity the following year.
After eight years as a band, The Phenomenauts are still gaining popularity, and currently touring in support of their third album, For All Mankind. And for them, being Phenomenauts is a serious business.
"We're a space band," says Nova. "It seems a little goofy, but underneath it we actually have serious beliefs."
"Our motto is 'Science and Honor,'" continues Nova. "And we really actually believe in it, because science is the search for truth without any kind of agenda ...and then honor is honesty and integrity, and when you put those two things together, it's something you can live by, something we really believe in and our fans also believe in."
On a deeper level, their songs work as sci-fi allegory. "Earth is the Best" is a funny song that trashes the other planets in the solar system, but it's also a satire of jingoistic nationalism with environmental undercurrents. "Tales of Europa" is about a race of people who live beneath of sky of ice. It's based on recent NASA findings about Jupiter's moon, but it's also the sci-fi equivalent of Plato's "Allegory of the Cave."
But there's another reason to be a sci-fi band, and it has more to do with fantasy than philosophy. "In the year 2000," says Nova, "we have space vehicles, we look like space guys all the time, and it dawned on me that in the year 2000, I'm driving the same vehicle and wearing the same outfit I imagined I'd be wearing as a kid—except without the jetpack."
Mike Connor
THE PHENOMENAUTS perform on Friday (May 20) at 8pm at Voodoo Lounge, 14 S. Second St., San Jose. (408.286.8636)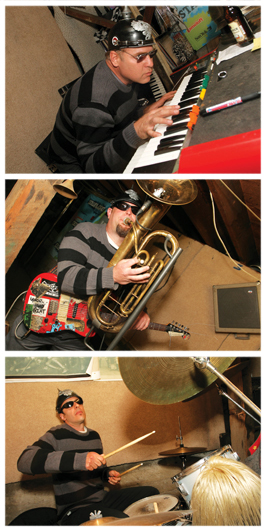 LIFE'S A BEACHKRIEG: Some people miss the point of this band, if they aren't looking at the helmets.
Beachkrieg Bop
A trio of renegade German soldiers
find the magic of surf music.
"We're very serious about being silly," says Sgt. Pfeffer, guitarist and euphonium player for the German surf band Beachkrieg.
Their story, summarized at the beginning of their first album, is spoken by what sounds like a radio announcer from the turn of the last century. According to lore, Beachkrieg is a trio of renegade German soldiers (Baron von Krieg, Sgt. Pepper and Pvt. Peter Dresden from the 23rd Bavarian regiment) who, in the middle of World War I, were shipwrecked on a tropical island, where they learned to play surf music.
They surface only occasionally, but it turns out their hideout is right here in the valley. Prior to meeting with Beachkrieg for an interview, I received(via email) instructions from Baron von Krieg, the group's frontman and electric organ player.
"The men would feel better if the interview were held in 'The Bunker,' our underground practice studio, and hideout," wrote von Krieg. The next email was similarly cryptic: "Go to Da Silva's Broncos Bar. ... Look for someone wearing a Prussian spiked helmet. They will lead you and your photographer to the bunker."
When we showed up at the bar, sure enough, we found a trio of grown men wearing matching striped shirts, sunglasses and pickelhaubs, or Prussian spiked helmets, sitting at a table sharing a pitcher of Hefeweizen.
Von Krieg tells me that the bartender called them Nazis when they walked into the bar, proving himself a complete historical ignoramus.
"As far as we're concerned, it's 1914," says the Baron. "Adolf Who?"
"The Bunker" is hidden deep inside a suburban basement adorned with World War 1 paraphernalia, including a portrait of Kaiser Wilhelm the Second, which they bring to every show. Strips of hanging carpet soften the sound as they rip through "Beach Attack" and "Spykiller," two Beachkrieg originals, and an obligatory (and electrifying) version of "Miserlou."
Beachkrieg plays gritty surf music with a couple of unusual elements: an old Farfisa organ that sounds like a crazy carnival, and a euphonium that sounds like a lumbering elephant. The legendary KSJC surf music DJ Phil Dirt called it progressive ghoul rock with a garage band feel. Whereas most surf bands are 100 percent instrumental, the Baron won't let that happen to Beachkrieg. He quizzes his audiences with World War I trivia between songs and even sings a few, including "Meine Generation," a brilliant cover of a Who classic.
Sgt. Pfeffer rides a custom shield-shaped skateboard called the überboard, and they use a catapult to launch spent cartridges, army men or the "imperial chicken" into the crowd.
Their first album, Sürf, was recorded in hissing and crackling mono, and their second, which is currently in the works, will be recorded on quarter-inch magnetic tape to get an authentic feel, proving that if nothing else, they're serious about the music.
"In the beginning there was just the music," says der Baron, "There was this piece of junk spiked helmet I bought at the Capitol flea market for two bucks—'der pickelhaub eins,' I call it—and [Sgt. Pfeffer] just picked it up and put it on while he was playing guitar. And the magic of the whole thing just kinda hit us at the same time."
Mike Connor
BEACHKRIEG is currently recording its second album. Look for them to surface in the South Bay soon. Visit them online at www.myspace.com/beachkrieg.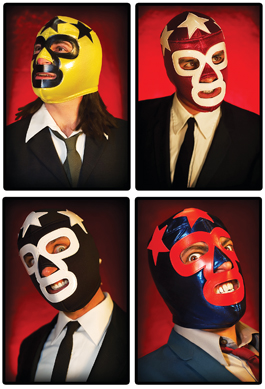 AMERICAN MAIDS: Santo has nothing on the Maids of Honor.
Luchadores
What started out as an innocent 'man-cation' turned into
the Maids of Honor
What do you get when you mix a freelance photographer, a reality show stand-out, two members of Smash Mouth and four sharkskin suits with Mexican wrestling masks? A dirty joke that you overheard at the last Shriner's Convention? No, you get a tight-knit band that just so happens to have an infectious sound (whatever other things about the band that are infectious remain privileged medical knowledge and undisclosed in this article).
What started out as a "Man-cation" of drinking beer and jamming at Smashmouth guitarist Greg Camp's studio in Scotts Valley quickly turned into something more musically tangible when Kelly Castro (who, as it was pointed out, bears a strange resemblance to Parnell "Adam Cartwright" Roberts) brought in a song of his own that he thought would be a good match for the group. A snowball effect took place and the Maids of Honor have since recorded enough songs at Camp's Santa Cruz studio for two albums of unabashed melodic rock & roll.
The source of the Maids' seemingly endless outpouring of rocking melodies lies within its proven brain trust of prolific songwriters: Paul DeLisle, bassist and lead vocalist, Kelly Castro, guitarist and lead vocalist, and Greg Camp, guitarist and lead vocalist. And, no, that's not a series of typos—each member of the Maids can claim the title of lead vocalist. Explained drummer and lead singer Lex van den Berghe, "All of us thought it would be fun to play in a band where everyone could sing, there was no lead singer. Ya know, we just wanted to play in a rock & roll band where we could all sing, where there'd be gang vocals, harmonies."
Paul described their songs as "simple, to the point, distorted nursery rhymes," that are "gonna sound good no matter what crappy sound system" or "how drunk we are. It's gonna sound good because the songs are so good."
It's obvious upon meeting that band that there's a palpable fraternal camaraderie and loyalty. "We've known each other for ten, twenty years," explains van den Berghe. "We were all part of the early San Jose music scene back in the '80s. We were all in bands that played together, so we were all bros, we were friends."
As for the wrestling masks and sharkskin suits, Kelly explained, "We were at a taqueria having dinner and we looked up and there was this amazing Spanish movie playing on the television. It was all these superhero lucha libra guys in sharkskin suit and we were just, 'That is just so badass.' Plus, we're old."
"You gotta cover the old face!" added Lex with an hysterical laugh, before adding, "Ya know, whether you're six years old or 46 years old, dressing up in costumes is fun. It's just fun."
When asked how the Maids of Honor has differed from most of the past bands they've each individually emerged from, Lex said that "there's no ego, there's no showboating, there's no drama. There's no drama. No bullshit. ... There's something comforting knowing that you're in a band with people you've known forever."
Mike Calahan
THE MAIDS OF HONOR are in the process of engineering and mixing and expect to have their debut CD out soon. Until then, visit them at www.myspace.com/themaidsofhonor and listen in to what they have to offer. Even if you aren't a sucker for melody, you have to respect a band that proudly hangs an autographed 8-by-10 glossy of N' Sync in their studio. Autographed!
Send a letter to the editor about this story.