May 17-23, 2006
home | metro silicon valley index | features | silicon valley | feature story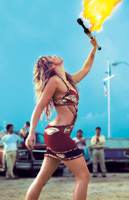 Shakira
Metro's Summer Guide 2006
San Jose Grand Prix | ISEA | San Jose Jazz Festival | Classical Music | Family Fun | May Movies | June Movies | July Movies | August Movies | Stanford Jazz | Pop Music Picks | Tuesday Concerts | Wednesday Concerts | Thursday Concerts | Friday Concerts | Saturday/Sunday Concerts | Venues and Concerts | May Festivals | Memorial Day Weekend | June Festivals | July Festivals | July 4 | August Festivals | September Festivals | Organized Play | Cycling | The Great Outdoors | Surfing | World Cup | Stage | Behind the Musicals | Art Shows
AFTER ALL the rain this spring, we deserve the kind of red-hot summer all the global-warming Cassandras have been shouting about, even if it means the glaciers are going the way of dinosaurs. In fact, one of our summer picks is An Inconvenient Truth, a documentary about climate change and what it's going to do to ocean-front property values. It's narrated by Al Gore and opens June 2 (see our guide to Summer Movies).
Several big events will be generating heat this summer in San Jose. The Fourth of July weekend gets off to a blistering start with the Day on the Meadow featuring the Violent Femmes and our faves the Dresden Dolls. With their trippy mix of rock music, punk attitude and cabaret theatrics, the Dolls are one of the most unusual and intriguing bands to come out of the indie scene in the last five years. They should set the thermostat on broil for the whole four-day America Festival.
The high-octane thrill of the Santa Jose Grand Prix returns in late July, followed in short order by the first-ever electronic arts symposium and digital arts festival known as ZeroOne. Then, with barely time to come up for air, the sizzling sounds of the San Jose Jazz Festival take over the city. Then, on Aug. 19, cover hottie Shakira ignites the HP Pavilion with Latin pop fever.
This year's Summer Guide takes in all the festivals, blockbuster movies, stage shows, concerts, kids' events and outdoor fun fit to print from Memorial Day all the way through September. If you stay home and watch reruns of According to Jim, don't blame us.
Send a letter to the editor about this story.