May 17-23, 2006
home | metro silicon valley index | festivals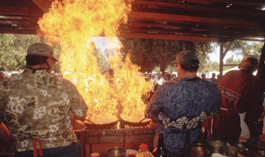 Some Like It Hot: Cooking is serious business at the Gilroy Garlic Festival, July 28-30.
Festivals
From art and wine to garlic and artichokes, every weekend this summer features a festival, a celebration, a cook-off or a street fair
Metro Summer Guide 2006:
San Jose Grand Prix | ISEA | San Jose Jazz Festival | Classical Music | Family Fun | May Movies | June Movies | July Movies | August Movies | Stanford Jazz | Pop Music Picks | Tuesday Concerts | Wednesday Concerts | Thursday Concerts | Friday Concerts | Saturday/Sunday Concerts | Venues and Concerts | May Festivals | Memorial Day Weekend | June Festivals | July Festivals | July 4 | August Festivals | September Festivals | Organized Play | Cycling | The Great Outdoors | Surfing | World Cup | Stage | Behind the Musicals | Art Shows
July
KIHNCERT A day of music from Greg Kihn, Pat Travers and John Waite. Jul 1; call for times and prices. Discovery Meadow, San Carlos Street at Woz Way, downtown San Jose. 408.294.2100x444.
Hot Rod and Classic Car Show and Picnic An annual display of restored vehicles, plus live music and food. Jul 1, 10am-7pm; free with admission. Bonfante Gardens, 3050 Hecker Pass Hwy, Gilroy. 408.840.7100.
SummerFest Arts and Wine Festival An annual event in Monterey with art, live entertainment, family activities, wine tasting and crafts. Jul 1-2; call for times; free. Custom House Plaza, near Fisherman's Wharf, Monterey. 831.622.0700.
Fillmore Street Jazz Festival A jazz festival featuring three stages of live music, street cafes and more than 300 arts and crafts booths. July 1-2, 10am-6pm; free. Fillmore Street from Jackson to Eddy, San Francisco. 800.731.003.
Last Original Hot Rod and Kustom Car Show Cars, cars and more cars, plus performances from the Charlie Roman Group, Nameless, Texas Steve and the Git Gone Trio and the Barbary Coasters. Jul 2, 10am-4pm; free. The Sea Bowl, 4625 Cabrillo Hwy 1, Pacifica. 650.738.8190.
Fourth of July—Click here.
Los Altos Art and Wine Festival With crafts, works from local artists, three stages of music, street performers and food booths, including wine from Santa Cruz Mountains wineries. Jul 8-9, 10am-6pm; free. Main and State streets, Los Altos. 650.917.9799.
Palo Alto Clay and Glass Festival Local artisans display the products of their toiling. Plus live music, food, workshops and clay activities for kids. Jul 8-9, 10am-5pm; free. Palo Alto Art Center, 1313 Newell Rd, Palo Alto. 650.329.2366.
California Extreme This pinball and classic video games show is in its 10th year. Jul 8, 11am-midnight and Jul 9, 11am-9pm; $12.50-$50. Parkside Hall, 160 Park Ave, San Jose. 408.390.PINS.
Obon Festival Food, dancers and music. The largest Japantown cultural happening. Jul 8-9, 12:30-9:30pm; free. Buddhist Church Betsuin, 640 N. Fifth St, San Jose. 408.293.9292.
Vibha Bay Area's 5 and 10K and Carnival A run/walk fundraiser and carnival with games and live music. Jul 9, 8:30am; free. Shoreline Park, Mountain View.
Blue Jean Bop A day of American roots music and culture from the '40s, '50s and '60s, with a classic car show, barbecue, live music and a pin-up contest. Musical guests include Deke Dickerson, Carl Sonny Leyland Trio and Lee Rocker. Jul 9, noon-midnight; $5-$20. The Saddle Rack, 42011 Boscell Rd, Fremont. 415.505.8530.
Mariachi Festival San Jose's Mariachi Festival celebrates music, food, exhibits and education. Jul 12-16; call for ticket info and schedule. Mexican Heritage Plaza, San Jose. 408.928.5563.
Shakespeare in the Park, Los Gatos Now in its fifth year, the troupe performs Hamlet, The Comedy of Errors and The Lion in Winter. Thu-Sun, Jul 14-Aug 5, 8pm; $14-$20. Oak Meadow Park at the corner of Blossom Hill Rd and University Avenue, Los Gatos. 408.996.0635.
Connoisseur's Marketplace A fine-crafts festival, plus a wide variety of food treats and kids' events. Jul 15-16, 10am-6pm; free. Santa Cruz Ave, Menlo Park. 650.325.2818.
Art on the Wharf Local artists display works in many media, plus food, wine, live music and kids' activities. Jul 16, 9:30am-5:30pm; free. Santa Cruz Municipal Wharf, Beach Street, Santa Cruz. 831.420.5273.
Shakespeare in the Park Since 1983, Shakespeare in the Park has provided an opportunity for everyone to see high quality, professional theater free of charge. Saturdays and Sundays from Jul 16-31, 7:30pm; free. Cupertino Memorial Park, Mary Avenue and Stevens Creek Boulevard, Cupertino. 800.978.PLAY.
Monterey Rock and Art Festival Local and regional California artists showing their work on three stages with dozens of "up and coming" bands performing live. Jul 17, 11am-11pm; $12 adv/$17 door. Garden Stage of the Monterey County Fairgrounds, Monterey. 831.917.0774.
California Rodeo Salinas Rope yourself a good time with live country music, a daily horse parade, games and food, a "Miss California Rodeo" pageant, barrel races and roping contests. Jul 20-23, times vary; $7-$19. Salinas Sports Complex, 1034 N. Main St, Salinas. 831.775.3105.
Taste of the Bay The Decathlon Club hosts this tasting event and dance party with musical act the Cheeseballs with proceeds benefiting the Generations Community Wellness Centers. Jul 21, 6:30pm-midnight; $40/$60. Decathlon Club, 3250 Central Expwy, Santa Clara. 408.738.2582.
Red Bull U.S. Grand Prix Rev up for summer with the country's biggest motorcycle race. Jul 21-23, call for times and prices . Laguna Seca Raceway, 1021 Salinas Hwy, Monterey. 831.242.8201.
CultureFest The Mountain View Library Foundation organized this festival to highlight the area's diversity, focusing on arts, food and music from various cultures. Jul 22, 10am-6pm and Jul 23, 10am-5pm; free. Castro Street, downtown Mountain View. 650.526.7014.
Wharf-to-Wharf Race First run the scenic six miles, then listen to dozens of bands, feast on local cuisine and relax in the Santa Cruz breeze. Jul 23, 8:30am. Starts at Municipal Wharf, Santa Cruz. 831.475.2196.
North Beach Jazz Fest An annual tradition in San Francisco, this year's fest includes acts Daara J, New Monsoon, Agualibre, Jon Cleary, A.L.O. and Firme. Jul 26-30; check website for times and prices. Various locations, San Francisco.
San Jose Grand Prix Race cars take to the streets of downtown San Jose. Jul 28-29, 8am-6pm and Jul 30, 8am-5pm; $25-$160. Downtown San Jose. 408.277.6290.
Gilroy's annual event celebrating the stinking rose. With food, live music, a children's area and more. Jul 28-30, 10am-7pm; $12 general, $6 children and seniors. Christmas Hill Park, 7050 Miller Ave, Gilroy. 408.842.1625.
Day Out With Thomas The only Northern California appearance of Thomas the Tank Engine. The day includes rides, storytelling, puppet shows and more. Jul 28-30 and Aug 4-6; call for times and prices. Roaring Camp, Graham Hill Road, Felton. 866.468.7630.
Berkeley Kite Festival Get a natural high at this festival celebrating flying fabrics with kite-making lessons, kite duels, taiko drummers, kite exhibitions and other kite-related activities. Jul 29-30, 11am-5pm; free. Cesar Chavez Park, Berkeley. 510.235.KITE.
Moss Landing Antique Street Fair Browse through thousands of antiques and collectibles and enjoy a pancake breakfast. Jul 30, 7:30am; free. Downtown Moss Landing. 831.633.4501.
Send a letter to the editor about this story.