May 17-23, 2006
home | metro silicon valley index | sports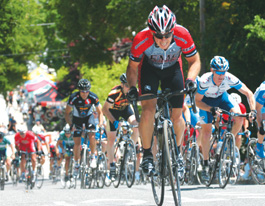 Photograph by Felipe Buitrago
Off and Running: Last weekend's Los Gatos Cat's Hill Classic bicycle race kicked off the summer cycling season.
Sports & Rec
Cycling
Metro Summer Guide 2006:
San Jose Grand Prix | ISEA | San Jose Jazz Festival | Classical Music | Family Fun | May Movies | June Movies | July Movies | August Movies | Stanford Jazz | Pop Music Picks | Tuesday Concerts | Wednesday Concerts | Thursday Concerts | Friday Concerts | Saturday/Sunday Concerts | Venues and Concerts | May Festivals | Memorial Day Weekend | June Festivals | July Festivals | July 4 | August Festivals | September Festivals | Organized Play | Cycling | The Great Outdoors | Surfing | World Cup | Stage | Behind the Musicals | Art Shows
Amsterdam has finally met its match—with the biking community, that is. The rain is gone and the only thing flooding Silicon Valley and its surrounding areas are bike routes, trails and competitions. Some of the biggest criteriums and races are right here in your backyard. Whether you want to participate or just watch, there is something for everyone.
Five Wire Inc. Mt. Hamilton Road Race, San Jose
May 28: This amazing road course is a reminder of the old European Classics, with 4,500 feet of climbing in 20 miles, with some breathtaking descents. 408.920.1771.
ST Bikes Memorial Day Criterium, Morgan Hill
May 29: The Memorial Day "Crit" consists of a 1-mile loop on Jarvis, Serene and Sutter streets in Morgan Hill. Roads are safe and have recently been repaved. 408.920.1771.
ICCC Dash for Cash, Pleasanton
Jun 3: This 15th Annual Wheels of Thunder almost sounds like a bike messenger race, but it's for Elite Category male and female as well as Masters male and Juniors mixed category. The race is .9 miles, has four right turns and is fast and flat.
Pescadero Road Race
Jun 24: The Ninth Annual Pescadero Coastal Classic is a 28-mile loop that has 1,500 feet of climbing per each lap; steep, winding descents with fair to good roads. Held rain or shine. Contact Alto Velo at 650.823.2779.
Burlingame Criterium
Jun 25: Once known as the Silver Bullet Criterium, Burlingame is still host to one of the oldest in bike races in the peninsula. Riders of all categories are welcome, and children are encouraged to participate in the kids' ride. Contact Peninsula Velo at 650.348.6701.
Wastonville Criterium
Jul 22: Contact Velo Promo at 209.533.4996.
NorCal/NV Road Race Championships, Fort Ord
Aug 5: Contact Velo Promo at 209.533.4996.
Timpani Criterium, Santa Clara
Aug 6: The course is a four-corner, flat, well-paved road that is .9 miles in distance. Contact Los Gatos Bicycle Racing Club at 510.531.7371.
Giro Di San Francisco
Sep 4: What started as the San Francisco Grand Prix has been a part of the city since 1978. The course has changed several times but still includes many of the original streets. 290.533.4996.
Track Racing at Hellyer Velodrome
Just off Highway 101 at Hellyer Avenue. Throughout the month of May and part of June Hellyer will have daily training sessions for different levels of riders. Saturday morning beginner sessions, 8:30-11:30am; Sunday intermediate training sessions, 11am-2pm. Advanced open training is scheduled for Tuesdays and Thursdays 9am-noon. Races take place Wednesdays at 7pm, with point races on Thursdays at 7pm. Sprint Tournament—May 28, 3-6pm. Keefe Team Realtors Friday Night Breakaway Series—Jun 2.
Send a letter to the editor about this story.