May 17-23, 2006
home | metro silicon valley index | festivals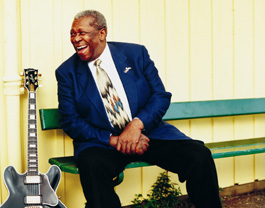 B.B. King.
Festivals
From art and wine to garlic and artichokes, every weekend this summer features a festival, a celebration, a cook-off or a street fair
Metro Summer Guide 2006:
San Jose Grand Prix | ISEA | San Jose Jazz Festival | Classical Music | Family Fun | May Movies | June Movies | July Movies | August Movies | Stanford Jazz | Pop Music Picks | Tuesday Concerts | Wednesday Concerts | Thursday Concerts | Friday Concerts | Saturday/Sunday Concerts | Venues and Concerts | May Festivals | Memorial Day Weekend | June Festivals | July Festivals | July 4 | August Festivals | September Festivals | Organized Play | Cycling | The Great Outdoors | Surfing | World Cup | Stage | Behind the Musicals | Art Shows
Memorial Day Weekend
The official starting weekend for the summer rush includes some heavy lifting, with fireworks in Santa Clara, mushrooming in Morgan Hill and B.B. King himself at the Santa Cruz Blues Festival
Boardwalk Opens The seaside amusement park kicks off its summer season with extended hours and rides. May 26. Santa Cruz Beach Boardwalk. 831.423.5590.
Fanimecon This annual anime convention now also hosts a music festival, featuring Japanese indie acts, during its stint in San Jose. May 26-29; $25-$55. San Jose McEnery Convention Center, 150 W. San Carlos Ave, San Jose. 408.277.5277.
Watsonville Fly-In Annual festival of antique flying machines, aerial tricks and fireworks. May 26, noon-10pm, May 27, 9am-10pm and May 28, 9am-5pm; $4-$10/$5-$15. Watsonville Airport, 100 Aviation Way, Watsonville. 831.763.5600.
Felton Remembers Parade and Covered Bridge Festival Now in its 18th year, this annual festival and parade celebrates those who have served. With games, entertainment, food, a beer and wine garden, arts and crafts and more. Parade starts on Highway 9 between Henry Cowell and Graham Hill Road at 10am. May 27, 11am-4pm; free. Felton Commons Park, Felton.
Carnaval San Francisco The streets of the city are filled with cultural dancing, a parade, live music and more. May 27-28, 10am-6pm; free. Mission and 17th streets, San Francisco.
Asian-Indian American Day In honor of May being Asian American Heritage Month, the Milpitas public library hosts this festival with cultural musical performances, demonstrations, exhibits, dancing, art and food. May 27, 11am-1:30pm; free. Milpitas Community Library, 40 N. Milpitas Blvd, Milpitas. 510.228.6417.
Pier 39 Memorial Day Three days honoring local families and veterans, including live entertainment from local street performers, music, food and more. May 27-29, all day; free. Fisherman's Wharf, San Francisco. 415.705.5500.
Longboard Club Invitational A surfing event with pro and amateur surfers competing for top prizes. May 27-28, 6am-6pm. Steamer Lane at Lighthouse Point, West Cliff Drive, Santa Cruz. 831.454.9888.
Mushroom Mardi Gras Food, a wine garden with microbrews, live music, "Munchkinland" for kids, a parade and stage show and crafts. May 27-28, 10am-6pm; free admission and parking. Monterey Road between Dunne and Main avenues, downtown Morgan Hill. 408.778.1786.
Santa Cruz Blues Festival Music festival featuring acts such as B.B. King, Coco Montoya, Los Lobos, John Hiatt and the Boneshakers. May 27-28, 10am-7pm; $20-$160. Aptos Village Park, 100 Aptos Creek Rd, Aptos. 831.479.9814.
Civil War Battles and Encampment Experience historic battles complete with the sounds of cavalry charges, musket fire and artillery shells. May 27-29, 10am-3pm, $5 admission/ $6 parking fee. Roaring Camp, Graham Hill Road, Felton. 831.335.4484.
Boulder Creek Art, Wine and Music Festival Live music from local bands, wine tastings, collectibles, food and craft booths and art displays, plus kids' events highlight this 17th annual festival. May 27-29, 11am-6pm; free. Downtown Boulder Creek. 831.338.2578.
Memorial Weekend Fireworks One of the largest fireworks displays in the Bay Area, set to patriotic and popular music. May 28; free with park admission. Paramount's Great America, 2401 Agnew Rd, Santa Clara. 408.988.1776.
Memorial Day Parade and Picnic Gilroy honors fallen officers with this annual community event. May 29, 10am-5pm; free. Christmas Hill Park, Gilroy. 408.846.0460.
Memorial Day at Bay Meadows The track hosts a family festival with kids' activities and a concert with Garratt Wilkins and the Parrot Heads. May 29, 1pm; call for prices. Bay Meadows, 2600 Delaware St, San Mateo. 650.574.7223.
Memorial Day Ceremony An event honoring and celebrating those who have served and lost their lives. May 29, 1-2pm. U.S.S. Hornet, 707 W. Hornet Ave, Pier 3, Alameda. 510.521.8448.
Send a letter to the editor about this story.