May 17-23, 2006
home | metro silicon valley index | movies | current reviews | preview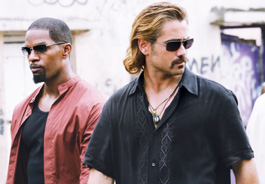 Miami Mean: Jamie Foxx and Colin Farrell do Crockett and Tubbs for the 21st century in 'Miami Vice.'
Those '70s Shows
The smell of disco polyester sweat infiltrates our nation's megaplexes this summer
By Richard von Busack
Metro Summer Guide 2006:
San Jose Grand Prix | ISEA | San Jose Jazz Festival | Classical Music | Family Fun | May Movies | June Movies | July Movies | August Movies | Stanford Jazz | Pop Music Picks | Tuesday Concerts | Wednesday Concerts | Thursday Concerts | Friday Concerts | Saturday/Sunday Concerts | Venues and Concerts | May Festivals | Memorial Day Weekend | June Festivals | July Festivals | July 4 | August Festivals | September Festivals | Organized Play | Cycling | The Great Outdoors | Surfing | World Cup | Stage | Behind the Musicals | Art Shows
The Roster
Remember, most of these dates are subject to change as nervous studio heads start to hedge their bets as audiences choose to stay home and play video games. And, in a slap in the face to the 10th largest city in the United States, some dates are limited releases that open first in San Francisco and won't come to San Jose until a week or two later.
July 5
Little Man Sounds like Lon Chaney's The Unholy Three played for comedy: Marlon Wayans stars as a criminal midget who disguises himself as a baby.
July 7
Pirates of the Caribbean: Dead Man's Chest In a weak moment, Jack Sparrow (Johnny Depp) sold his soul, and now the cursed Davy Jones (Bill Nighy), captain of the Flying Dutchman, would like to collect his debt. Will (Orlando Bloom) and Elizabeth (Keira Knightley) are shanghaied as Jack goes on search of treasure.
A Scanner Darkly 1 Corinthians 13:11: "For now we see through a glass, darkly, but then face to face; now I know in part; but then shall I know even also as I am known." Even before he got religious hallucinations real bad, Philip K. Dick was able to find the sinister aspects of this verse, tweaking it for the title his well-known speculative fiction novel. Richard Linklater's adaptation is a computer-animated story of a futuristic narcotics officer (Keanu Reeves) assigned to hunt himself. Robert Downey Jr. plays a speed-rapping addict—a real stretch.
Strangers With Candy A big-screen version of Amy Sedaris and factinista Stephen Colbert's TV show about the high-school education of a stuck-in-the-1970s skank.
July 14
Crossing the Bridge: The Sound of Istanbul In Fatih Akin's superlative Head-On, he broke up the action with a suite of live performances of Turkish music on the banks of the Bosphorus. Here, Akin assembles some of the leading names in Istanbul pop today: Baba Zula, Orient Expressions, and Sezen Aksu among them.
Leonard Cohen: I'm Your Man A documentary about the singer/songwriter, with Nick Cave and Bono guest slots.
Pathfinder Berserk Scandinavians vs. American Indians, with an adopted Norse boy (Karl Urban) playing for the Redskins instead of the Vikings.
Pulse Remake of mystifying Japanese horror film about electromagnetized ghosts claiming the living. Kristin Bell and Ian Somerhalder star.
School for Scoundrels Remake of 1959 British comedy about an academy for cads, with Billy Bob Thornton subbing for Terry-Thomas; Todd Phillips (Starsky and Hutch) was the last man they expected to derive a film from the playwright Sheridan.
You, Me and Dupree Newly-wed couple (Matt Dillon, Kate Hudson) can't free their home from the best man (Owen Wilson) who won't leave.
Wassup Rockers South Central skaters by day, Beverly Hills players by night. A group of boys come to mingle with the local talent, and Larry Clark (Kids) watches.
July 21
Lady in the Water Latest Shyamalan M. Nightmare: Man (Paul Giamatti) discovers a water sprite in his swimming pool. "In a plot twist worthy of M. Night Shyamalan's increasingly lousy films," to paraphrase Homer Simpson, she's played by Bryce Dallas Howard—daughter of the director of mermaid-movie Splash.
Monster House A haunted house comes alive via animation and seeks children to feast upon. Done in the uncanny human-replicant animation style of The Polar Express, and if that's not frightening enough, imagine a CG version of Steve Buscemi, because it's here.
My Super Ex-Girlfriend Breaking up is hard to do, especially when your ex is G-Girl (Uma Thurman), a superpowered vigilante. Under Ivan Reitman's direction, Luke Wilson is the man running for cover; Anna Faris (yay) is Wilson's new special lady. Sounds unlikely, but here's hope: writer Don Payne is credited as scripter on a dozen episodes of The Simpsons.
July 28
Barnyard Funny animals in CG, directed by Steve Oedekerk (Thumb Wars, the Ace Ventura franchise); Kevin James and Courtney Cox are the vocal talents.
I Could Never Be Your Woman May-September romance between Paul Rudd and Michelle Pfeiffer, with Mother Nature herself (Tracey Ullman) lending a hand. Amy Heckerling (Fast Times At Ridgemont High) directs.
John Tucker Must Die Three high school girls (one of which is Ashanti) discover they've all been dating the same player and seek revenge.
Little Miss Sunshine A saltier version of R.V., or maybe a less salty version of The Talent Given Us, take your pick: a hostile family heading for a Redondo Beach Little Miss Sunshine beauty pageant.
Miami Vice Based-upon-the-title-of-the-TV-show updating by Michael Mann. Colin Farrell as Crockett and Jamie Foxx as Tubbs try to track down a pan-Caribbean gang of drug smugglers; Gong Li plays the woman who gets in between them.
Scoop In the new Woody Allen movie, Scarlett Johansson plays a student journalist who breaks an important story, while courting an aristocrat (Hugh Jackman).
Send a letter to the editor about this story.