May 17-23, 2006
home | metro silicon valley index | sports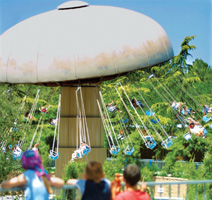 Magic Mushroom: The giant Mushroom Swing sends kids on a whirl at Bonfante Gardens.
Family Fun
School's out—luckily, parks, museums and plays can fill the long afternoons
Metro Summer Guide 2006:
San Jose Grand Prix | ISEA | San Jose Jazz Festival | Classical Music | Family Fun | May Movies | June Movies | July Movies | August Movies | Stanford Jazz | Pop Music Picks | Tuesday Concerts | Wednesday Concerts | Thursday Concerts | Friday Concerts | Saturday/Sunday Concerts | Venues and Concerts | May Festivals | Memorial Day Weekend | June Festivals | July Festivals | July 4 | August Festivals | September Festivals | Organized Play | Cycling | The Great Outdoors | Surfing | World Cup | Stage | Behind the Musicals | Art Shows
SUMMER for kids used to mean running loose and free down in the old holler. Does anybody honestly know what an old holler even is anymore? Thankfully, these days, there are lots of activities for kids and their parents that manage to combine a whole lot of fun with a smidgen of learning, from train rides to water slides, from art classes to plays and concerts.
Billy Jones Wildcat Railroad Oak Meadow Park, Los Gatos; weekends till Jun 12, daily through Labor Day; $1.50. 408.395.RIDE.
The miniature steam engine No. 2 was originally rescued from a Venice, Calif., tourist attraction by Los Gatos character William "Billy" Jones and restored. It now makes a scenic loop through the park pulling a consist of open passenger cars full of delighted sightseers. This is a perfect way to show kids a bygone way of travel. There is also a miniature diesel engine and an old-fashioned carousel. This is Metro's top pick for a great family outing.
Bonfante Gardens Bonfante, 3050 Hecker Pass, Gilroy; weekends till June 3, then daily through the summer; $30-$40. 408.840.7100.
The family-oriented theme park offers some familiar rides with unique variations (like the mushroom swing) coupled with a very unusual botanical setting full of strange topiary and rare trees, many preserved from the venerable Tree Circus, an old-fashioned attraction in Scotts Valley.
Cantor Arts Center Stanford University. 650.725.4758.
Chicken Run—Twilight summer film series on the lawn by the cafe. Jul 13.
The center's Moorman Art Studio holds a variety of short art sessions for children throughout the summer related to shows at the museum; call 650.725.3155 for details.
Children's Discovery Museum 180 Woz Way, San Jose; Tue-Sat, 10am-5pm; Sun, noon-5pm; $6-$7. 408.298.5437.
The premiere learning-is-fun destination for kids, with plenty of activities and displays for a day's worth of exploration. Especially attractive for really young kids is the new WaterWays exhibit full of rushing, gushing geysers and fountains.
Oh, Seuss! Off to Great Places—Ends Jun 4.
Secrets of Circles—A new exhibit that swirls and whirls. Opens Aug 5.
Alice in Wonderland—Circus Chimera presents a new version of the famous tale with magic and spectacle. $10 and up. May 18-21. (888.663.7464)
The Sippy Cups—A high-energy concert for families using rock tunes. May 28. (415.335.4422)
Waldo Hunt—A hide-and-seek event in the museum. Jun 3.
Community School of Music and Arts (CSMA) Finn Center, Tateuchi Hall, 230 San Antonio Circle, Mountain View; free. 650.917.6800.
Children's Concert—Baroque music with Cynthia Freivogel (violin), Corey Jamason (harpsichord) and Elisabeth Reed (cello). Two shows, 2pm for preschoolers, 4pm for older kids. Jun 4.
Golfland 976 Blossom Hill Rd, San Jose; 1199 Jacklin Rd, Milpitas; 855 E. El Camino Real, Sunnyvale; daily 10am-10pm, later on; $6.50/$7.50. 408.225.1533.
Miniature golf plus waterslides and a game arcade.
Happy Hollow Park and Zoo 1300 Senter Rd, San Jose; daily 10am-5pm, till 6pm Fri-Sun in July and August; $5.50/$6. 408.277.3000.
A pleasant, well-laid-out zoo featuring animals in habitat enclosures. Of special interest are the lemur and jaguar exhibits. There is also an adjacent play area full of some amusingly retro attractions.
History San Jose Family Days Kelley Park, 1650 Senter Rd, San Jose. 408.287.2290.
Dia de Portugal Festival—Jun 10
History Mystery—Jul 16
Take the Quake and Shake Challenge—Aug 13
Friends of Guadalupe River Park & Gardens Call 408.298.7657 for details.
San Jose Safari—A weeklong adventure for 15 kids that explores fun sites in San Jose. Ages 7-10. Register by Jun 1.
Mommy and Me on the Row Santana Row, San Jose. 408.551.4611.
The second Tuesday of the month, visiting groups present programs for young children.
Children's Discovery Museum—Jun 13
San Jose Museum of Art—Jul 11
Museum of American Heritage (MOAH) 351 Homer Ave, Palo Alto; Fri-Sun, 11am-4pm. 650.473.6950.
Vintage Vehicles and Family Festival—With food, kids entertainment and classic cars. Aug 13.
Paramount's Great America 4701 Great America Pkwy, Santa Clara; daily staring Jun 1; $33.99-$49.99. 408.988.1776.
A much-coveted bevy of thrills, family rides, kid zones (look for Nickelodeon Central) and watery fun at Boomerang Bay. Live shows like School of Rock and Nick Live run throughout the summer.
Raging Waters Lake Cunningham Regional Park, 2333 S. White Rd, San Jose; weekends (plus May 29) till Jun 3, then daily through Aug 20; $15.99-$25.99; 408.238.9900.
A place for the whole family to get seriously wet without having to drive over the hill to the ocean. There are slides and activities for all swim and age levels.
Roaring Camp Mt. Hermon Road at Highway 17, near Felton; see www.roaringcamp.com for days and prices.
Western-themed park features historic re-enactments and rides on working railroads, including rides to and from the Santa Cruz beach.
Hats Off to Dad—Jun 18
Day Out With Thomas—Ride Thomas the Tank Engine at his only run in the area. Jul 28-30 and Aug 4-6.
San Jose Museum of Art 110 S. Market St, San Jose. 408.294.2787.
Kids Art Sunday—A look at the architecture of the museum. Jun 11.
Santa Cruz Beach Boardwalk Beach St, Santa Cruz; daily Memorial Day to Labor Day; ride packages $26.95 and up. 831.423.5590.
The venerable ocean park with its historic wooden roller coaster is practically a rite of passage for valley kids and escapist teenagers. Best of all, the people-watching is free.
Sunnyvale Hands on the Arts Community Center, 550 E. Remington Dr, Sunnyvale.
The annual festival feature recording artist Tim Cain and many local artists—May 20
The Tech Museum of Innovation 201 S. Market St, San Jose; Tue-Sun, 10am-5pm; $7-$10. 408.294.TECH.
The temple of tech provides lots of opportunity for creative thinking with exhibits like Zack's Snack Contraption (think Rube Goldberg if you're old enough), Name That Gizmo and Captain Cat's Watercraft.
Kids Onstage
Ballet San Jose Silicon Valley The California Theatre, 345 S. First St, San Jose; $15-$45. 408.288.2800.
The Little Mermaid—The American premiere of a new children's ballet. May 20-21.
The ballet also holds a Summer Intensive session in two divisions (ages 4-16 and 8-18). The classes cover classical ballet and other forms of dances and are taught with live accompaniment. Jul 10-Aug 5. (Call 408.288.2820, ext. 223 for details.)
California Theatre Center Sunnyvale Community Center Theatre and Mayer Theatre, Santa Clara. 408.245.2978.
The center runs a three-week Summer Theatre Conservatory for actors ages 8 and up; it also runs a two-week Junior Conservatory with half-day sessions for students 6-8. These sessions run in June and July.
Children's Musical Theater San Jose 1401 Parkmoor Ave, Suite 100, San Jose. 408.288.5437.
The Performing Arts Summer Camp—Jun 19-Jul 7, Jul 11-27, for ages 4-18. (At Schallenberger Elementary School in San Jose). Register by May 30.
Montalvo Arts Center Villa Montalvo, Saratoga; call for ticket info. 408.961.5858.
The Jungle Book—Presented by the Missoula Children's Theatre. Jun 30.
Starry, Starry Night: Art & Astronomy Slumber Party—Aug 11
The center also conducts several special summer camps, including a Performing Arts Day Camp (June 26-30), for ages 5-15 related to the Missoula show. A Fine Arts Day Camp (Jul 31-Aug 4), for ages 10-13, allows young artists to work in Montalvo's new studios on projects like skateboard decks.
Peninsula Youth Theatre Mountain View Center for the Performing Arts, 500 Castro St, Mountain View; $7. 650.903.6000.
Alexander and the Terrible, Horrible, No Good, Very Bad Day—May 19-20
Children's Theatre in the Park, Fridays, 6:30pm, outside the center, free: The Wizard of Oz, Jun 30; On the Tip of My Tongue, Jul 7; Witches, Britches, Rings and Things, Jul 14; Hansel and Gretel, Jul 21; Peter Rabbit and Friends, Jul 28; The Golden Goodse, Aug 4; The Dancing Spider, Aug 11; Pippi Longstocking, Aug 18.
Wonderland—At Cubberley Community Center, Palo Alto. Jul 7-16.
Joseph and the Amazing Technicolor Dreamcoat—Jul 29-Aug 6
The company offers a variety of classes for young actors throughout the summer.
San Jose Youth Symphony The California Theatre, 345 S. First St, San Jose; $15-$45. 408.288.2800.
Beauteous America—Yair Samet leads the symphony in a program of Copland, Ives and Piston. Jun 17.
Send a letter to the editor about this story.