May 17-23, 2006
home | metro silicon valley index | music & nightlife | preview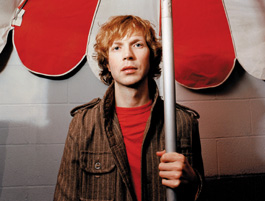 Stereopathetic: Is it possible to love Beck and despise Scientology?
Ain't Nothing Like the Real Thing, Baby
Summer tours put a big emphasis on retreads but it's new, original music that keeps the excitement rolling
By Todd Inoue
Metro Summer Guide 2006:
San Jose Grand Prix | ISEA | San Jose Jazz Festival | Classical Music | Family Fun | May Movies | June Movies | July Movies | August Movies | Stanford Jazz | Pop Music Picks | Tuesday Concerts | Wednesday Concerts | Thursday Concerts | Friday Concerts | Saturday/Sunday Concerts | Venues and Concerts | May Festivals | Memorial Day Weekend | June Festivals | July Festivals | July 4 | August Festivals | September Festivals | Organized Play | Cycling | The Great Outdoors | Surfing | World Cup | Stage | Behind the Musicals | Art Shows
LAST SUMMER, I saw Al Green at the Mountain Winery. The setting was exquisite—sunset breaking across the sky, pleasant weather, great sound—but the soul legend shortchanged his audience paying premium prices with barely an hour of music. He disappeared as quick as he arrived, with no encore, blasting off into the hills in his limo while the band played him offstage.
Al Green isn't coming back to the Mountain Winery or Montalvo this summer for whatever reason. It's probably a good thing because, with gas prices off the meter, fewer people are going to commit to tickets if artists aren't bringing their A-game. To combat this, some venues are upgrading the experience to bring more people in this summer. In particular, Shoreline Amphitheatre made a gang of improvements—including doubling the number of speakers on the lawn to ensure that every snare popping from Def Leppard's one-armed drummer Rick Allen sounds crystal clear.
Wait, did I just type Def Leppard? Yes, there's comfort in the familiar, and people will flock to see the oldies trotted out every summer (dude, Vixen plays June 24 in Concord). But at least Def Leppard has five-sixths of its lineup, and as evident from the successful San Jose Municipal Stadium concert last year, the band leaves no stoner anthem unturned.
Over the summer, the preponderance of cubic zirconia plods on: The New (fake) Cars, Journey, Temptations and Four Tops, INXS, Styx, Creedence Clearwater Revisited all roll on without key members. It messes with the memories and eats up precious fossil fuels as their tour buses hog the fast lane on the highway.
Thankfully, some venues are banking on good original music from the last decade. There's the Bleeding Edge Festival—a daylong symposium of experimental musicians headlined by Yo La Tengo—at the, holy crap, Montalvo Garden Theatre. Los Straitjackets are playing a Twilight Concert in Palo Alto on Aug. 8.
Beck appears at the Santa Cruz Civic Auditorium on May 30. Voodoo Glowskulls are booked at the Saratoga Teen Center on June 7. The Jurassic 5 show at Santa Clara University's Leavey Center on May 23 and Mos Def at Frost Amphitheatre on May 21 has been on the down low for the past month but should be smokers. And check out the lineup for Fremont's Blue Jean Bop car show and concert on July 9: Lee Rocker, Hacienda Brothers, Deke Dickerson and the Ecco-Fonics, Stompy Jones, Vicky Tafoya and the Big Beat, Johnny Dilks and His Country Soul Brothers, Carl Sonny Leyland Trio and Cari Lee & the Saddle-ites.
But that's not to say I'm not sentimental. I'm visually excited that freestyle star Debbie Deb ("Lookout Weekend," "When I Hear Music") is playing San Jose Gay Pride on June 11. Her record label didn't think she fit the right profile (a.k.a., she was too fat) so they didn't put her face on any of her albums. And they hired a more svelte singer to perform as Debbie Deb. The real Debbie Deb fought to be recognized. In the end, she has persevered and now she's working in a Miami hair salon during the week and flying around the country on weekends performing her hits. It's life affirming to know that there are still people crazy enough to tour as their actual, intact selves. What a concept.
---
Spring/Summer Concert Picks
Jake Shimabukuro @ Rio Theatre 5/19
Further Seems Forever @ The Cave 5/19
Mos Def @ Frost Amphitheatre 5/21
Jurassic 5 @ SCU's Leavey Center 5/23
Beck @ Santa Cruz Civic 5/30
Madonna @ HP Pavilion 5/30-31
Voodoo Glowskulls @ Saratoga Teen Center 6/7
Cody Chesnutt @ the Attic 6/11
Debbie Deb @ SJ Gay Pride 6/11
Tapes N' Tapes @ Café du Nord 6/17
Hall & Oates @ Mountain Winery 6/19
Elvis Costello & Allen Toussaint @ Mountain Winery 6/21
Joe Jackson @ Montalvo Garden Theatre 6/22
Radiohead @ UC-Berkeley Greek Theatre 6/23-24
Mark Hummel @ Poor House Bistro 6/30
Bauhaus/Nine Inch Nails @ Shoreline Amphitheatre 7/8
Blue Jean Bop @ Saddle Rack 7/9
Slayer @ HP Pavilion 7/19
Taking Back Sunday @ SJSU Event Center 7/21
Flaming Lips, Ween, Go! Team @ UC-Berkeley Greek Theatre 7/22
English Beat @ Santa Cruz Beach Boardwalk 7/28
Sounds of the Underground @ Shoreline 7/29
Los Straitjackets @ Twilight Concerts in Palo Alto 8/8
Bleeding Edge @ Montalvo Garden Theatre 8/13
Rita Coolidge @ Jazz on the Plazz 8/16
Original Superstars of Jazz Fusion @ Montalvo 9/7
—Todd Inoue
Send a letter to the editor about this story.