May 17-23, 2006
home | metro silicon valley index | festivals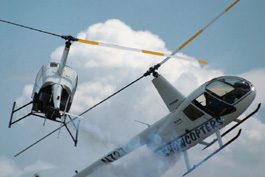 Blade Runners: The Vertical Challenge, which takes place June 17 at the San Carlos Airport, is the biggest helicopter stunt and demonstration show in the country.
Festivals
From art and wine to garlic and artichokes, every weekend this summer features a festival, a celebration, a cook-off or a street fair
Metro Summer Guide 2006:
San Jose Grand Prix | ISEA | San Jose Jazz Festival | Classical Music | Family Fun | May Movies | June Movies | July Movies | August Movies | Stanford Jazz | Pop Music Picks | Tuesday Concerts | Wednesday Concerts | Thursday Concerts | Friday Concerts | Saturday/Sunday Concerts | Venues and Concerts | May Festivals | Memorial Day Weekend | June Festivals | July Festivals | July 4 | August Festivals | September Festivals | Organized Play | Cycling | The Great Outdoors | Surfing | World Cup | Stage | Behind the Musicals | Art Shows
June
Greek Festival With food and cultural fun. Jun 2, 5-10pm, Jun 3, 11am-10pm and Jun 4, 11am-9pm. St. Nicholas Greek Orthodox Church, 1260 Davis St, San Jose.
St. Clare Community Festival Three days of family fun, including carnival rides, games, entertainment, strawberry shortcake, a rummage sale and a tri-tip barbecue. June 2-4, all day; free. St. Clare School, 725 Washington St, Santa Clara. 408.246.6797.
Foster City Art and Wine Festival Celebrate the city's 35th birthday with family entertainment, a carnival, food, art, wine and more. Jun 2, 5-11pm, Jun 3, 10am-11pm and Jun 4, 10am-5pm; free. Shell Boulevard, Foster City. 650.286.3380.
Communitywide Garage Sale Sift through hand-me-downs and knickknacks from hundreds of Los Gatans and Monte Serenans. Jun 3, 9am-3pm; free. Main Street, downtown Los Gatos. 408.399.5796.
Story Road Tamale Festival This annual festival celebrates Latin heritage with food (including eating contests), music from El Chicano and Mystique, demonstrations and dancing for the whole family. Jun 3, 10am-4:30pm; free. Emma Prusch Park, 647 S. King Rd, San Jose. 800.406.9205.
Strawberry Festival Now in its 16th year, this sweet festival includes bounce houses and dunk booths, food, carnival games and prizes, music, raffles, cake walks and more. Jun 3, 11am-5pm; free. Walnut Avenue Women's Center, 303 Walnut Ave, Santa Cruz. 831.426.3062.
San Carlos Jamboree West San Carlos Business Association hosts this day of free antique appraisals, kids' activities, free ice cream, home and garden tours, lectures, a watermelon-eating contest and more. Jun 3, 10am-4pm; free. Shasta Avenue and West San Carlos Street, San Jose. 408.947.8711.
Peddler's Fair Open market of food and other items. June 3-4, 10am-5pm; free. Historic Downtown, San Juan Bautista. 831.623.2454.
AVArtFest 2006 A large variety of juried art—watercolor, oil, pastel, photography and fiber arts—will be on display for show and sale. Plus live music and food vendors. June 3-4, 11am-6pm. Triton Museum of Art, 1505 Warburton Ave, Santa Clara. 408.266.6103.
Sunnyvale Art and Wine Festival The city of Sunnyvale celebrates its centennial with this 32nd annual event, featuring multiple food and crafts booths from local artisans and vendors. Jun 3-4, 10am-6pm; free. Washington and Sunnyvale avenues, downtown Sunnyvale. 408.763.4971.
Union Street Festival A two-day art and music festival, celebrating its 30th year. Jun 3-4, 10am-6pm; free. Union Street between Gough and Steiner, San Francisco. 415.428.9933.
Vintner's Festival This art, food and wine event will be located at a number of wineries and restaurants throughout Santa Cruz County. Jun 3-4 east side of Santa Cruz Mountains; Jun 10-11 west side of Santa Cruz Mountains; 11am-5pm; $30/$35. 831.479.WINE.
San Francisco Accordion Festival Because accordions aren't just for Weird Al Yankovic and polka bands. Plus the "Main Squeeze Pageant." Jun 4, noon-6pm; free. Cannery at Del Monte Square, 2801 Leavenworth St, San Francisco. 415.771.3112.
Nativity Carnival Music, eats and rides in a carnival setting. Jun 9, 6:30-10pm; Jun 10, noon-5:30pm; Jun 11, noon-6pm; free. Nativity School, Oak Grove and Laurel streets, Menlo Park. 650.323.7914.
St. Christopher Parish Festival The church and school throw a fundraiser with live music, carnival rides, an auction, bingo, food, games and a flea market. Jun 9-11; call for times and prices. 2278 Booksin Ave, San Jose. 408.269.2226.
Celtic Festival Featuring ethnic food, historic re-enactments, kids' activities, live Irish, Scottish and Welsh music, pipe bands and Celtic dancing. Jun 10, 10am-5:30pm; $5-$10, under 3 free. Ardenwood Historic Farm, 34600 Ardenwood Blvd, Fremont. 510.796.0663.
Dia de Portugal Festival Participate in this worldwide day of celebration with Portuguese and Brazilian dance shows, live music, capoeira, bag pipes, ethnic food, a book fair and an art show. Jun 10, 10am-7:30pm; free. Kelley Park, 1650 Senter Rd, San Jose. 415.999.7894.
Gay Pride Parade San Jose presents its Gay Pride Festival and Silicon Valley's Gay Pride Parade. Jun 10-11; call for times and prices. West San Carlos at Woz Way, downtown San Jose. 408.278.5563.
Burlingame's Art in the Park Arts and craftspeople display their wares at this 36th annual event. Plus food and live music. Jun 10-11, 10am-5pm; free. Washington Park, 850 Burlingame Ave, Burlingame. 650.558.7300.
Mountain Art Guild Art and Wine Festival Join the Santa Cruz artists for this 10th annual weekend of wine, food, art and music in conjunction with the Santa Cruz Mountains Vintners' Festival. Jun 10, 10am-6pm; Jun 11, 10am-5pm; Radonich Ranch, 25140 Highland Way, Santa Cruz. 408.353.1325.
School of the Blues Student Blues Festival Students, instructors and guest artists gather to perform original compositions and classic blues music, including performances from John Garcia, Shane Dwight and David Barrett. Jun 11, noon-7pm; free. Morgan Hill Community Center Amphitheatre, 17000 Monterey Rd, Morgan Hill. 408.224.2937.
Afternoon Tea and Vintage Fashion Show Guests will be served tea, fruit and pastries while viewing a vintage hat and fashion show. Jun 11, 1-4pm; $25 adv. Harris-Lass Historic Museum, 1889 Market St, Santa Clara. 408.249.7905.
Willow Glen Film Festival This second-annual film festival features productions by local filmmakers. Proceeds benefit the Willow Glen Middle and High School music programs. Jun 16, 7-8pm; $6-$7. Willow Glen Little Theater, 2105 Cottle Ave, San Jose.
Crown Beach Sand Castle and Sand Sculpture Contest Bring your shovel and utensils and participate or just come out to view the unique works of art. Jun 17, 9am-1pm; free. R.W. Crown Memorial State Beach, Westline Street at Otis Drive, Alameda. 510.747.7529.
Vertical Challenge Now in its seventh year, the largest helicopter show in the country lands at the San Carlos Airport with helicopters from around the world performing aerial demonstrations. Jun 17, 9am-5pm; $10 ages 5-17 and seniors, $15 adults. San Carlos Airport, 601 Skyway Rd, San Carlos. 650.654.0200.
Campbell Highland Games A Celtic celebration with Scottish Heavy Athletics challenges, including the caber toss and stone put, plus bagpipe music, Ceilidh dancing, Scottish organizations and more. Jun 17, 9am-5pm; $8-$15. Campbell Community Center, Campbell Avenue and Winchester Boulevard, Campbell. 408.219.9264.
Sunol Wilderness Music Festival Square dance to bluegrass and banjo music, listen to Native American stories, eat food from local restaurants, watch a performance from Ballet Folklorico and more. Jun 17, 4-7:30pm; $5 parking fee. Sunol Regional Wilderness, Castro Ranch Rd, Sunol. 510.562.PARK.
Willow Glen's Dancing on the Avenue Dance the evening away at this 11th annual community event. Jun 17, 5-10pm; free. Lincoln Avenue between Minnesota and Willow streets, Willow Glen. 408.298.2100.
Carmel Art and Wine Festival Sip wine, listen to local musicians and browse gardens, with proceeds benefiting the Lawson House safe house for women and children. Jun 17, 2-5pm; $25. Barnyard Shopping Village, Carmel Rancho Lane, Carmel. 831.624.9033.
Monterey Bay Polynesian Extravaganza This first-annual festival brings the Hawaiian spirit to Seaside, with arts and crafts booths, slack key and Hawaiian-language workshops, author Saitia Faaifo, live music and entertainment, comedian Kathy Collins and cultural villages. Jun 17, 10am-6pm and Jun 18, 9am-6:30pm; free. CSU Monterey Bay soccer field, 100 Campus Center, Seaside. 888.211.4433.
Red, White & A Little Blues Continuous live bands (blues, rock, Latin and more) on two stages with food, booths and arts and crafts. June 17-18, 11am-5pm. Alvarado Street, Monterey. 831.655.8070.
Juneteenth San Jose An annual celebration of African American history and emancipation of slaves. Jun 17-18, noon-8pm; free. Cesar Chavez Park, South Market Street, downtown San Jose. 408.292.3157.
Hats Off to Dad A Father's Day celebration with steam engine rides, model railroad exhibits and a barbecue, and dads receive engineers' caps and free handcar rides. Jun 18, 11am-4pm; reservations recommended, prices vary. Roaring Camp Railroads, Graham Hill and Mount Herman Road, Felton. 831.335.4484.
Collabo Pacific Art Collective hosts Collaborative Art Movement with Day One Symphony and other bands, Tiffany Glenn of Ballet San Jose Silicon Valley, DJs, live art, poetry and dance groups. Jun 23, 7:30pm-1:30am; $10 until 10pm, $15 after 10pm. Avalon Nightclub, 777 Lawrence Expwy, Santa Clara. 408.298.0450.
Monterey Bay Blues Festival Featuring acts such as Isaac Hayes, the Temptations Review, Yolanda Adams and Denise LaSalle. June 23-25; call for times and tickets. Monterey Fairgrounds, Monterey. 831.394.2652.
Alameda County Fair The fair kicks off with a fireworks display on Jun 23. Jun 23-Jul 9, times vary; $6-$9 plus $8 parking. Fairgrounds, 4501 Pleasanton Ave, Pleasanton. 925.426.7600.
Adobe Fiesta and Cultural Heritage Day Take a self-guided tour of 23 adobes and historic buildings, browse cultural heritage exhibits, watch live performances and demonstrations and more. Jun 24, 9:30am-5pm; $5-$15. Custom House Plaza, Old Monterey. 831.372.2608x13.
Surf City Classic A chance to view restored classic Woodies. Jun 24, 10am-4pm; free. Santa Cruz Wharf, Santa Cruz. 831.420.5273.
Puerto Rican Cultural Festival The annual Dia de San Juan features salsa music from Tony Vega and other Bay Area acts, dancing, arts, crafts, children's activities and food. Jun 24, 11am-7pm; $15/$25, children 10 and under free. Santa Clara County Fairgrounds, 344 Tully Rd, San Jose. 707.644.4218.
Monopoly in the Park San Jose Beautiful celebrates its 20th anniversary. Watch as people play a life-size game of Monopoly. Jun 24, 5-10pm; free. Discovery Meadow, Woz Way and San Carlos Street, downtown San Jose.
Civil War Re-enactment Step back into time and take a living history lesson of what the War Between the States was like. Jun 24-25, 9am-6pm. Casa de Fruta, 6680 Pacheco Pass Hwy, Hollister. 408.842.7282.
Firefighters' Chili Cook-Off Fire departments from across California join forces to cook chili to raise funds for local burn units. The event also includes live music, a children's play area and fire-prevention displays. Jun 25, 10am-5pm; free. Arena Green, Guadalupe River Park, downtown San Jose. 408.885.5201.
Dia de San Juan Enjoy an afternoon barbecue, a raffle, games and music. Jun 25, 11am-5pm. Second and Polk streets, San Juan Bautista. 831.623.2127.
Palo Alto Firecracker Sectional Annual bridge tournament (that's cards, not the roads on stilts). Jun 30- Jul 4; call for times and prices. Hyatt Regency Santa Clara, 5101 Great American Pkwy, Santa Clara. 650.940.1824.
Send a letter to the editor about this story.