May 17-23, 2006
home | metro silicon valley index | movies | current reviews | preview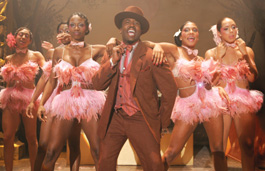 Roaring Twenties: OutKast's 'Idlewild' is a flapper musical set in the deep South.
Those '70s Shows
The smell of disco polyester sweat infiltrates our nation's megaplexes this summer
By Richard von Busack
Metro Summer Guide 2006:
San Jose Grand Prix | ISEA | San Jose Jazz Festival | Classical Music | Family Fun | May Movies | June Movies | July Movies | August Movies | Stanford Jazz | Pop Music Picks | Tuesday Concerts | Wednesday Concerts | Thursday Concerts | Friday Concerts | Saturday/Sunday Concerts | Venues and Concerts | May Festivals | Memorial Day Weekend | June Festivals | July Festivals | July 4 | August Festivals | September Festivals | Organized Play | Cycling | The Great Outdoors | Surfing | World Cup | Stage | Behind the Musicals | Art Shows
The Roster
Remember, most of these dates are subject to change as nervous studio heads start to hedge their bets as audiences choose to stay home and play video games. And, in a slap in the face to the 10th largest city in the United States, some dates are limited releases that open first in San Francisco and won't come to San Jose until a week or two later.
August 4
The Ant Bully Shrunk to the size of an insect, a child slaves away to make up the damage he did to an ant-hill. From John A. Davis, director of Johnny Neutron, it's voiced by Julia Roberts, Nicolas Cage, Meryl Streep.
Apocalypto Mel Gibson's Mayan epic about the ancient nation's decision to introduce human sacrifice (and this time, Gibson's against it!).
Brothers of the Head Cryptodocumentary about the famous conjoined twins band of Tom and Barry Howe (Harry and Luke Treadaway). Keith Fulton and Louis Pepe previously worked on Lost in La Mancha.
Flags of Our Fathers Clint Eastwood does Iwo Jima, with a script by Paul Haggis; Adam Beach plays the lamentably fated Ira Hayes. And Nick Rish as Sonny Tufts.
House of Sand Three generations of women are condemned to live out their lives in a barren quarter of Brazil; the celebrated Fernanda Montenegro (Central Station) is the matriarch.
The Night Listener Robin Williams plays it serious as a troubled late-night radio host, in a story of perhaps-fabricated tragedy; Toni Collette is the woman who tells the compelling tale, and Rory Culkin plays her child, afflicted by AIDS and years of mistreatment. The story has some extra legs, thanks to the lit scandal about faux-whoreson "JT Leroy."
Talladega Nights: The Ballad of Ricky Bobby In a sentence: Days of Thunder starring Will Ferrell.
August 9
World Trade Center Oliver Stone's straightforward, unconspiratorial view of the catastrophe, with Nicolas Cage and Michael Pena as the real-life NYPD cops saved from the rubble.
August 11
Accepted Justin Long stars in a comedy of a ne'er-do-well student working all the angles to get into school. Steve Pink, longtime collaborator with John Cusack, makes his directing debut.
The Bridesmaid A lighthearted Gallic romance between a young man and his sister's bridesmaid. Only it's a Claude Chabrol film, so let's backpeddle the part about lighthearted romance.
Half Nelson Film-fest hit about a teacher (Ryan Gosling) who tries to connect with a student (Shareeka Epps), but the elephant in the room is the instructor's severe drug problem.
Quinceañera Wash Westmoreland and Richard Glatzer's love letter to their Echo Park neighborhood in L.A. uses the Latina rite-of-passage as the center of a multicharacter comedy-drama—like Crash, if Crash were any good.
The Reaping In Louisiana, a missionary-turned-religious-skeptic (Hilary Swank) discovers indications that the world is about to end. Stephen Hopkins (Lost in Space, TV's Tales From the Crypt) directs.
Zoom Life at a school for superheroes, with Tim Allen as Captain Zoom, who has retired from the daredevil life to teach. It's directed by Peter Hewitt, who previously did a film we'll just have to learn to call Garfield 1.
August 18
Clerks II Jersey deadbeats (Brian O'Halloran and Jeff Anderson) migrate from stop-n-rob convenience store to fast food scullions, under boss Rosario Dawson. Director Kevin Smith and Jason Mewes continue to lounge on the walls.
Factorum And on the subject of no-hopers with McJobs, Matt Dillon plays a drinker with a working problem; it's based on a Charles Bukowski memoir.
The Illusionist In turn of the last century Vienna, a famed magician (Edward Norton) matches with a skeptical royal (Rufus Sewell). Paul Giamatti is the detective he hires; Jessica Biel is the princess who is fascinated with the prestadigitator. Neil Burger previously directed the exceedingly forgettable Interview With the Assassin.
The Science of Sleep Gael García Bernal plays an artist with a busy dream life: directed by Michel Gondry (Eternal Sunshine of the Spotless Mind).
Snakes on a Plane "The snake weel hold you tighter than your lovaire"—Jon Voight, Anaconda.
Trust the Man Manhattan has a bad effect on the nerves of lovers: ensemble romance stars Julianne Moore and David Duchovny, Billy Crudup, Maggie Gyllenhaal and the ever-adorable Eva Mendes.
August 25
Beerfest Broken Lizard's latest cultivated comedy is about the underground forbidden Olympics for beer guzzlers, and a team of Yanks determined to break the German stranglehold on the trophy.
Crossover Wesley Jonathan from TV's What I Like About You stars as an expert basketball player who wants to be a pre-med student, even though an agent (Wayne Brady) would prefer to draft him for the NBA.
DOA: Dead or Alive You liked the video game; you are contractually obligated to love the movie. Action babes include Sarah Carter and Jaime Pressly. Corey Yuen directs.
How to Eat Fried Worms A bully makes his fellow fifth grader a very unpalatable bet. Based on a children's novel by Norman Rockwell's son—yet directed by Bob Dolman, an ex-writer for SCTV and father of Andrea Martin's children.
Idlewild OutKast in Roaring Twenties drag; an excuse to hear the music of the most hit-making group since the Beatles, as choreographed by Hinton Battle.
Invincible True story of an ordinary working-class Philadelphian Vince Papale who was picked at an open-call audition to become a player for the Philadelphia Eagles. Mark Wahlberg stars. Directed by Ericson Core, cinematographer for Daredevil.
September 1
Crank A cross between D.O.A. (the original) and Speed: Jason Statham as a hit man who discovers that he's been poisoned ... and if his pulse lapses below a certain point, he'll die. Amy Smart co-stars.
Idiocracy Mike Judge's long-delayed movie sounds an awful lot like the sci-fi classic The Marching Morons by C.M. Kornbluth; a denizen of 2006 (Luke Wilson) is sent 1,000 years into the future, and discovers a society of devolved dunderheads.
The Return Sarah Michelle Gellar as a well-off businesswoman who begins to have serial nightmares about a murder victim. Director Asif Kapadia did the shot in Rajastan success d'estime The Warrior.
Stormbreaker Under-age secret agent (or, "underagent," if you will) Alex Rider goes on a mission to steal back a computer from a deranged billionaire (Mickey Rourke).
Send a letter to the editor about this story.