May 17-23, 2006
home | metro silicon valley index | movies | current reviews | preview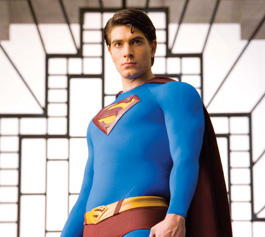 Big Tights to Fill: Brandon Routh attempts to relive the late-'70s superhero era in 'Superman Returns.'
Those '70s Shows
The smell of disco polyester sweat infiltrates our nation's megaplexes this summer
By Richard von Busack
Metro Summer Guide 2006:
San Jose Grand Prix | ISEA | San Jose Jazz Festival | Classical Music | Family Fun | May Movies | June Movies | July Movies | August Movies | Stanford Jazz | Pop Music Picks | Tuesday Concerts | Wednesday Concerts | Thursday Concerts | Friday Concerts | Saturday/Sunday Concerts | Venues and Concerts | May Festivals | Memorial Day Weekend | June Festivals | July Festivals | July 4 | August Festivals | September Festivals | Organized Play | Cycling | The Great Outdoors | Surfing | World Cup | Stage | Behind the Musicals | Art Shows
The Roster
Remember, most of these dates are subject to change as nervous studio heads start to hedge their bets as audiences choose to stay home and play video games. And, in a slap in the face to the 10th largest city in the United States, some dates are limited releases that open first in San Francisco and won't come to San Jose until a week or two later.
June 2
The Break-Up Vince Vaughn and Jennifer Aniston star as split-up partners who live together for the sake of the condo. Drawback: Miss Anacin. Redeeming Quality: director Peyton Reed (Down With Love), who proved he remembers what a good movie was like in Down With Love.
An Inconvenient Truth Al Gore goes vaudevillian! Or almost, as he hosts a multimedia show on the nature of global warming, and of our slim but possible chance to avoid the worst. More entertaining than it sounds—highly recommended.
Peaceful Warrior Nick Nolte as a gas station attendant/philosopher who helps a gymnast (Scott Mechlowicz) recover from a motorcycle accident. Directed by Martinez's own Victor Salva, whose chaotic career includes horror (Something in the Basement, Clownhouse, Jeepers Creepers), inspirational fantasy (Powder) and a pedophilia jacket.
June 6
The Omen How the hell could Damien be worse than Rev. Wildmon? Victims of the sawed-off Antichrist are Liev Schreiber, Mia Farrow, David Thewlis, Michael Gambon and Pete Postlewaite.
June 7
Cinema San Pedro A summer-long series of free movies in the great outdoors gets started with Pee-wee's Big Adventure. Starts at sundown at San Pedro Square in San Jose every Wednesday. Bring a chair.
June 9
A Prairie Home Companion Robert Altman's stage-bound fantasia based on an imaginary last broadcast of Garrison Keillor's long-running public-radio variety show, with Meryl Streep and Lily Tomlin as a sister act, musically annoying to their niece (Lindsay Lohan); Woody Harrelson and John C. Reilly as cowpoke balladeers, and Virginia Madsen as an angel.
Cars In the newest from Pixar and John Lasseter, a hotshot race car (voiced by Owen Wilson) learns to take the slow lane when he ends up stuck in a middle-of-nowhere desert town. Paul Newman co-stars.
The King Odd son named Elvis (Gale García Bernal) and odd father (William Hurt) reconnect in Corpus Christi. The director is James Marsh, who made the top-drawer Wisconsin Death Trip.
Land of the Blind Unusual drama set in an imaginary fascist dictatorship about a celebrated playwright held prisoner (Donald Sutherland) and his military guard (Ralph Fiennes); Tom Hollander (Mr. Collins in Pride & Prejudice) plays the leader. Before Robert Edwards became a director/writer, he was a captain in the U.S. Army, and participated in the first Gulf War.
June 14
Heart of the Game Documentary about the struggle of basketball-loving high school student Darnelia Russell to stay on her team. Ward Serrill's Seattle-based film took seven years to make. Ludacris narrates.
June 16
The Fast and the Furious: Tokyo Drift Lucas Black (Shaun Boswell) goes to live with his uncle in Tokyo, and ends up in the world of drift racing: tractionless high-speed races carried out illegally. And then he messes with the Yakuza ... Directed by sometime underground filmmaker Justin Lin (A Better Tomorrow, Shopping for Fangs.)
The Lake House Trans-time continuum romance between two vacation house dwellers (Keanu Reeves and Sandra Bullock) who happen to live two years apart. Based on the Korean supernatural romance Il Mare.
Nacho Libre Jack Black plays a plump monk who turns lucha libre wrestler to finance an orphanage. Now, if he can only find leotards that'll stand the strain. Shot in Oaxaca and directed by Jared Hess (Napoleon Dynamite).
June 21
Time to Leave Terminally ill male photographer has three months left. Directed by François Ozon and starring French icon Jeanne Moreau.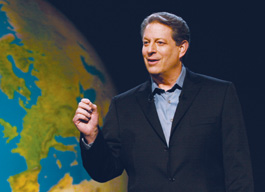 And After the Tidal Waves Come the Meteors: Al Gore explains it all in 'An Inconvenient Truth.'
June 23
Click Shopping at the mall, Adam Sandler is sold a rare universal remote by a strange salesman (Christopher Walken); it's the device that can make reality go faster, slower or pause. Directed by long-time Sandler associate Frank Coraci (The Waterboy, The Wedding Singer.)
Garfield's A Tail of Two Kitties Garfield the Cat (voiced by Bill Murray) goes to England. Thanks to mistaken identity, the cat becomes the lord of a castle, but a rival (Billy Connolly) wants to evict him for keeps. Unfortunately, the Anti-Sequel Bill is still stuck in committee.
Lemming Dominik Moll's first film in five years since the marvelous Harry, un ami qui vous veut du bien. Charlotte Rampling plays a boss's wife who can't seem to stay dead.
Waist Deep Just when he's trying to get out, they pull him back in again! 02 (Tyrese Gibson) is a gangsta who is manipulated back into the life after his car is jacked, with his young son inside.
Wordplay Documentary about Will Shortz, the diabolical genius who creates The New York Times crossword puzzle; it follows the man to the annual crossword puzzle convention in Stamford, Conn.
June 30
The Death of Mr. Lazarescu A lonely man falls ill and embarks on a strange journey through a hapless medical system in a Hungarian film by Cristi Puiu.
The Devil Wears Prada Meryl Streep stars as Miranda Priestly, the high-strung editor of a world-famous fashion mag; Anne Hathaway is the small-town girl who gets a job as the woman's assistant and practically gets flayed alive. Sex and the City vet David Frankel directs.
Superman Returns In exile after his breaching of the Phantom Zone nearly enslaved the earth, Superman (Brandon Routh) decides to return, and finds Lois involved with another man; Lex Luthor (Kevin Spacey) is still possessed by greed.
Send a letter to the editor about this story.