May 30-June 5, 2007
home | the papers | metro silicon valley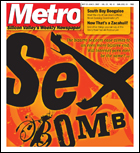 Sex, lies and video porn
The Internet's most insane court case is finally over. Can the online world learned anything from the multimillion-dollar power struggle over sex.com, or is it just too bizarre?

At war with the Army
How two South Bay mothers uncovered the truth about their sons' deaths in Iraq.
The Fly: 05.23.07
Sunnyvale's Trivial Pursuit.

Silicon Alleys
The pigeon invasion.
Technology news
Can greens and libertarians find common ground and save the planet?
Sports news
San Jose Grand Prix.

Movie review: 'Mr. Brooks'
Kevin Costner plays an unlikely killer with an evil alter ego.
Movie review: 'Hollywood Dreams'
Old-movie themes swamp Henry Jaglom's look at the acting trade.
Movie review: 'Angel-A'
Luc Besson's 'Wings of Ennui.'
Cult Leader: Movie mashups
Retrailers can turn your favorite movies upside down.
This week's revivals
The Stanford's Katharine Hepburn festival continues.

MORE MOVIE REVIEWS

MOVIE TIMES

Break it down
Bobby Nguyen's breakdancing competitions are anything but routine.
Music Picks
Me First and the Gimme Gimmes, Avant Garden Party and classical-music highlights.

MORE MUSIC AND NIGHTLIFE

MUSIC AND CLUBS LISTINGS

MUSIC AND NIGHTLIFE CALENDAR PICKS

Restaurant review: Hunan Taste
Going strong even after 19 years.
Live Feed
Hot tamales.
Story Road Tamale Festival
There are tamales, and then there are really big tamales, like the 'zacahuil.'
5 Things to Love
Good Ethiopian restaurants.

BOOK A RESTAURANT RESERVATION

FIND A RESTAURANT REVIEW

Maturing into summer
California Theatre Center ups audience age limit for three summer shows.
Mayo clinic
Pear Avenue's 'Playboy of the Western World' travels to J.M. Synge's Irish coast.
Book review: 'Cosmic Jackpot: Why Our Universe Is Just Right for Life'
Book authored by Paul Davies.
Book review: 'Modernism and the Feminine Voice: O'Keeffe and the Women of the Stieglitz Circle'
Book authored by Kathleen Pyne.
Kids events
El Camino Youth Symphony's concerto competition.

Letters to the Editor
May 30-June 5, 2007.