07.23.08
home | the papers | metro silicon valley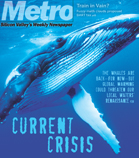 Chill Factor
Cooling currents have sparked a huge comeback for life in the Monterey Bay this year. But scientists say global warming could put an end to the extraordinary conditions that breathe new life into local waters.

BART or Bust
Fuzzy math and fear of public opinion are making the BART tax seem like a faith-based initiative
The Fly: 07.23.08
Red Alert and Lung Goodbye

Silicon Alleys
St. James' Curse
Style
Summer Success
Sporting Events
The Triplemania Tour hits San Jose
Events
This Sunday (July 27), noon–5pmn, History San José marks the 231st anniversary of the founding of El Pueblo de San José de Guadalupe. The family-friendly event will let parents and kids see what life was like way back in 1777. The Alta California Orchestra and Calicanto Singers will perform period music and there will be lots of historical activities for all ages. The festivities take place at the Peralta Adobe in downtown San Jose.
Kids
Children's Musical Theatre San Jose presents the famous musical 'West Side Story' as its next Mainstage Production. The urbanized 'Romeo and Juliet' tale runs July 25–Aug. 3 at the Montgomery Theater in San Jose.

Movie Review: 'Roman Polanski: Wanted and Desired'
How the legal system went bonkers over one director's sex scandal
Movie Review: 'CSNY: Déjà Vu'
A rock tour turns into a political statement
DVD Review: 'Satantango'
Bela Tarr's masterpiece arrives on four DVDs
DVD Review
'Mad Men' reviewed by Michael S. Gant
DVD Review
'Day of the Outlaw' reviewed by Steve Palopoli
DVD Review
'Dead and Gone' reviewed by Michael S. Gant

Going the Distance
S.J.–raised jazz drummer Sylvia Cuenca connects with jazz in the Big Apple
Bloodied But Unbowed
The Blasters' Phil Alvin sorts through the unholy mess they've made of American music

MORE MUSIC AND NIGHTLIFE

MUSIC AND CLUBS LISTINGS

MUSIC AND NIGHTLIFE CALENDAR PICKS

Flight Plan
Cupertino's Red Crane has yet to take off
5 Things to Love
Tastes of Summer
A Girl's Gotta Eat
Money Changes Every Taste

BOOK A RESTAURANT RESERVATION

FIND A RESTAURANT REVIEW

Stage Review: 'Doubt: A Parable'
TheatreWorks balances compassion of justice in new production
Stage Review: 'Hair'
City Lights relives the '60s
Classical Review
Carmel Bach Festival opens with a major Mass
Book Reviews
Two new books look at the recent history of politics at the games

Letters to the Editor
July 23 - 29, 2008