August 9-15, 2006
home | the papers | metro silicon valley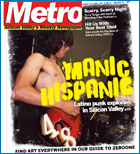 Feature: MACLA's San Jose Spic Core Fest
MACLA's first all-Spanish-language punk rock show has kick-started a budding Latino punk movement locally. All over the country, a fast, loud and political music movement is demanding: 'En Espanol!'

News: Your Tax Dollars Not Working
Our Mr. Byrne goes to Washington, so you don't have to.
The Fly: 08.09.06
Who's watching that new blog Mayor Watch?

Silicon Alleys: CADRE
Remembering the early days of 'broadcasting a show over the Internet.'
Technology News: Blog Menace
People who inject nasty code into blog feeds are using the web's fastest free-speech engine to wreak havoc—and in the process, they could undermine free speech itself.
Sports News: Snooker Team World Championship
The first major snooker competition this country has seen will be held at San Jose's Double Tree Hotel this Aug. 16-26.

Movie Review: 'World Trade Center'
Nicolas Cage struggles to survive the good intentions of Oliver Stone's 9/11 movie.
Movie Review: 'Quinceañera'
Generous and good-looking 'Quinceañera' uses Latino rite of passage as an emotional springboard.
Movie Review: 'Conversations With Other Women'
For the first time since Mike Figgis' 'Time Code,' an indie filmmaker uses a split screen for the entire length of a film.
Festival Review: ZeroOne Movies
San Jose's downtown tech spectacle includes a healthy dose of reel-time art.
Festival Review: SF Shorts
Brings surprises in small packages Aug. 10-12.
Cult Leader: Mutant Movies
Inbred Circus: Movie mutants love country livin'!
Movie Review: This Week's Revivals
Stir of Ecto: 'Ghostbusters,' 'Corpse Bride' and more.

MORE MOVIE REVIEWS

MOVIE TIMES

Festival Preview: Bleeding Edge
Allows the audience to draw their own conclusions.
Music Preview: English Beat
David Wakeling knows what the audience wants to hear.
Festival Review: Cabrillo Festival of Contemporary Music
Evelyn Glennie provided the beat for the festival's first weekend.

MORE MUSIC AND NIGHTLIFE

MUSIC AND CLUBS LISTINGS

MUSIC AND NIGHTLIFE CALENDAR PICKS

Restaurant Review: Bay Leaf
This Sunnyvale restaurant is a rare chance to sample the fine food of Indonesia in Silicon Valley.
Live Feed: Good Restaurant Websites
A good site has got to have more than contact information and directions.
5 Things to Love: Great Tastes of Silicon Valley
Five suggestions that will leave good tastes in the mouths of your family and friends from back home in the Midwest.

BOOK A RESTAURANT RESERVATION

FIND A RESTAURANT REVIEW

Visual Arts News: ZeroOne San Jose + ISEA2006
A virtual diary written by our staff writers.
Stage Review: 'Caucasian Chalk Circle'
Dragon Productions revives the Brecht play.
Book Review: 'Mountain View' by Nicholas Perry and 'Alviso, San Jose' by Robert Burrill and Lynn Rogers
From Moffett Field to Alviso, two new books illuminate the byways of local history.

Letters to the Editor
August 9-15, 2006.