September 19-25, 2007
home | the papers | metro silicon valley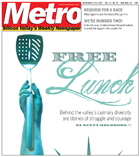 A Taste of Freedom
The valley's ethnic restaurants often reveal stories of courage about the refugees who struggled to reach America.

Yo Soy el Army
If you're an immigrant, at least Uncle Sam wants you.
The Fly: 09.19.07
Better Sled Than Dead, The Truth About Rubber Chickens and Throwing Up the Issue for Debate.

Silicon Alleys
Read Locally
Technology news
We are losing the satellites that can save our environment

Movie Review: 'Eastern Promises'
David Cronenberg explores Russian mafia in 'Eastern Promises'
Movie Review: 'The Jane Austen Book Club'
is better than expected
Movie Review: 'The Hunting Party'
Sifting through the rubble of war
Movie Review: 'In the Shadow of the Moon'
Astonauts remember what it was like
Movie Review: 'All Across the Universe'
plays fast and loose with Beatles songs
This week's revivals
Baby Face, The Big Lebowski, The Man From Laramie/Man of the West, Meet Me in St. Louis/This Happy Breed, Niles Essanay Film Museum and Spartacus

MORE MOVIE REVIEWS

MOVIE TIMES

Mariachi Palooza
Ozomatli, Linda Rondstadt, Los Lobos and Marco Antonio Solis light up the 16th Annual San Jose International Mariachi Festival.
This Week's Music picks
Summer Send-Off, Medeski, Scofield, Martin and Wood and Classical Moves.

MORE MUSIC AND NIGHTLIFE

MUSIC AND CLUBS LISTINGS

MUSIC AND NIGHTLIFE CALENDAR PICKS

Gone Fishing
Dia de Pesca brings the flavor of the sea and the feel of Ensenada to a South Bay parking lot.
Live Feed
Where Is the Valley's Culinary Soul?
5 Things to Love
Food Trends That Must Die

BOOK A RESTAURANT RESERVATION

FIND A RESTAURANT REVIEW

Book Review: 'Giving'
Bill Clinton is proving to be more effective out of office than in.
Book Review: 'British Film Posters'
Book Review: 'I Was a TV Horror Host "
Events
Out Town—Downtown
Kids events
Mariachi Festival
Sporting events
San Jose Sharks

Letters to the Editor
September 19-25, 2007.