09.26.07
home | the papers | metro silicon valley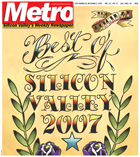 The Best of Silicon Valley
Our annual look at the best Silicon Valley has to offer.

Silicon Valley's Delta Blues
A judge's ruling on overuse of the state's northern delta means a 50 percent cut in Santa Clara County's water supply. How can we keep from going dry?
The Fly: 09.26.07
Review This, Sam I Am Not (Running) and Stay Off Our Block.

Silicon Alleys
Ghost of Best Ofs Past
Technology news
To See or Not to See

Film Review: 'Trade'
'Trade' makes a lot of noise about sex slave business
Film Review: 'Into the Wild'
'Into the Wild' sinks under weight of Sean Penn's direction.
Film Review: 'December Boys'
'December Boys' looks at growing up down under.
Movie Review: 'Feast of Love'
Morgan Freeman adds moral gravity to 'Feast of Love'

MORE MOVIE REVIEWS

MOVIE TIMES

Alone Together
How can musicians go solo when band mates won't go away?
Music Review: Kings of Leon
Cloudy with a Chance of Rock
This Week's Music Picks
Dredg, Dave Matthews Band, Marco Antonio Solis and Ozomatli.

MORE MUSIC AND NIGHTLIFE

MUSIC AND CLUBS LISTINGS

MUSIC AND NIGHTLIFE CALENDAR PICKS

Top Ramen
With the opening of Kahoo Ramen, the noodle rises again in Silicon Valley.
Live Feed
Food Glamour At Fairmont
5 Things to Love
Oyster Bars

BOOK A RESTAURANT RESERVATION

FIND A RESTAURANT REVIEW

The French Way:
San Jose Rep presents Marivaux's 'Triumph of Love'
Stage Review: The Diary of Anne Frank at San Jose Stage
Stage Review: Chekhov in Yalta at Dragon Productions
Stage Review: Angels in America, Part 2 at City Lights
Book Reviews: If You Liked School, You'll Love Work and The Immortalists
Events
The Renaissance Faire
Kids events
25th anniversary of 'E.T.'
Sporting events
Tim Brauch Memorial Contest

Letters to the Editor
September 26-October 2, 2007.