09.24.08
home | the papers | metro silicon valley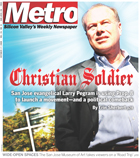 Missionary Man
San Jose councilman turned evangelical activist Larry Pegram has a plan for kick-starting the right-wing religious movement in Silicon Valley. It all starts with gay marriage and Proposition 8.

Crash Course
Stanford economist says the government must intervene in the Wall Street collapse—but taxpayers shouldn't foot the bill
The Fly
Pier Pressure, Citizen Kane and Ban Played On

Silicon Alleys
The Da Vinci Mode
Sporting Events
The Rock 'n' Roll Half Marathon happens Sunday, Oct. 5
Style
Passport Show Packs a Punch
Events
Wayne and Cheryl Renshaw put the pastels to the asphalt in a demonstration of their sidewalk-art skills. They are the featured artists at the Luna Park Chalk Art Festival, which takes place Saturday (Oct. 4), 9am–3pm, at 13th and Jackson streets in San Jose. The day's events also include food and drink, music and bocce ball.
Kids Events
Renowned author Neil Gaiman will read from his newest, 'The Graveyard Book,' a tale of fright and sleight of hand designed especially for middle-school readers. The event takes place Saturday (Oct. 4) at 7pm at the Spangenberg Theater at Gunn High School in Palo Alto. The evening is a joint project of Kepler's and the Palo Alto Library System and Unified School District.

Movie Review: 'Blindness'
An attack of sightlessness leads to metaphor overload
Movie Review: 'Religulous'
Bill Maher goes in search of true believers to tweak
DVD Review
J'Accuse
DVD Review
Boats Out of Watermelon Rinds

MORE MOVIE REVIEWS

MOVIE TIMES

Roots Rock
Snazzy Productions celebrates 25 years of bringing Americana to Santa Cruz stages
Music Picks
The Residents present The Bunny Boy, Robert Plant and Alison Krauss and Bonnie Raitt

MORE MUSIC AND NIGHTLIFE

MUSIC AND CLUBS LISTINGS

MUSIC AND NIGHTLIFE CALENDAR PICKS

Shirin Luck
A twist of fate brings good, cheap Persian food
Silicon Veggie
A Vegan in Vin Santo
5 Things to Love
Delicious Wild Mushrooms

BOOK A RESTAURANT RESERVATION

FIND A RESTAURANT REVIEW

Art Review: 'Road Trip'
Artists view the open road from different angles at San Jose Museum of Art
Stage Review: 'Spinning Into Butter'
Dragon Productions looks for political relevance in revival of Rebecca Gilman's 1999 campus drama
Stage Review; 'Noises Off'
City Lights stages elaborate behind-the-scenes farce
Classical Review
Symphony Silicon Valley opens its season with dance suites for orchestra

Letters to the Editor
October 1 - 7, 2008