10.03.07
home | the papers | metro silicon valley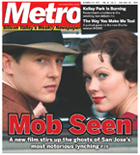 'Valley of the Heart's Delight' re-creates the St. James Park lynching
The film fictionalizes some details, which isn't surprising since no audience would believe the absurdity of what actually happened.

Unfiltered Controversy
Is the proposed ban on smoking in San Jose parks an issue of civil liberty or public health?
The Fly: 10.03.07
Top-Heavy Dome, The Audit Couple, Ruff Life & Block Bloc.

Silicon Alleys
The Revenge Of Public Art
Technology news
Just how liberated is The Bionic Woman?

Film Review: Job Flight
'Outsourced' finds comic lining to economic upheaval.
Film Review: 'No Child Left Behind'
SJSU's Bob Gliner tackles education in documentary 'No Child Left Behind'
Cult Leader:
How Bu˝uel got to be Bu˝uel

MORE MOVIE REVIEWS

MOVIE TIMES

Word Smith
Whether his band likes it or not, the Cure's Robert Smith is still a perfectionist.
House of Glass:
Philip Glass plays the piano for the Toronto performance of his collaboration with Leonard Cohen, 'Book of Longing.'
This Week's Music Picks
Genesis, The Black Crowes & Daddy Yankee

MORE MUSIC AND NIGHTLIFE

MUSIC AND CLUBS LISTINGS

MUSIC AND NIGHTLIFE CALENDAR PICKS

Tech Trek
Tirupathi Bhimas is Cisco Systems' South Indian secret.
Silicon Veggie
More Than Lip Service
5 Things to Love
Homegrown Silicon Valley Foods

BOOK A RESTAURANT RESERVATION

FIND A RESTAURANT REVIEW

Visual Arts:
Montalvo Arts welcomes Iraqi artists to the valley
Stage Review:
'The Triumph of Love' sparkles at San Jose Rep
Symphony Review:
Symphony Silicon Valley orchestrates Woody Guthrie
Book Review:
John Freeman review Richard Russo's 'Bridge of Sighs'
Style
Face It!
Events
Dorothy Allison
Kids Events
Miss Nelson Is Missing!
Sporting Events
Bay Area Derby Girls

Letters to the Editor
October 3-9, 2007.