11.14.07
home | the papers | metro silicon valley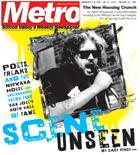 Votes from the Underground
We love San Jose Rocks, our local version of the Rock and Roll Hall of Fame. But let's keep it as weird as the scene has always been. Here are our decidedly offbeat suggestions for future honorees.

Twilight Zoning
Toughening rules to produce more affordable housing would either bring the housing apocalypse or a homebuyer's paradise—depending on who you ask, and where they got their study.
The Fly: 11.14.07
Gilroy Uprising, Grand Premio & Council's New Naysayer

Silicon Alleys:
More Treasures For the Hunting
Technology News:
The candidate of the future should be tech-savvy
Sports
Cung LÍ
Kids Event:
Children's Musical Theater San Jose keeps the spirit of Charles Schulz alive with its production of 'You're a Good Man Charlie Brown,' playing Nov. 15–18 at the Montgomery Theater in San Jose. Pictured (top, from left) are Samantha Gorjanc (Sally), My'hala Herrold (Lucy) Middle: Garret Meyer (Linus), Eric Colvin (Charlie Brown), Julian Tuyor (Schroeder) and Marion Wellington (Snoopy).
Author Event:
On Sunday (Nov. 18) at 2pm, Kepler's Books in Menlo Park pays tribute to the late author David Halberstam, who died this year in a car accident on the Peninsula. The event includes a showing of a film about Halberstam's final book, 'The Coldest Winter: America and the Korean War.'

Review: 'No Country for Old Men'
Javier Bardem stalks Josh Brolin across Texas
Preview: Latino Film Festival, Week II
This week's screenings in San Mateo and at MACLA in San Jose
Review: 'Joe Strummer: The Future Is Unwritten'
The Clash leader profiled in Julien Temple's documentary
Review: 'Love in the Time of Cholera'
A great book collapses in screen adaptation
Review: 'Redacted'
Brian De Palma focuses on an Iraq atrocity in split-perspective narrative
Review: 'Southland Tales'
Richard Kelly's political mashup should go straight to video
Review:
This week's movie revivals

MORE MOVIE REVIEWS

MOVIE TIMES

Flowers Of Evil
The Tell-Tale Heartbreakers' intoxicating sound
This Week's Music Picks
Evanescence, Cold War Kids & Guitars not Guns

MORE MUSIC AND NIGHTLIFE

MUSIC AND CLUBS LISTINGS

MUSIC AND NIGHTLIFE CALENDAR PICKS

A Gingerly Approach
Don't be too tough on Mountain View's exciting new Yellow Ginger Cuisine as they work out the kinks
Live Feed
The Food Ghetto
5 Things to Love
Sugar Alternatives

BOOK A RESTAURANT RESERVATION

FIND A RESTAURANT REVIEW

DVD Review: 'Twin Peaks'
A new DVD set restores David Lynch's 'Twin Peaks' to complete glory
Classical Preview
New Century Chamber Orchestra Nov. 16; Opera San Josť presents 'Werther,' Nov. 17–Dec. 2; The Palo Alto Philharmonic, Nov. 17; Redwood Symphony Nov. 18; El Camino Youth Symphony Nov. 17; Steinway Society, Nov. 18
Stage Review: 'Wiley and the Hairy Man'
Renegade Theatre Experiment scares kids and adults alike with swamp legend
Stage Review: 'The Smell of the Kill'
Three women gets this digs in at Dragon Theatre
Books: 'Sundays With Vlad' by Paul Bibeau
Reviewed by Richard von Busack
Books: 'The Conscience of a Liberal' by Paul Krugman
Reviewed by Michael S. Gant
Books: Norman Mailer
Gary Singh on the great American novelist and ranter

Letters to the Editor
November 14-20, 2007.