January 31-February 6, 2007
home | the papers | metro silicon valley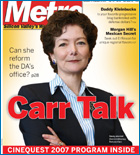 Dolores Carr
She weathered a divisive campaign to become the county's first female DA. That was the easy part. Now she must deliver the changes she campaigned on in the face of a massive budget crisis and a tangled web of office politics.

Michael R. Klein
Founder of the nonprofit investigative Sunlight Foundation, Klein has made some other curious choices.
The Fly: 01.31.07
Longtime resident James Rowen is blogging local Santa Clara politics with a page he calls Mission City Lantern, but one of his regular targets says he's got a hidden agenda.

Silicon Alleys: San Jose's industrial wasteland
Gary Singh visits the new exhibit at History Park San Jose about politics and athletics at San Jose State in the 1960s.
Technology news: eBay
What the site tells us about how different cultures trust each other and strangers.
Sports news: Tom Brady
Looking to pass for his fourth Pro Bowl appearance, Brady and the Patriots took out the Chargers but failed against the Colts.

Film festival preview: Cinequest 2007
Appearances by Minnie Driver and 'Lost' co-creator J.J. Abrams are among the scheduled events for the upcoming film festival (Feb. 28-March 11 in San Jose).
Movie review: 'Epic Movie'
Epically bad.
Movie review: 'Blood & Chocolate'
It howls at the full moon, but tastefully.
Cult Leader: 'Breakdown'
It's a shame more action movies can't pull off an Everyman Hero as complex and convincing as the one Kurt Russell played in this underrated 1997 thriller.
This week's revivals
She sits in my lap: 'The Big Sleep' and 'Noir City.'
Film festival preview: Noir City 5
Stool pigeons and gutter rats scuttle through noir festival in San Francisco.

MORE MOVIE REVIEWS

MOVIE TIMES

Sara Bir's pop predictions
Peer into her crystal ball and see what 2007 holds in store.
On the Corner Music
Two first-time record store owners challenge the MP3.
Musicbox
Our critics pick this week's highlights: M. Ward, American Music and Circe Link.

MORE MUSIC AND NIGHTLIFE

MUSIC AND CLUBS LISTINGS

MUSIC AND NIGHTLIFE CALENDAR PICKS

Restaurant review: El Rincon
This restaurant elevates the Morgan Hill dining scene while giving all of Silicon Valley a unique taste of regional Mexico.
Live Feed
A reader finds Thai cuisine that breaks from the norm.
5 Things to Love: Restaurants with great sake
We've found five places that offer premium sake.

BOOK A RESTAURANT RESERVATION

FIND A RESTAURANT REVIEW

Visual arts review: 'Speed City'
Gary Singh visits the new History Park San Jose exhibit about politics and athletics at San Jose State in the 1960s.
Visual arts review: M.C. Escher
His tricky visions still delight in a new show at the San Jose Museum of Art.
Stage review: 'Fat Pig'
City Lights gets weighty with Neil LaBute's stinging comedy.
Stage review: 'Titus Andronicus'
Renegade Theatre Experiment updates the Shakespeare play.
Stage review: 'Pack of Lies'
A family succumbs to paranoia when a spy master moves in.
Book review: 'Hitchcock's Music'
Book authored by Jack Sullivan.
Book review: 'Dreaming in Code'
Book edited by Scott Rosenberg.

Letters to the Editor
January 31-February 6, 2007.