April 12-18, 2006
home | the papers | metro silicon valley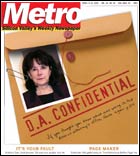 D.A. Confidential
What the Merc's much-heralded 'Tainted Trials, Stolen Justice' series didn't say about the District Attorney's office.

News: Measure A Replay
The fight for moral high ground in the debate over Measure A comes from Silicon Valley's past as a tax trailblazer.
The Fly: Norcal Garbage Contract Scandal
San Jose City Attorney Rick Doyle arranges for several members of the council to be served with subpoenas in investigation.

Silicon Alleys: Beverly vs. Johnny V's
Gary Singh remembers Johnny V's.
Technology News: Slashdot
Annalee Newitz has a love/hate relationship with techies' blog of record.
Car News: Cheap gas in Hugo Chavez's Venezuela is an engine for growth
Chavez builds a country on oil revenues and that may be a good thing.

Movie Review: 'Brick'
Down these teen streets a man must go. A sure bet for 2006's Top 10.
Movie Interview: Joseph Gordon-Levitt of 'Brick'
The '3rd Rock' alum plays a teenage bookworm who turns shamus in a high school mystery that's far grittier than a 'Hardy Boys' episode.
Movie Review: 'The Notorious Bettie Page'
Gretchen Mol poses for biopic about 1950s pinup queen.
Cult Leader: Films About Musicians
How do you capture the soul of a mad musician?

MORE MOVIE REVIEWS

MOVIE TIMES

Music Interview: Tigarah
A Japanese MC finds her calling within Rio's explosive baile funk movement.
Music Review: Misfit CDs
The music no one checks out at the public library.
Music Preview: Mountain Winery's 2006 Summer Concert Series
The winery posts its 2006 summer concert schedule.

MORE NIGHTLIFE

NIGHTLIFE LISTINGS

NIGHTLIFE CALENDAR PICKS

Restaurant Review: Tlaquepaque No. 3
True, Tlaquepaque has three locations—but they're all in Willow Glen. It's a rare story of expanding while holding on to local flavor.
Silicon Valley Veggie
Suspicious minds.
5 Things to Love: Good Mexican Restaurants
Mexican food is perfect this season because it reminds us of warm weather.

BOOK A RESTAURANT RESERVATION

FIND A RESTAURANT REVIEW

Live Theater: 'True West'
Two brothers square off in table-clearing production of Sam Shepard's play at San Jose Stage Company.
Live Theater: 'The Sisters Rosensweig'
TheatreWorks salues Wendy Wasserstein.
Books: James D. Houston
Novelist and San Jose State University grad Houston returns to the town where he grew up.
Events: Shakedown
A History San José exhibit portrays the devastation of the 1906 earthquake in San Jose and surrounding cities; plus a guide to earthquake shows and events in San Jose, San Francisco and Oakland.